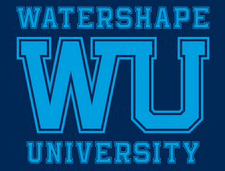 Watershape University recently secured an important benchmark in its campaign to elevate the watershaping industry with its brand of marquee educational programs – evidence that when the Wolfpack sets its sights on an outcome, it does not stop until the objective is achieved.
University received some great news on January 15. It's official: Watershape University is now accredited by the International Accreditors for Continuing Education and Training (IACET) and is authorized to issue the IACET CEU.
The approval comes after months of effort on the part of WU staff – special shout outs to Krista Flores, Brett Herman and Dave Peterson – and intense scrutiny from IACET staff members. The process involved examination at an almost microscopic level of WU's courses, instructors, internal systems, learning delivery and management platforms, evaluation processes, fee structures, certification, industry support, reputation and other key characteristics.
The result of the rigorous process was approval from IACET for the comprehensive educational structure WU has established since its inception in August, 2019. The accreditation means an even greater level of credibility and prestige for WU and especially students, who complete the now-accredited course work.
"This has been one of primary objectives from Day One," Peterson said. "IACET's insistence on the highest educational standards affirms our efforts to deliver the best instruction available in the watershaping industry. This is a team effort. Everyone who's helped us build Watershape University deserves credit."
IACET develops benchmarks and rigorous standards for continuing education classes that must be met in order to receive IACET approval. As a result, students can be assured that Watershape University has met the standards for IACET approval to deliver the best learning experience available.
According to Kristopher J. Newbauer, President of IACET, "Our strategic mission is to promote IACET standards as a benchmark for quality program delivery. IACET Authorized Providers are an elite group of educators dedicated to quality in continuing education and training. Consumers trust IACET because they know that Authorized Providers must follow the ANSI/IACET Standard for Continuing Education and Training and have been thoroughly assessed by a third party."