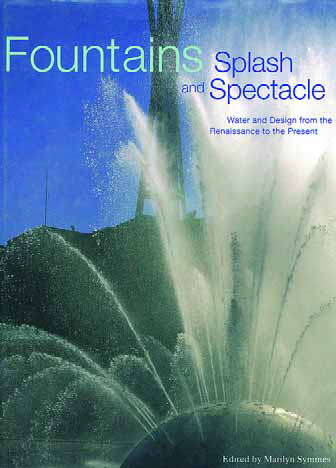 For anyone designing decorative water, Fountains: Splash and Spectacle is a wonderful and useful resource. This wonderfully illustrated anthology of essays on classic fountains (edited by Marilyn Symmes and published in 1998 by Rizzoli International Publishing, New York) deftly encompasses the range of fountain designs from antiquity to modern day.
From the modest Alhambra in Spain to Chicago's dramatic Buckingham Memorial, Symmes and the book's contributors weave together scores of detailed examples illustrated with beautiful photos and, in many cases, supported by sets of plans, drawings and diagrams used in creating some of the world's most beautiful and historic watershapes.
Rather than approach fountains in a purely chronological or geographic context, the book is organized into eight chapters covering groups of fountains based on their practical and thematic purposes. The roles of fountains in religious institutions and public spaces and for historic commemorations are examined, for example, as are fountains designed strictly for pleasure and entertainment.
The titles of the chapters tell us much about the major trends in fountain design. The first chapter, "Fountains as Refreshments," reaches back to the Roman Empire and Moorish Spain to examine how fountains originated as sources of public water. It traces this heritage through to the emergence of fountains in the Americas as sources of potable water for people and livestock through colonial times and subsequent westward expansion.
The next chapter, "Fountains As Metaphor," shifts gears completely as the writers delve into the early use of fountains in places of worship from cathedrals to mosques and then shifts over to secular expressions of power and water's use in conjunction with prominent public ministries and the residences of royalty and other heads of state.
The panorama of fountains discussed in this volume is truly awesome. From great monuments such as the recently completed Franklin Delano Roosevelt Memorial Fountain in Washington to the water spectacle in front of the Mirage Hotel in Las Vegas, fountains are seen as a form of expression with the potential to create meditative and inspirational spaces as well as scenes of spectacle and delight. There's also a lengthy discussion of the wonderful fountains of Kansas City, Mo., which is known as the "City of Fountains." (For more on these fountains, see the pictorial in this issue — click here.)
Along the way, the book does a marvelous job of tracing the lineage of fountain design and demonstrates by example how an idea from one era or physical context can be (and often is) neatly translated to another. There are wonderful descriptions of grand design successes as well as breathtaking failures, along with careful examinations of astounding technical innovations, from the advent of the hydraulic pump to the application of computers to watershaping.
For my book-buying dollar, this volume offers a most useful history of fountain-craft – along with a treasure trove of valuable ideas.
Mike Farley is a landscape architect with 20 years of experience and is currently a design/project manager for Leisure Living Pools of Frisco, Texas. A graduate of Genesis 3's Level I Design School, he holds a degree in landscape architecture from Texas Tech University and has worked as a watershaper in both California and Texas.