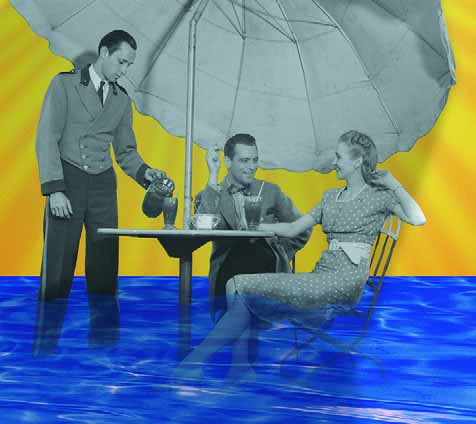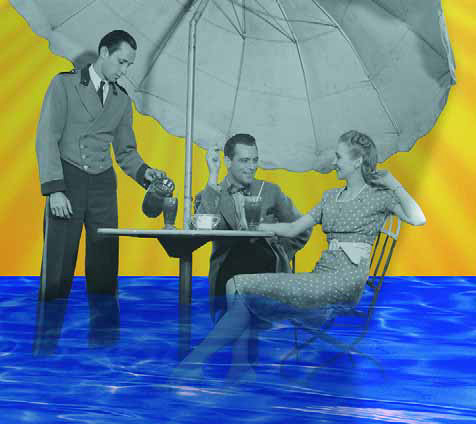 In recent years, I've noticed a tremendous increase in the demand for shade structures – so much so that it would seem the era of slathering on suntan oil and basking in the sun in search of a savage tan might be gone forever.
It's an exciting trend that really expands the creative possibilities for watershapers working across a broad range of styles and pricing levels.
And no one could be happier about that than me: For one thing, I'm fair-skinned and burn easily; for another, adding the element of shade is an exciting, interesting and increasingly profitable way to create complete watershape environments that meet a variety of needs – including our clients' fundamental desire to be comfortable.
SHELTER FROM THE NORM
By giving our clients shady places to lounge, entertain and daydream, we give them the power to choose the elements to which they expose themselves. Better still, we increase the functionality and the value of the designs we create.
As I prepared to write this column, I began by thinking about all of the different types of sheltering structures we can provide. It's an extremely impressive array, so vast you'll never have to repeat yourself unless you and your clients want it that way. Shade structures can be fun and casual or formal and architectural. They can be small or large, and they can be made from a huge range of materials.
In addition, they do much more than shield users from the sun. They can serve as a place for napping or meditating or cooking or dining, for example. They can be solid structures that provide dry shelter from wet weather, of they can be permeable coverings that only partially block sun and weather.
They're also platforms for other outdoor features. They'll support plant life, for instance, and can encompass lighting, fans and fog/mist systems (an increasingly popular choice) as well as vertically oriented waterfeatures. They can be used to block undesirable views – or offer a stage from which to enjoy near and distant vistas.
The options stretch from the simple to the sublime, and when you step back and consider the possibilities, you're sure to find design features that enable you to customize your work to closely meet the clients' lifestyles and visually blend with their homes, watershapes and landscapes.
Just listing the types of structures available to you tells a lot about the range of options: You can start by talking about umbrellas, awnings and patio covers, and then move on to trellises, Chickee huts, gazebos, pergolas and (my favorite) bowers.
As with just about every other component of watershape design, your treatment of shade begins with an exploration of the customers' needs and desires.
Very early on in my own design process, I always ask my clients what they have in mind in terms of shade. Many of them have very specific ideas in mind from the get-go, but others haven't given it a thought. Either way, when it comes to the question of whether or not they want something, the vast majority will say yes.
From that point, it becomes a question of determining what it is they want to do in the shaded area and what style of structure best suits those needs while fitting the budget.
RAG TOPS
When it comes to budget-friendly options, there's nothing for shade like a good umbrella.
Personally, I've really grown to love umbrellas through the years. They are comfortable and inviting and convey feelings of fun and conviviality. (Think sidewalk cafes and afternoon breezes.) Best of all, they can be used in a number of ways around watershapes.
Lately, for instance, I'm finding that many of my clients are choosing umbrellas when they want shade in the water itself. In terms of design or construction, nothing could be easier: Just set a sleeve for a post near the water's edge or in a beach entry.
This is an extremely inexpensive way to enhance the watershape experience, encourage lounging in the water and add a dash of color to a design scheme. I've used umbrellas in conjunction with swim-up bars and seating, too. And the neat thing is that the umbrellas can be taken down as the situation dictates.
Awnings are another category of shade structure that offers many of the same advantages as umbrellas. They're relatively inexpensive and can be put up or taken down whenever it suits a client's fancy.
A long way back, I visited a pool I had built and found that the owner had set up his own awning system by stringing a series of stainless steel wires high over the pool. The customer used these to support a canvas panel that stretched over the entire pool or could be pulled part of the way for partial shading. The covering didn't draw high marks for aesthetics, but it did the job and the owner seemed completely satisfied.
The nice things about these rag-top options is that prospects get the idea without much explanation. That's not always the case with other options, where I find myself painting word pictures to help prospects visualize the scene.
Sometimes that's easy. I work with many waterfront properties, for example, and will describe a beautiful evening beneath a thatched roof with beautiful landscaping all around. There's a fan overhead and a table set, dinner for two, with gentle sounds of water splashing in the background as the couple looks out over a vanishing edge to the waterway beyond. Or if I have a different sense of what these clients are after, I'll describe calm Sunday mornings with a great cup of coffee and the newspaper or the joys of sitting outside, sheltered from a warm summer rain.
I set these scenes because I want my clients to project themselves into the watershape environment. With shade structures from the simple to the elaborate, I'm able to tell a story about all the things they can do around a pool or spa or waterfeature without getting wet.
HERE AND THERE
As I've moved further and further into the art and science of exterior design, one of the things I've learned is that by adding "destinations" within an environment, you create places for the clients and their friends and families to do different things at different times. This involves creating various focal points as well as opportunities to travel within the space via pathways.
Sometimes these spaces are compact and the destinations are modest – as in the case of the umbrella in one corner of the pool or perhaps a small arbor with some vines growing overhead. In other situations, however, the destinations are extremely elaborate and make big statements on their own.
A few issues back, I wrote a column about feng shui and mentioned a project that featured a wooden gazebo in which my client would practice her yoga. What I didn't mention at the time was that the gazebo was connected to another shady area suitable for dining.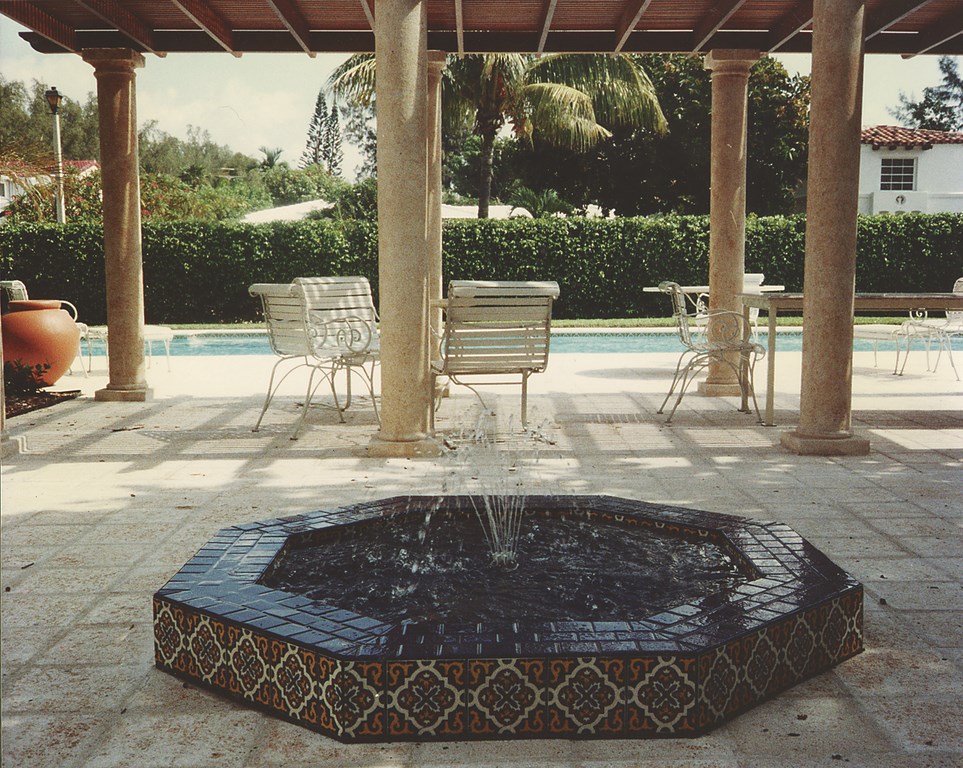 Used appropriately, even a simple trellis can be used to provide shade and cast an ever-changing variety of shadows in the space around a watershape.
In this environment, the customer can travel from one distinct area and its activity to another via a small path. In terms of space, the area really isn't that large, but these two destinations serve two distinct functions and offer opportunities to relax and enjoy life in very different ways.
A step beyond these simple applications, the possibility exists to blur the distinctions between indoor and outdoor spaces and functions. I've worked on projects where entire kitchen facilities have been placed outside beneath some form of shade structure, complete with wet bars, refrigerators, ovens and cooktops.
I've also worked with clients who wanted complete living rooms outside, with televisions, couches and fireplaces. In these cases, the clients view the shade areas as literal extensions of their homes, effectively expanding interior functions into outside spaces.
I recently worked on a project on beautiful Biscayne Bay that features a solid-roofed shade structure tucked in a corner of the property. The triangular area includes a bar and a full-scale kitchen; there's even a bathroom tucked behind the solid back wall. Although the structure blocks a small portion of the view across the property, the back wall is covered with a large tile mosaic depicting nautical images – and in itself became a beautiful focal point.
Many of these designs become so involved they cross the line into what is literally interior design. Large, structural cabanas, for example, often become outdoor/indoor guesthouses with full sleeping and bathing facilities. I recently bid a project in Miami Beach that included a massive cabana with a kitchen, a separate bedroom and a living area that opened out into the pool. It will be a great place to entertain and a perfect place to stash a guest or two when the party's over.
CONVEYING STYLE
With so much going on with shade structures, it's easy to find opportunities to accentuate and articulate stylistic decisions you and the customer have made.
Perhaps you're building a lagoon pool and want to blend it with a covered area. Here, a grotto of some type becomes a logical possibility. Or you may want to go with an open structure with a thatched roof to suggest a tropical or jungle environment.
In my area, you see many structures known as Chickee huts. These are open-sided buildings made of cypress logs and interwoven scrub-palm leaves and have become extremely popular for a variety of reasons. For starters, they are visually striking, with the chiseled patterns on the structural logs providing a distinctive detail. And the woven patterns of palm fronds and stalks that make up the roof system are truly fascinating.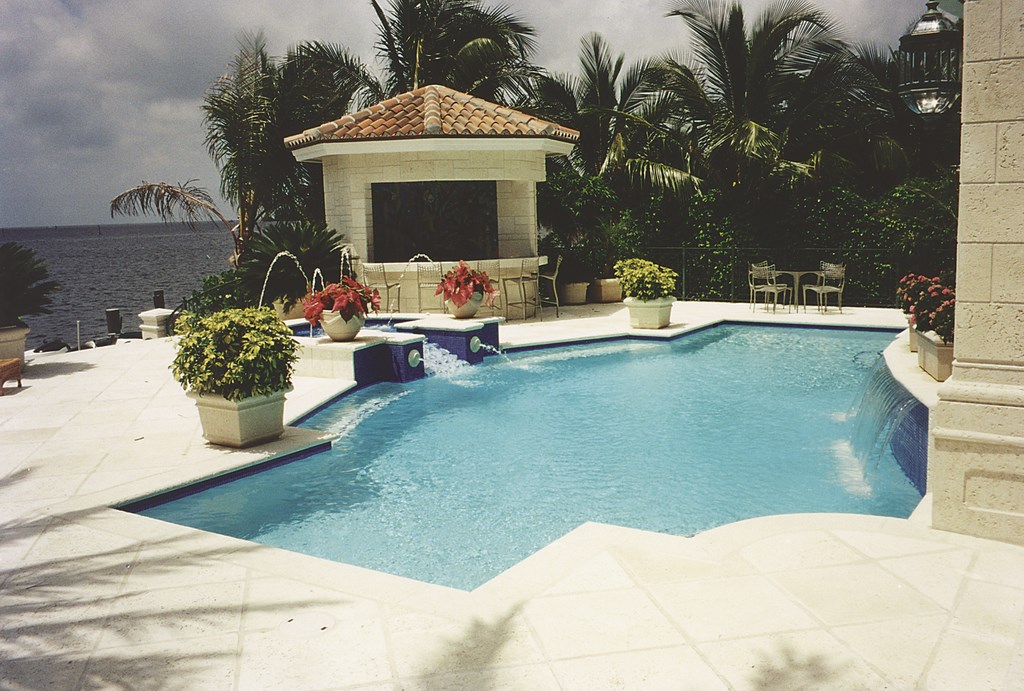 This structure interrupts a great view, but it provides some much-needed shade – and its tile-mosaic back wall offers a focal point that makes up for the intrusion.
Better still, Chickee huts are waterproof and provide a fair amount of insulation, offering the visitor a cool place to retreat from the pounding Florida sun. It's a fun, casual look – one that really invites you to enjoy a slushy cold drink (the kind with the little bamboo umbrella inside).
On the other end of the spectrum are shade structures that provide much more architectural and modern looks. On another Biscayne Bay project, the entire pool has a series of concrete beams overhead that provide partial shade. It's a formal look that creates a very modern, architectural feel – but it's intimate, too, with the shade lines adding a softer, embracing visual element to the design.
In my last column, I mentioned an extremely high-end job with a 70-foot vanishing-edge design. This project also includes a spectacular patio area that's raised above the pool with a view of the bay. The location was chosen deliberately to create the perfect destination from which to enjoy the pool and the ocean view. In fact, the setting enhances the impact of both views.
On yet another project, we set a wooden roof over a spa to establish a dramatic triangular geometry. Because the spa is located on a lower portion of the property, the roof's angles are visible from several points inside and outside the home and make their own creative statement.
COOL CREATIONS
As you can tell, I like working with these shade structures and make a point of trying to include one or more on each of my projects. As I said up front, I see them as a way to add great value within the limits of just about any budget.
I also see them as a key design component because shade structures provide visually interesting points of transition. Trellises, for example, often support vines and other plants growing within their latticework. This can provide a very natural transition or demarcation point between structural elements of a home and the landscaped areas beyond. In addition, trellises offer the advantage of providing broken shade areas and a compelling play of light as the sun shifts positions throughout the day.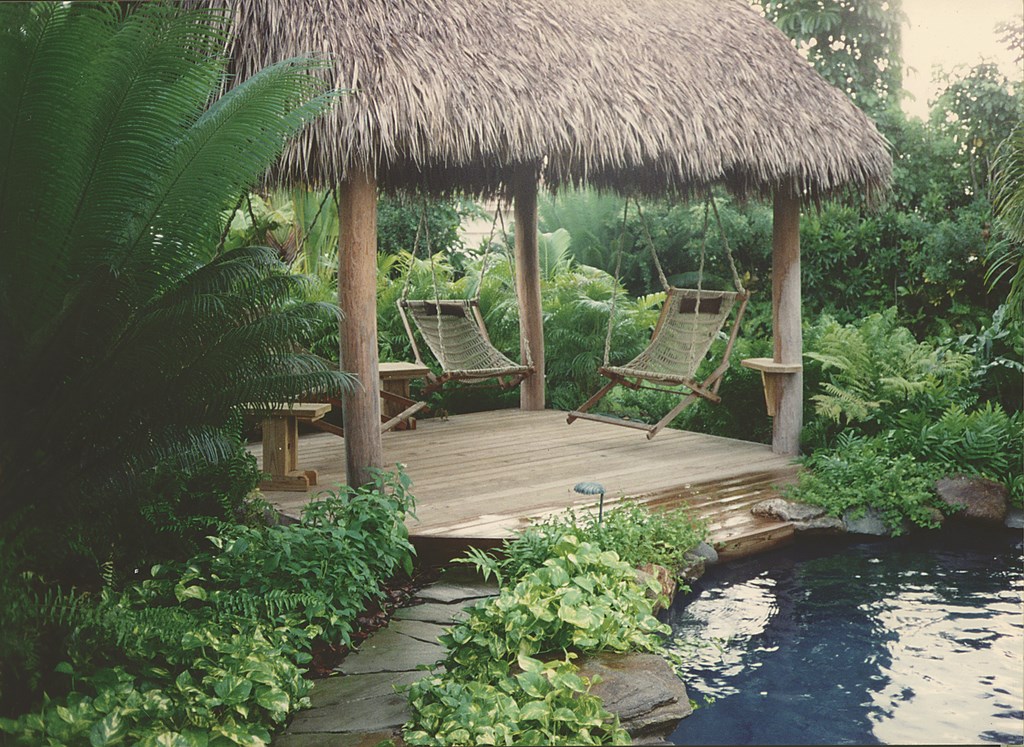 South Florida's classic Chickee huts bring a tropical touch to outdoor relaxation – and lend much needed shade to what can be a blistering setting.
And I'll come back one last time to the use of shade structures as destinations: They invite clients and their guests to move from indoors to outdoors and, properly outfitted, allow them to enjoy the best of both indoor and outdoor living. And if you set them up with good lighting (both interior and exterior) and perhaps a good sound system, they'll serve their destination functions at any time of the day or night.
One last thing: Don't forget trees, the most natural shade structures of all. I've worked on projects where large existing trees have been rigged with lights and harbor beautiful decks below. I recall more than one job where a large tree with a wooden deck beneath it became everyone's favorite destination – beautiful and comfortable places to be.
The beauty of shade is that there is virtually no limit to what you can do with it. From small projects to large, it's a factor every watershaper should consider adding to their designs.
Brian Van Bower runs Aquatic Consultants, a design firm based in Miami, Fla., and is a co-founder of the Genesis 3 Design Group; dedicated to top-of-the-line performance in aquatic design and construction, this organization conducts schools for like-minded pool designers and builders. He can be reached at [email protected].