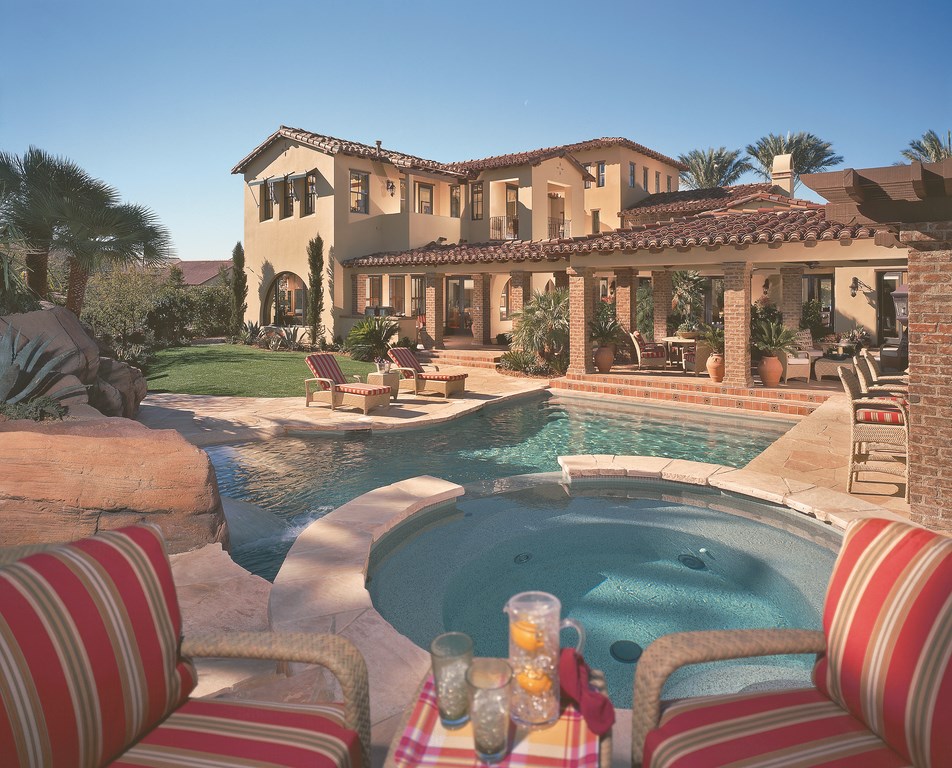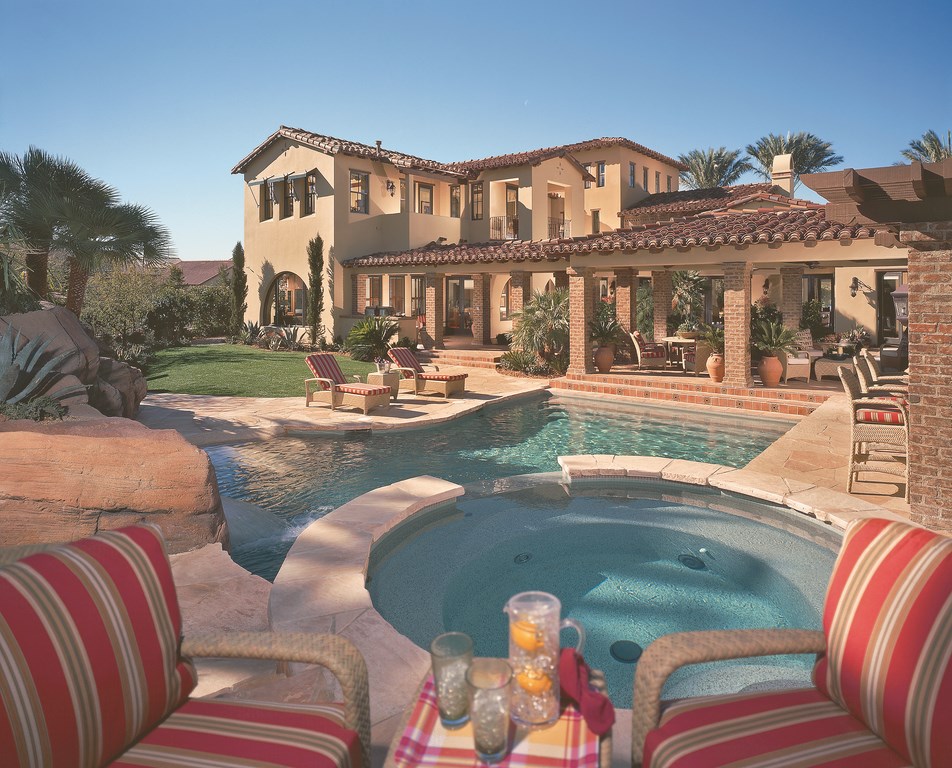 A tremendous amount of synergy and teamwork went into the making of "The Ultimate Family Home."
Initiated by Builder magazine (the official publication of the National Association of Home Builders) and Pardee Homes (the Los Angeles-based developer of the Nevada Trails neighborhood in which the home was built), the project unfolded as a partnership between the magazine and the developer's Las Vegas office along with Bassenian-Lagoni Architects (Newport Beach, Calif.), Color Design Art (Los Angeles) and Lifescapes International (the Newport Beach-based landscape-architecture firm).
"The Ultimate Family Home" opened in January 2004 in conjunction with NAHB's International Home Builder's Show in Las Vegas and has hosted thousands of visitors who have toured the property since it opened.
We at Lifescapes International were asked to design the exterior environment to include a wide variety of family-friendly functional and recreational areas. To do so, we worked hand in glove with Valley Crest Landscape Development, our one-stop landscape contractor in the Las Vegas area, to create a setting that defines an exciting set of project possibilities for homeowners and home builders alike.
OASIS BY CONSENSUS
We were chosen for the project largely because of our firm's extensive experience in designing residential and resort communities throughout the world and particularly in the Las Vegas metropolitan area.
Having completed more than 50 projects in that area since 1980, we've watched the city mature through the years and appreciate the fact that its needs continue to grow and adapt to change. With nearly 5,000 people moving into the area per month and a regional population that now exceeds one million, there's valid concern about water resources and a big focus these days on sensible water management – a key component of our work on this project.
The first of the home's four 'zones' doesn't involve water – other than the lake to which the home is adjacent. The emphasis here is on making a statement about drought-tolerant landscaping and on setting up a grand entrance. (All photos in this article are by Eric Figge, Eric Figge Photography, Irvine, Calif.)
In fact, our primary design intent was to create a garden setting that reflected the needs and aspirations of a modern family looking to maximize its home-based experience in a way that dealt responsibly with water resources.
The design itself sprang from extensive market research conducted in the summer of 2002 with three focus groups. Perhaps the most significant of the three groups (from our perspective as watershapers) was the one made up of children from eight to 16 years of age.
Gathered by San Diego's Marketplace Research & Consulting, the research revealed a strong desire for a home that would balance a need for family interaction with the desire for individual pursuits within the home. It also indicated that these families wanted spaces and amenities that increased the convenience of home life while lowering operating costs and allowing for flexible use of spaces throughout.
The entry courtyard introduces the first of the project's water elements – a modest fountain that greets visitors with the sight and sound of moving water while the plantings and surfaces keep with the overall theme of drought tolerance.
Using the research as a point of departure, the landscape design went through several iterations and months of meetings with the architects, the interior designers and the principals at Pardee Homes. It was an interesting challenge compounded by the fact that the project involved mostly sponsorships and in-kind donations – meaning that we had to incorporate these elements appropriately within the overall design.
The house itself is in a Spanish Colonial style, with warm earth tones and soft natural materials used throughout. The gardens fit with that styling but at the same time serve as a sympathetic reflection of desert geography and surrounding ecosystems. All of the hardscape around the home, for example, is colored in muted desert tones, allowing the plantings to provide soft, colorful accents just as they do in a natural desert setting in springtime.
Indeed, the feeling that we were striving for in 13,500 square feet of hardscape and 7,000 square feet of planted areas featuring more than 100 drought-resistant trees and more than 20 desert-friendly species of shrubs was that of a desert oasis – a cool, comfortable, enveloping retreat from an arid climate.
ZONE BY ZONE
Our design objective for this unique residential garden was to create comfortable spaces for comfort and relaxation as well as for an active family life, and we did so using a four-zone approach that kept a close eye on the needs and desires identified by the focus-group families. Water-management issues were addressed by focusing water use in areas of the garden where the family would gather and minimizing water use in the less-active garden areas.
Zone 1 includes the approach off the main street moving through the neighborhood as well as the gently sloping yard outside the gated front yard. Our emphasis on drought-tolerant, xeriscape landscape materials began curbside with majestic palms and other verdant materials marking the entrance and continued with fruitless olive trees (a Las Vegas city code requirement) that suit the desert climate while providing a much-needed shade canopy at the home's entry. A textural pattern of agave, fruitless olive trees, citrus trees and desert grasses mark the home's gated entry as well.
Compared with the formality of the front courtyard, the rear courtyard is cooler more intimate, greener, more heavily planted and more welcoming to family activities and guests. The water elements here include a pop-jet fountain (not seen in operation) that encircles the central stand of palms.
Zone 2 is a formal courtyard accessed via a Mediterranean-influenced, wrought-iron gate. The area features a small, tiled fountain that welcomes residents and guests with the soothing sight and sound of moving water. In keeping with the water-management theme, the fountain uses water sparingly and has minimal splash to minimize evaporation.
Pavers (donated by Boral Brick of Roswell, Ga.) were set on the walking surfaces with sand and gravel for reduced run-off and increased percolation. The lawn area just to the left of the entry fountain is greenery with a difference: The area is "planted" with artificial turf (donated by Premier Turf Solutions of Las Vegas) that requires no watering and little maintenance. Potted citrus trees line the edge of the lawn.
A Charitable Organization
It is most fitting that a project known as "The Ultimate Family Home" should benefit the transitionally homeless.
Pardee Homes, the builder behind the project, is an active supporter of HomeAid America, a non-profit organization that builds shelter for the temporarily homeless nationwide. The group's focus is to get women and children moved into temporary shelters (from six months up to two years, depending on need and the care provider's programs) and on their way toward a self-sufficient life.
"We recently established our twenty-second HomeAid chapter in Las Vegas, and we wanted to help get the chapter started with dollars in its coffers and public visibility by giving tours to local residents of 'The Ultimate Family Home' ", explained Hal Struck, Executive Vice President of Pardee Homes and a member of the board of the HomeAid organization.
For more information, visit www.homeaid.org.
–J.B.-J.
Zone 3 is the family's oasis, a place with a focus on entertainment in which water plays a prominent role. Traditionally, water provides respite from summer temperatures in desert climes. Here, we used water in select areas of the zone in three forms – an intermittent dancing-water fountain, a spa, and an interactive swimming pool.
For the central courtyard, we commissioned a water-smart fountain from WET Design of Universal City, Calif. The deck-level "pop-jet" fountain they developed and donated sends quarter-sized droplets into the air to provide a playful atmosphere for children and parents alike.
In the evenings, when the children are either in their rooms or out and about with friends, parents and their friends can rest on the raised seat walls that surround the courtyard. With the jets turned off, the courtyard becomes a "conversation pit" – a simple, quiet, brick-paved patio. In the center of this courtyard stands a cluster of Mediterranean fan palms, emphasizing the home's warm and exotic architectural themes.
BACKYARD PLAY
Throughout the interviews and research that went into preparing for this project, the families said they wanted relief through the warm summer months, specifically in the form of a swimming pool/grotto environment.
The swimming pool in Zone 3 is the focal point for the space. It started out as a basic rectangle, but as our design work progressed, it expanded to include a curvilinear offset at one end that accommodates a beach entry as well as a splash-down area for a waterslide.
The backyard is designed purely for family fun, from the big, covered, multi-function patios to the large lawn and the pool with its raised spa. Beyond this core, the treehouse, grotto and waterslide are special touches that make a big difference for the kids.
The pool now has a footprint of 25 by 30 feet and is four feet deep. The edges are finished with a terra cotta-colored ceramic tile, and the interior is a medium-gray plaster that gives the water a cool, lagoon-like look. Above one of the pool's corners and adjacent to an outdoor-dining area and shade structure is a raised, 12-foot-diameter spa designed to accommodate six to eight people with ease.
Fun comes in the form of a rock waterslide that was hand-crafted by Valley Crest's skilled crew to emulate spectacular rock formations found in the nearby Valley of Fire, a local geological attraction. The waterslide, which begins at the height of 10 feet and follows a sweeping curve into the pool, can be accessed in two ways: from a set of steps at the rear of the rock structure and from a tree-house that overlooks the pool area.
Key Participants
As was noted in the accompanying feature, many of the construction materials used in "The Ultimate Family Home" were donated by interested suppliers.
By the time work was completed, products worth nearly $500,000 had been used, including:
Rear courtyard fountain: Wet Design, Universal City, Calif.
Drip irrigation systems: Rainbird Irrigation Systems, Upland, Calif.
Artificial turf: Premier Turf Solutions: Las Vegas, Nev.
Custom pottery: International Garden Art, Santa Ana, Calif.
Plant materials were either donated or discounted by Grow West Nursery, Jodan Farms, Norman's Nursery and Orange County Nursery.
— J. B.-J.
The tree-house also rises 10 feet above grade and is essentially a self-standing observation platform designed for kids during the day and for adults at night, with views back to the lights of the distant Las Vegas strip. Made of Choice Deck, a recycled-wood material donated by Weyerhaeuser (Santa Clarita, Calif.), the entire structure is built around a mature Canary Island palm that provides shade and a visual canopy over the tree-house terrace.
Flanked by a combination of mature trees and flowering shrubs, there's also a secluded, raised grotto placed near the stairs of the tree-house terrace to provide a place for outdoor campfires at night or a cool spot to retreat from the afternoon sun.
The zone also features an outdoor pavilion with elaborate amenities – everything from three overhead televisions and a fireplace to a central barbecue area, an auxiliary cooking area, a loggia-covered dining area and a refrigerator and sink – all meant to let the homeowners take full advantage of the mild evenings that often settle in at the end of warm desert days.
Rounding out the zone is a decorative "solar trellis" fitted with panels that supplement the home's power supply while sheltering game tables below; a motor-court space with pavers that define areas for half-court basketball, four-square and tether ball; and a quarter-pipe skateboard ramp. All areas of this zone are connected internally and to other areas of the property by meandering, warm-toned stone pathways.
Zone 4 is the active children play area located on the southern side of the property, isolated around the corner and away from the entertainment-oriented backyard. Here the children have a variety of sport activities available to them, including a combined half-court basketball/paddle tennis area.
LOST IN SPACE
Once completed inside and out, the home became a place where we all could see a modern family conducting its life in comfort and convenience while seeking entertainment opportunities that were once the exclusive domain of commercial resorts.
Indeed, with so many different areas and activities, it's easy to find space for individual time and for group activities – just the sort of family-friendly ambiance we were all after in this grand collaborative effort. As Don Brinkerhoff, CEO/FASLA of Lifescapes International states, "This house truly is a family resort!"
Julie Brinkerhoff-Jacobs is president and chief financial officer for Lifescapes International, a landscape-design firm based in Newport Beach, Calif. Founded by her father, Don Brinkerhoff, in the late 1950s, Lifescapes often focuses on extremely high-end commercial spaces, including the grounds and swimming pools at the Bellagio Resort in Las Vegas and The Four Seasons Hotel in Los Angeles. A graduate of Cal State University, Sonoma, Brinkerhoff-Jacobs is a frequent speaker at industry events and has written numerous articles and papers on real estate and demographic trends. In 1989, she co-founded HomeAid America, a non-profit organization dedicated to building shelters for temporarily homeless people.