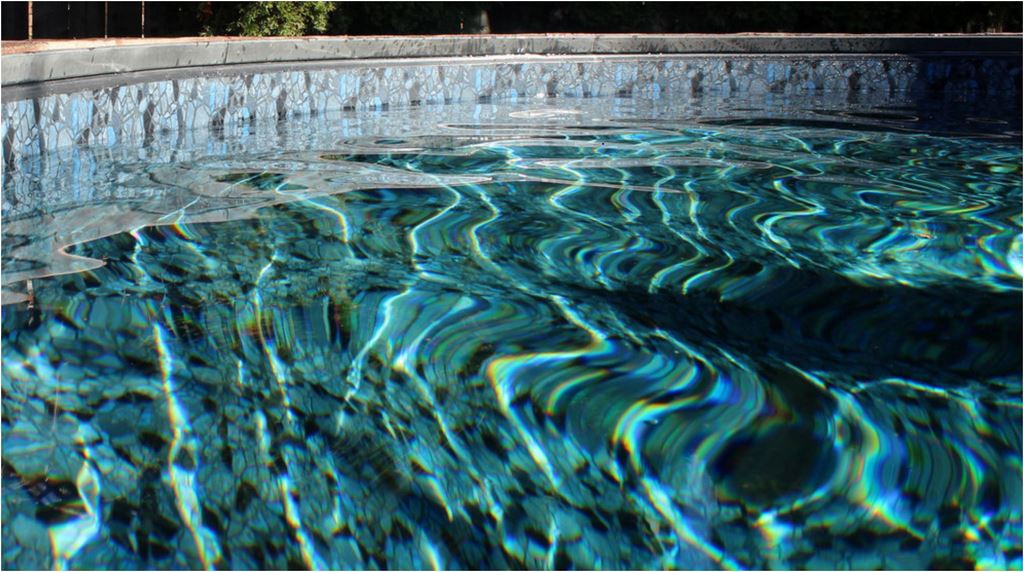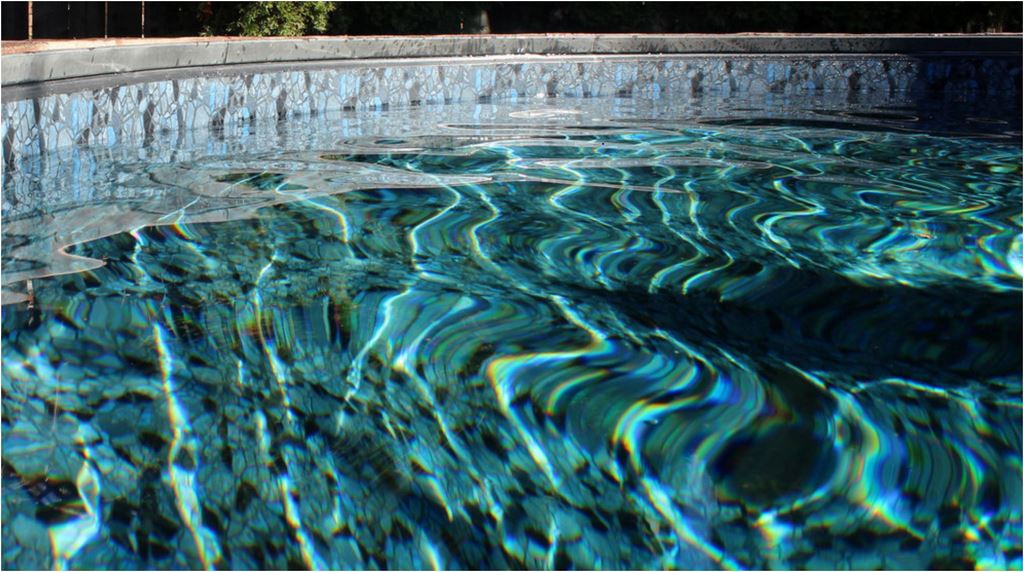 Innovative inks and evolving manufacturing techniques are transforming vinyl liners used in swimming pools, says David Sones of Canadian General Tower. As consumers demand visually dynamic patterns and textures, the industry is responding with a class of luxury liners designed to shimmer and shine.
By David Sones
The marketplace for pool liners is perpetually influenced by landscape architecture and outdoor living trends. As a result, pool builders and designers are always looking for something new to capture market share and differentiate themselves from others. This basic market characteristics necessitates ongoing innovation, which often goes largely unknown to the industry at large.
The pool industry often thinks about prints on liners simply as colors printed on the vinyl. This is true, of course, but the inks producing these colours are unique and are used to create depth and dimension. Case in point, this season's new inks will even shimmer and shift in the sunlight transforming the liner aesthetics.
In our corner of the industry, designers work with the latest technological advancements available to create pool-liner prints, including developing the inks to create new colors and unique visual effects. In fact, the pool industry is not always aware of the years of research and development involved in creating these unique designs.
Several recent advances in ink technology have led to the creation of material with new colors and a new liveliness in the pool-liner design. These colors often determine whether a particular pattern or collection will succeed. The overall color scheme of a pool liner design is crucial, as it reinforces the mood of the pool and the backyard.
Designers always keep in mind the vinyl liner patterns will be appreciated as decor.
SHIMMERING INK
One example of technological innovation is our company's Aquashimmer, which was created for the pool liner to make the water sparkle in the sunshine. This ink was developed collaboratively with the manufacturing team at CGT to ensure a robust printing process. The resultant ink and coating produces a dazzling effect, some compare the look to a shimmering pearl.
This is just one example of how designers are constantly researching and developing new products and innovations. This led to the introduction of a truly new ink innovation which allows further differentiation for pool professionals in the market. This particular new ink has the ability to "color shift," which means the color will change from silver teal to magenta and violet red blue by simply changing the viewing angle of the pool.
The development of the color shift inks required a lengthy process to ensure the quality and durability of this new product. The first step was finding a source and supplier to help create and manufacture the ink to meet the required specifications.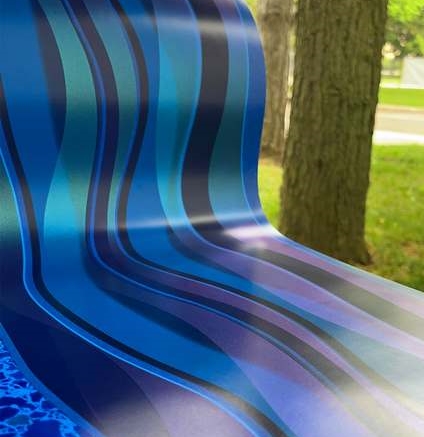 Then, the new ink was thoroughly tested. It took over a year and a half to test and develop the ink with the in-house color lab. In fact, because of the long development process, this new ink is very robust and provides a higher performance level. Not only does it have a color-changing ability, but it also has an iridescent sparkle quality.
The next step was to create a design to show off the color-shift effect. The resulting Surf Antigua high-definition electric (HDE) pattern, pictured here, has intertwined waves of color which change from blue to teal to magenta with hints of gold and silver and reflect in the water.
Depending on the angle and the light conditions, it amplifies the reflection of the water and sunlight for a gradual effect along the pool. In addition to the launch of the Surf Antigua HDE design, other pool liner fabricators have worked with our company to develop exclusive patterns for themselves using the technology.
ENHANCED COLOR
As with many products, color trends change each season. Designers do research to stay current with emerging color trends and work to apply them to the pool industry in practical ways, which will endure for the life of the product.
New advancements in vinyl color technology led to the development of HDE color materials. These premium-based films provide an intense, electric, or vivid color that is stronger and brighter and amplifies the color intensity of the water in the pool. Intense, deep blue colors are in demand and developing HDE has been key to making them a reality.
The ability to create 3D renderings allows designers to present new concepts to builders and liner fabricators as they would appear in the finished pool, coordinating with different pool shapes, decking materials, and coping treatments. This removes guesswork from the development process in visualizing the final product as it would be seen in the pool, which is especially helpful with new design trends.
Liner designers spend a considerable amount of time researching colors to use in a vinyl pool liner pattern to mirror the trends in backyard décor. Just because one color may have been popular one year, it does not mean the same color should be applied to the following season's vinyl liner patterns. This is important because colors in products such as apparel are not expected to stand the test of time. However, vinyl liners are generally in the pool for at least five to seven years.
Designers work hard to create patterns which have a classic appeal and will not look dated after two years. Therefore, the vibrancy and exact hues which made the initial design concept a hit with focus groups must be preserved and enhanced for final impact in the marketplace.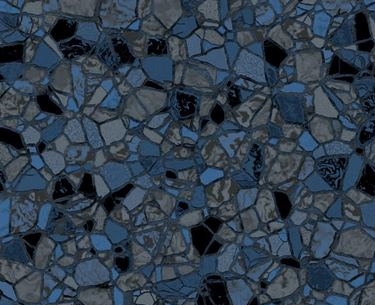 This requirement for color accuracy not only applies to the inks, but also to the base color of the vinyl itself. Early base films were aqua or baby blue. Today, as printing technologies have advanced, the trend has moved toward a wider range of base film colors to make the pattern appear more vivid.
Fashion trends in upscale backyard furniture can be particularly influential when it comes to determining vinyl pool liner colors and patterning. Outdoor furniture has moved far beyond simple, plastic lawn chairs to luxurious furniture with softer edges and bigger cushions. Outdoor rugs, outdoor curtains, and even outdoor kitchens must all tie into a cohesive outdoor living space, and the designer realizes their patterns must add to the backyard fashion statement.
The vinyl-liner pattern choice is heavily influenced by the overall color scheme of the home and the popularity of rock waterfalls and big benches for lounging; therefore, having a pattern which blends easily over benches and steps, while flowing from a waterfall into the pool, makes certain patterns very popular.
TEXTURED TREATMENT
One of the newer innovations which has really taken off is textured vinyl sheeting. This trend toward textured materials comes from a desire for a more realistic and natural-looking product.
The textured pool liners produced in Europe are 60-mil membranes, which are also gaining in popularity with builders in North America. These are called Aquasense liners, as their realistic feel appeals to the senses of swimmers. These textured products are the result of a five-year effort with the sales and development teams at CGT to create new printing and lamination processes which produce highly realistic effects.
In Europe, pool liner designs more closely imitate the materials used by landscape architects. Consequently, these textures are a perfect imitation (both look and feel) of materials such as slate, granite, and marble. These products allow the pools to blend into the historic settings of the homes, which in many cases are located in high-end, luxury settings. These textured PVC membrane products meet Class C anti-slip properties, making them ideal for commercial applications such as hotels, athletic clubs, and homeowners associations (HOAs).
As a result, we have introduced new marble and slate prints. This past year, they introduced a popular embossed green slate liner called Fiji. The green slate color has a distinct look and is inspired by pools which might be seen in a Bali resort. The end result is a very tropical, deep turquoise-looking water color being chosen for both residential and hotel pools.
LOOKING AHEAD
Design is not just how it looks, but also how it works. This balancing act between function (usability) and form (aesthetics) is one of the most challenging and rewarding parts of designing vinyl pool liners. Technological advances in inks, printing, and manufacturing are propelling designs to new heights.
Moving into next season, the industry will have more choices in patterns, colors, and textures to meet the surge in demand for all things pool and outdoor living. Not only will pool builders have more options to meet consumer demand, but they will also have high-quality vinyl products to help them stand out from their competitors.
Being able to bring these innovations to both residential and commercial pools and provide the industry with unsurpassed designs, technological innovations, and quality vinyl materials is the most rewarding part of being a pool-liner designer.
David Sones is the supervisor for industrial design, as well as the lead designer for North American and European industrial design development, at Canadian General Tower (CGT). Sones has over 21 years of design experience and is proud to be a part of CGT, which has been in business for over 150 years.