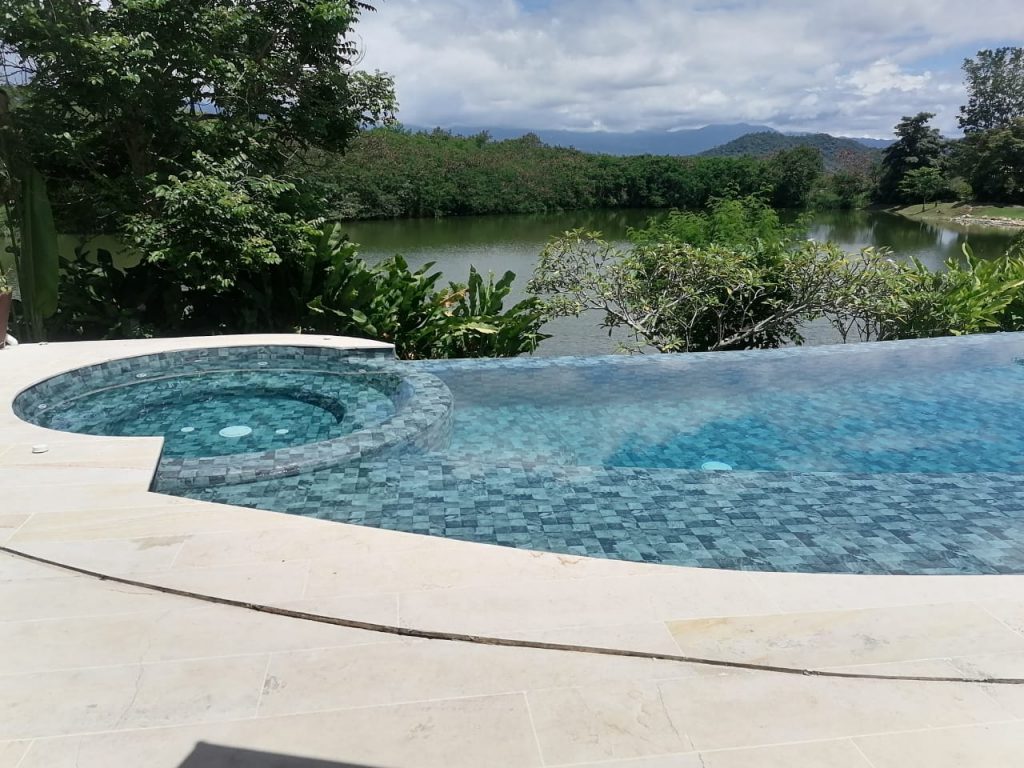 Once derided as "baggies," pools with vinyl liners have now taken their place in the world of custom watershaping, due to the flexibility of shape and wide spectrum of patterns, colors and textures. This beautiful remodel stands as a perfect example, says Columbian watershaper, Christophe Garces.
By Christophe Garces
This custom hillside, vanishing edge swimming pool is located in a beautiful condominium close to Bogota, the capital of Colombia. It's nestled in a lush natural area, full of tropical vegetation, overlooking a river with fantastic wild life, especially a wide variety of birds.
We are pool specialists in Colombia with long years of hard-won experience, which is essential to working in this country where we face challenges you don't encounter in many other places. We know where to source all the necessary products to perform our daily work and we have mastered the logistics needed to perform installations in remote areas.
It's an ongoing challenge that requires careful preparation and scheduling in order to transport all the material and tools at the job site. We always imagine the unpredictable because we don't have a shopping mall or a hardware store nearby. For example, we always carry portable electrical generator in case of lack of electrical supply, additional tools and material, among countless other precautions.
Suffice to say, experience is a must for all pool builders, and far more so in these types of remote settings. Among the many lessons we've learned is that in some situations, turning to a liner instead of plaster, is one way to overcome some of these challenges, especially in renovations.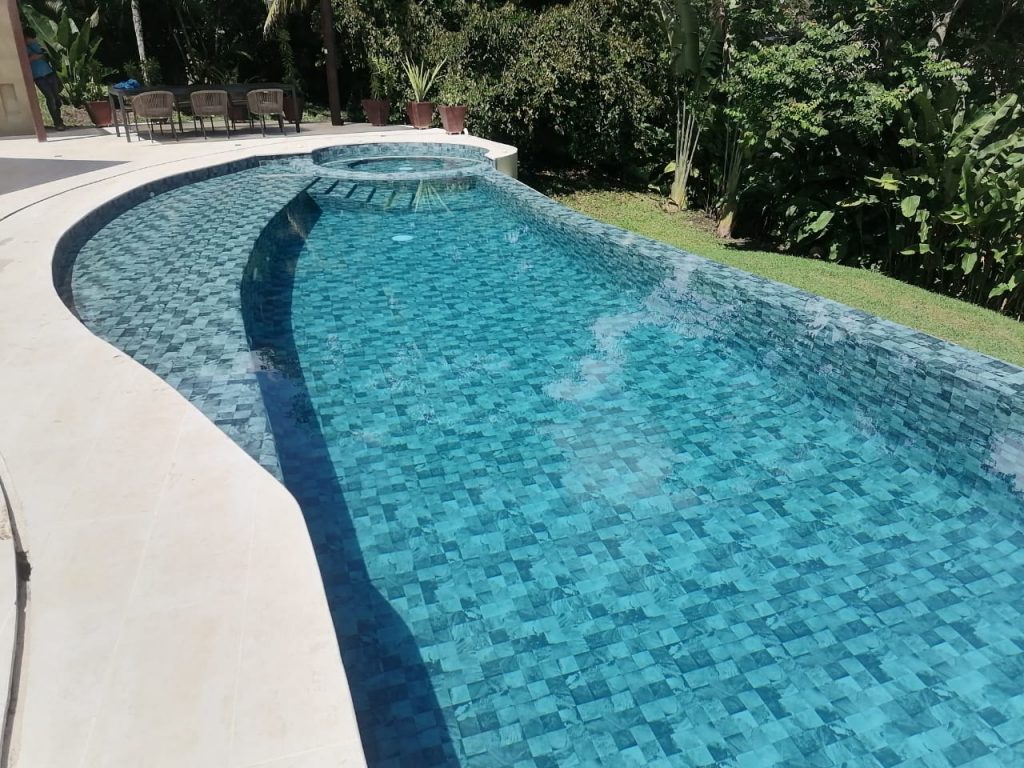 This particular project, the owner wanted to change the look of his pool, and he had been experiencing leaking problems with its tile surface.
He had tried to have it fixed several times, but with no success. We convinced him to use a reinforced liner with a 10-year warranty on watertightness.
A READY OPTION
This simple renovation, essentially resurfacing with a liner, is a strong example of how today's liners can be used with custom designs. In this case, the pool features an attached, raised spa, a freeform Baja shelf and a sweeping vanishing edge. It also shows how liner patterns have become more artistic and now appropriate for pools built for comfort and high aesthetics.
We did not modify the shape of the pool, and only performed the necessary preparation work for the liner installation, and we also fix the horizontal level of the vanishing wall in order to have the water falling down the edge in a beautiful and uniform way. And, we suggested the FIDJI pattern to match with the natural environment and the house.
The pattern used in the pool is called FIDJI, this is a 3D textured surface from the AQUASENSE line of reinforced membrane for swimming pools supplied by Poolside by CGT. The combination of green colors in 7.5-by-7.5 cm squares, beautifully harmonized with the tropical area setting, as well as the contemporary design of the pool itself.
Colombia has as rich flora and fauna, and visitors are always impressed with the great variety of green colors in the environment. While the pool and liner pattern are architectural the rich green color palette harmonizes perfectly with the surroundings.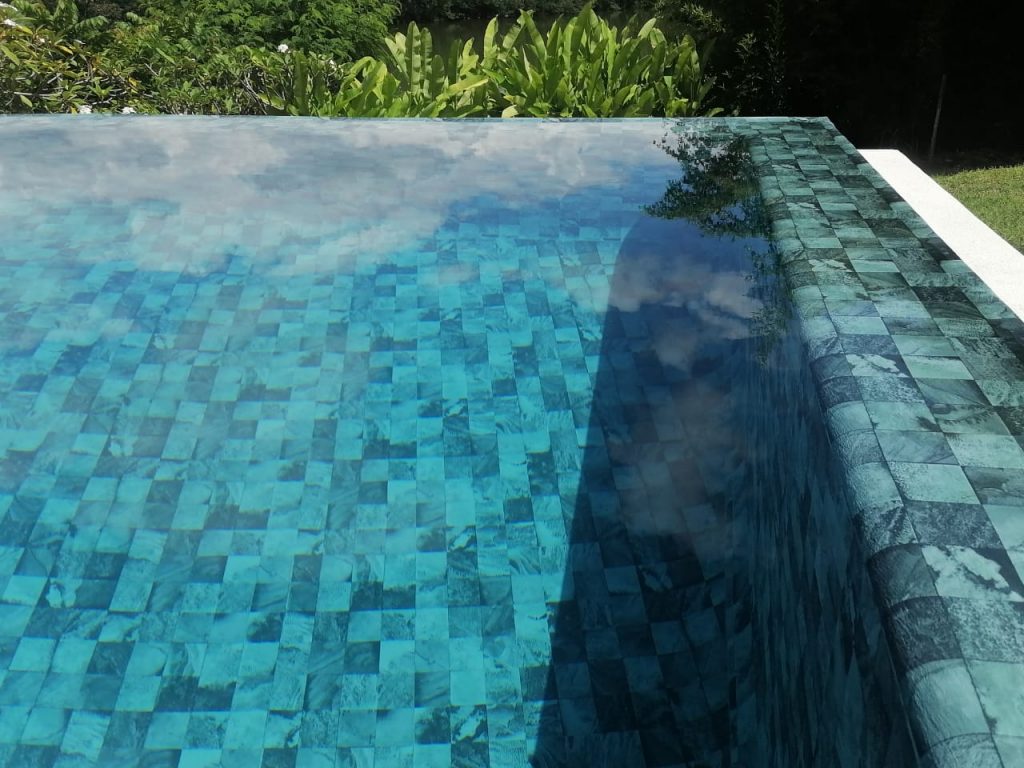 This is why most pool owners we work with, do not wish to install a swimming pool in a typical blue color, most of them are looking for a more integrated pool in its environment, using a green or a turquoise appearance.
This particular liner is one of our best sellers in Colombia, one that fits neatly with the expectations of pool owners who are demanding this kind of design.
It's worth noting that achieving this same "tiled" look using stone or tile materials would've cost many times as much, taken many weeks longer and presented far more challenging logistics. Without the liner, I doubt the results would have been close.
LINED TO LAST
The material is a robust 80-mil thick PVC membrane liner that comes in rolls 1.65-meters wide by 20 meters long. Once delivered it is heat-welded and installed on site. The membrane is custom cut according to the shape and dimensions of the swimming pool, a process that does require careful measurements and precise cutting.
In many ways, the installation process of a pool membrane is very similar to the roofing installation technique, but the main difference in our case is the aesthetics must be perfect, especially in terms of the cuttings and welding seams in angles, rounded shapes, etc.
Obviously rounded shapes always represent a challenge to install the material, especially inside a swimming pool. However, with some experience, the reinforced membrane gives us a lot of advantages versus other techniques. Once we have properly cut pieces of membrane, the welding of the pieces gives us the possibility to situate the material perfectly on top of rounded shapes, either on the walls and the floor.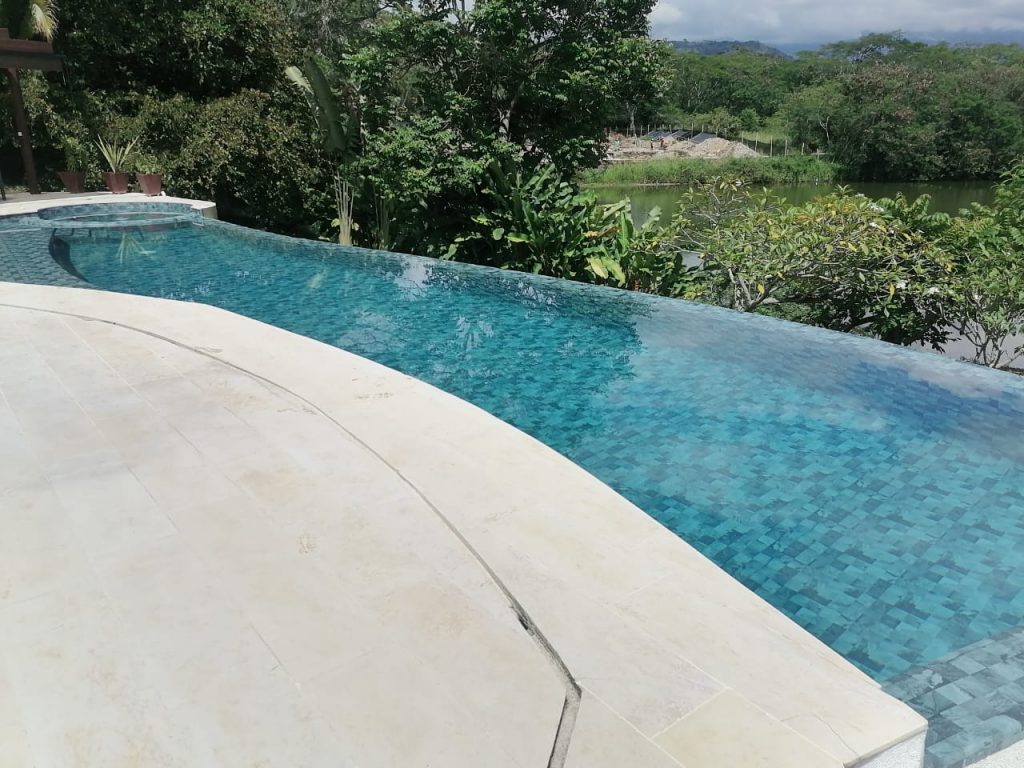 In this particular case, the most important aspect was the horizontal level of the vanishing-edge wall and the spa area. The installation on these areas was a real challenge due to the length of the infinity side of the swimming pool.
Reinforced membrane is a great material to cover a perfect horizontal level on the top of the infinity walls but you have take great care to ensure a perfect fit.
Another advantage is that textured 3D surface is a non-slip material, so you have comfort and security when using the stairs and moving from the spa area to the pool or vice versa.
All said and done, the owner is quite pleased with the final result.
Christophe Garces is owner of BLU CORP, a watershape designer and builder located in Bogota, Colombia.
---
[SD1]Suggestion?: and only performed the necessary preparation work installing all new accessories to make the vinyl liner compatible [SD1],
[SD2]Should this be "a rich"