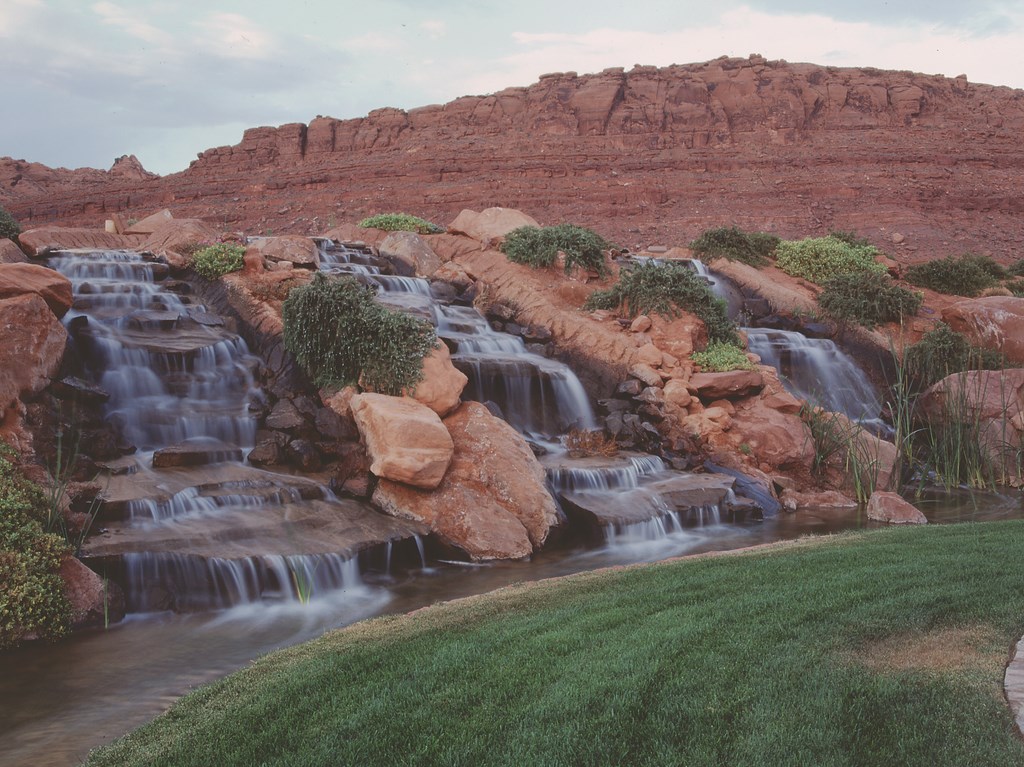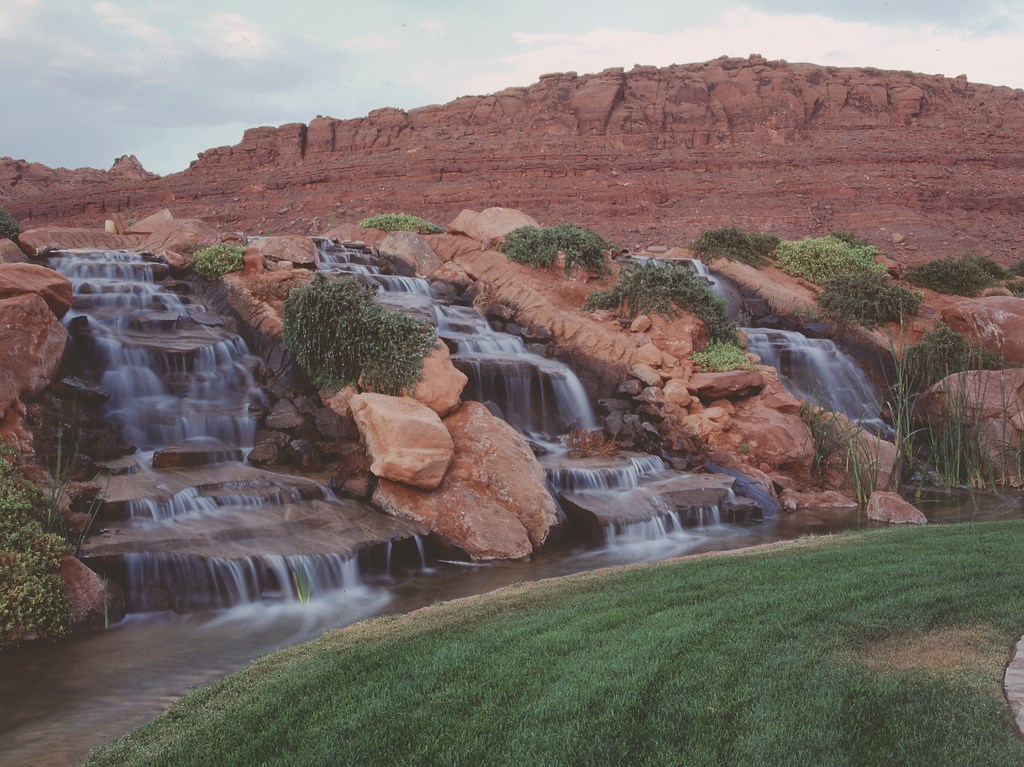 When people talk about how much they love living in the desert, I've come to believe that what they really mean is that they love living in an oasis looking out onto the desert.
That's profoundly ironic, but my clients in St. George, Utah, have all chosen for one reason or another to move to an extraordinarily arid place and seem universally to crave the presence of water in their immediate surroundings. This is indeed one of the most important things they're looking for in homes in our developments.
It's one of the reasons why our company, Split Rock Inc. of St. George, has for the past five years been involved in a series of high-end housing developments built around Entrada, a championship golf course designed by Johnny Miller. My role has been to manage the design, engineering and construction of watershapes interspersed along the golf course and four adjacent housing developments.
The bodies of water range from massive lake and stream systems containing millions of gallons of water to smaller, decorative waterfeatures for individual homes – along with a few high-end swimming pools. It's an undertaking that has led me to a fuller understanding of how powerful water is when it comes to defining a space and attracting people who are looking for someplace special to live.
RUGGED BEAUTY
The entire set of projects originated with the golf course, which was built about nine years ago. The course is actually a separate business entity from which our company has purchased the surrounding land for the purpose of development. We are currently developing the fourth and fifth phases and in fact now hold almost all of the available land around the course.
Through the process of developing our properties, we have naturally sought to integrate the designs of the homes and their exterior spaces with the golf course, which has in turn led us into a relationship with the course owners whereby we've installed extensive watershapes within the boundaries of the course itself. That's a lot of water on its own, but the watershapes in the developments are actually more involved.
Among our many ambitions was transformation of the golf course's utilitarian watershapes into decorative elements that helped conjure the image of a desert oasis in the minds of prospective homeowners. (All photos by Amy Snow, St. George, Utah)
The land is located on Snow Canyon Parkway, which leads to nearby Snow Canyon State Park. The topography and geology of the area is quite spectacular, with mountainous outcrops of Navajo Red sandstone interlaced with extensive lava flows. This is indeed a unique spot, perched right where the Colorado plateau, the Great Basin of Utah and the Mojave Desert all converge with high-altitude plateaus, sandstone cliffs and a vast expanse of desert dotted with such sculptural plant structures as yuccas, sages and desert willows.
It's a diverse and beautiful area, and the design challenge from the start has been to craft watershapes and associated stone structures that fit within this spectacular setting. That has meant working with thousands of tons of rock quarried nearby. It has also meant spending countless hours studying local rock formations and closely observing exactly how water has carved the landscape – and selecting natural features we can mimic in our own landscapes and watershapes.
The homes (including the one in the photo at right) exist in intimate proximity to the golf course – set back far enough to be buffered from errant shots but close enough to share in the sights and sounds of the abundant watershapes that feed the course's lakes.
The homes themselves have a southwest, Santa Fe-style architecture, drawing their colors from the surrounding rockwork with their earth-tone stucco finishes. Although the associated watershapes vary in size, complexity and function, there's homogeneity in their styling – a key step in integrating the entire property.
In effect, the watershapes all follow the same program, with large, rugged rockwork that evokes the local sandstone. Fortunately, there's a lot to be accomplished with this palette, because the sandstone boulders are found in a variety of shapes and sizes and can be used to create effects from the bold and dramatic (using boulders weighing more than 60 tons in some cases) to the more subtle and understated.
NATURAL PLANS
My work in this area began in 2000 on the first development. Known as Kachina Cliffs North, its central watershape is the first we built on site – a 700-by-125 foot lake that sits between a row of houses and Hole 7. The idea was to provide a backdrop for homes that would double as a buffer zone between the residences and the field of play.
There was already a watershape in this spot, but it was a utilitarian, 300,000-gallon irrigation reservoir that offered little by way of aesthetics. So we expanded the original lake to one that now holds two million gallons, is surrounded by rock formations and boasts stream and waterfall compositions on each end.
The backdrop for the homes, the golf course and all of our watershapes is truly spectacular. Indeed, we took ample inspiration from the natural terrain in organizing the housing developments and mimicking the contours of the land and its rugged outcroppings.
The lake is contained within a PVC liner, but there's a broad and well-concealed concrete shelf around its edges that we set up to support the rockwork. On one end is a 300-foot stream that flows to a six-foot waterfall flanked by several smaller cascades; on the other is a set of small waterfalls with their own winding, 600-foot stream. The streams are fed by a 30-horsepower pump that feeds two small stilling wells that serve as their headwaters.
The development is graded with two-foot elevation changes between lots, so we had about 12 feet of vertical drop to work with between the headwaters and the lake.
Learning by Doing
One of the biggest evolutions in the way we get things done has to do with the finesse we now apply in managing flows and water volumes in our streams.
In running waterways through and around residential developments, we always knew clearly of the need for varying flows in different places. In some intimate spots, for example, smaller flows and gentler waterfalls are needed. In others, where the views are from more public areas, a far more vigorous flow may be the answer.
Where our earlier projects may have sought a middle ground by setting up 100-to-150-gallon flow rates, we now tend to start with larger, vigorous flows of, say, 300 gallons per minute, and then reduce the flow downstream by branching off into wider, multiple streams and cascades. At that level, it's all about control.
This is just one example of how early planning for watershapes results in easier work on site. Although large watershape projects are always challenging and the unexpected will arise, these days our work really does seem to fall into line with regularity. The results – that is, satisfying views from all of the homes, walkways, streets and cart paths – give our developments their defining characteristic.
— R.A.
We were pleased by the results of this first watershape but immediately saw how we could do things far more effectively in future installations with a more deliberate planning process that took elevations, transitions, stream courses and the placement of the large rock formations into account on the drawing board. This led to changes within our own organization, from which point I was part of the design team in the early planning stages for subsequent developments.
By planning for the watershapes from the outset, we were able to lay out the housing locations, streets and other details of the developments with the idea that they would interact with more extensive stream, waterfall and lake features. Indeed, our design goal is to have every home's backyard within 15 or 20 feet of a stream, waterfall or lake edge.
This put a premium on making sure every linear foot of watershape was designed and installed with top-notch aesthetics and expertise. And it worked because we had real control, from the design stage forward, of the specifics of elevation changes, headwaters locations, plumbing runs, equipment locations, primary focal points and the placement and orientation of big rock formations.
One of our assumptions in laying out the developments was an integration of water so complete that no home would be more than a few paces away from it in one or more forms – stream, cascade and/or lakeshore.
Once we hit our stride and fully integrated the watershapes into overall subdivision planning, the work began to unfold for all of us like a beautiful tapestry. Where Kachina Cliffs North has done well with two surface-acres of water spread among five lakes and 2,000 feet of streams with a combined flow of 9,000 gallons per minute, the next development, Kachina Cliffs South, includes ten to 12 20-foot waterfalls that feed an interconnected three-lake system.
The subsequent development phases each seemed to get even more elaborate and visually compelling. Indeed, Kachina Cliffs East (our more recent) is truly spectacular, with 21 waterfalls, 3,500 feet of streams and an acre's worth of combined surface area.
GREATER LENGTHS
Our new planning regimen also has enabled us to enhance our involvement with the golf course itself. Where Kachina Cliffs East abuts the course, for instance, we installed a faux-rock retaining wall all along the front of the green on Hole 7 that ties in geologically with the red cliff bands in the mountains in the background.
It's more than helpful that our work with the golf course has always been collaborative. In fact, all of our watershapes are now filled using irrigation water from the course that originates in a system of wells. We're also working on developing a system that will incorporate a secondary-use water supply to maintain the long-term reliability of the wells as the local need for water increases.
It'd difficult to look at the Entrada site as anything other than an integrated whole, with the homes, exterior spaces, watershapes and golf course all rising from a singular vision and expressing the forms and textures of an eminently civilized desert oasis.
Through the years, we've built a number of decorative features on the course, including watershapes on holes 5, 6, 7 and 8:
[ ] Hole 5 is a 175-yard par three where, from the tee, you can see a waterfall and a stream meandering along the side of the cart path. [ ] On Hole 6, there's a 400-foot lake that varies in width from 80 to 120 feet and is fed by streams at both ends that reach the lake via small cascades.
Quality Issues
The extensive nature of the watershaping at the Entrada developments has taught us many lessons, some of the most important having to do with maximizing the energy efficiency of our systems.
For starters, we use large plumbing on simple runs – pumps that range from 15 to 50 horsepower and pipes ranging from 10 to 24 inches. We also make the most of gravity. In several places, water from streams ends up in small ponds that serve as secondary sources and is then piped from that reservoir to several falls at lower elevation. By creating extra falls but only having to pump the water to the top, we let gravity do its thing.
Again, planning and integration of watershape concepts at the start of the design process is the key: Making the most out of every inch of every vertical transition is not something that can be accomplished by on-site improvisation!
— R.A.
[ ] Hole 7 includes the largest watershape I've ever built: the above-mentioned 700-by-125-foot lake fed by two streams and, up by the green, another 140-by-90-foot lake with a faux-rock retaining structure, big waterfalls and more than 300 feet of stream. Portions of the cart path had to be removed to make way for the streams. Instead of piping under the path, we constructed bridges that provide beautiful up-close views of both streams and waterfalls. [ ] Hole 8 has a 500-by-125-foot lake along its side. The most interesting feature here is a split stream that flows down around two sides of the tee area. It looks great up close, but the view looking back from the green is truly spectacular.
Our work in the developments surrounding this spectacular golf course is far from finished. We're currently involved with a brand new development called the Reserve at Entrada – four subdivisions, all with extensive watershapes woven through and blending with the area's network of lava flows.
We're also constructing a series of smaller lakes and streams for the Inns at Entrada, a development nearby that features four integrated water systems that will provide intimate sights and sounds even for higher-density units.
FACING THE FUTURE
Creating all these watershapes has been a tremendous and exciting personal challenge. The volumes of rock we move and the sizes of the equipment we bring in to shape the land and place the big boulders are awe-inspiring, and it's been fun to watch everything come together.
The greatest satisfaction I take in my work, however, comes in the form of comments from residents of our various Entrada projects who have told me over and over again that the reason they enjoy living where they live is because our developments create oasis-like enclaves in the desert that are unique – and uniquely desirable.
Richard Allen is project manager and director of waterfeature development for Split Rock, Inc., an urban design/development firm based in St. George, Utah. Allen joined the firm four years ago, after having spent 23 years in the steel and metallurgy industry. In pursuing his career change, he was brought in to manage Split Rock's landscape and watershape projects and has immersed himself ever since in the arts and craft of high-end naturalistic watershape design.