Articles
By Scott Cohen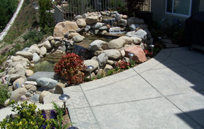 Among all of the creatures who haunt the dreams of watershapers, I can't think of any worse than gophers — especially when those gophers collude with clients who also happen to be attorneys.
Not long ago, I had the lovely experience of being abused by both — first on the job site by the small, fur-bearing rodents, then in court by
my client.
Scenario: A while back our firm installed a small, six-by-eight-foot pond as part of a project for a hillside residence. At the time we signed the contract, we advised the homeowner that there was known gopher and rabbit activity in the neighborhood and added a note to the agreement stating the following: "Homeowner has been advised of heavy rabbit/pest problem in this neighborhood. Owner will need to follow a rodent pest-control program including traps and baits to help control these burrowing pests. Contractor will not replace plantings or damage caused by rodents such as rabbits, ground squirrels or gophers."
Two years after we completed our work, I was called out to the property to inspect some broken sprinkler lines and couldn't help noticing that there was significant gopher activity. Indeed, much of the slope was already riddled with holes.
Knowing how serious a problem these digging rodents can be on hillsides, I immediately informed the homeowner that he needed to do something to get rid of them. In this case, there were multiple retaining walls and the house was set back no more than twelve feet from the slope, and I did all I could to let him know this was a big deal.
He said he would have his homeowners association take care of it. In retrospect, my big mistake was not getting that in writing as well.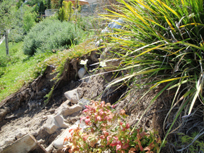 As it turned out, he didn't follow through and instead allowed the gophers to continue doing what gophers do. Several years later -- fully five years after the pond was initially installed -- we received a call letting us know that the hillside had failed below the pond and that the pond itself had collapsed. I went to inspect the site, and it was just as I'd feared: The entire slope was marked with so many holes that it looked like Swiss cheese. The pond collapsed, and the water effectively washed out everything in its path.
Rather than accept responsibility for not having addressed the gopher problem as he said he would, the client sued our firm, claiming that the 250-gallon pond had leaked and caused the slope to collapse — this despite the fact that the pond did not include an auto-fill system and the whole area had obviously been neglected. (For a leak to have resulted in so much damage, the homeowner would have been refilling the pond constantly, which obviously hadn't been happening.)
It was brutally obvious that gophers, which can tunnel up to 100 feet in a day, had been having their way with the entire slope. It didn't matter that he'd been warned, both verbally and in writing, and had committed himself to taking care of the situation: He knew how the legal system worked, manipulated the insurance companies and managed to walk away with a hefty check from my insurance company.
The Fix: Remediation involved an expensive reconstruction process, but a far better solution in this case would have been taking care of the gopher problem years ago -- long before they had a chance to destroy the integrity of the hillside.
There would have been a number of ways to do so, some more humane than others. Bottom line: When you run into gophers, call an exterminator and discuss all the options.
Lesson Learned: Whenever you encounter gopher activity on a project -- especially on a slope -- advise the client in writing that they are his or her responsibility and that, left unchecked, these industrious rodents will likely cause significant damage.
.
Scott Cohen is president and supervising designer of The Green Scene, an outdoor design and construction firm based in Northridge, Calif. He provides consultation for clients nationwide and gives seminars on designing landscapes, swimming pools and outdoor kitchens. For more information, go to www.greenscenelandscape.com.