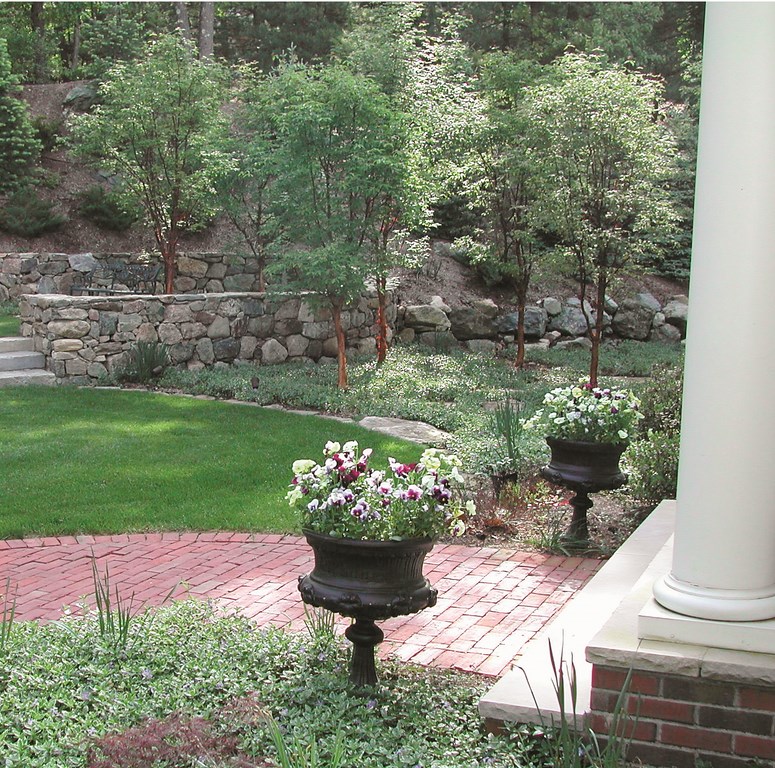 By Maria von Brincken
Beauty enhances our lives by changing our perceptions, and what we do as landscape professionals plays an important part in setting that perceptual stage. As the mystic poet Rumi wrote in the 13th Century, "Beauty surrounds us, but usually we need to be walking in a garden to know it."
The steps we take in moving to and from our homes are important in that context, both for us and for our clients: These daily treads affect our perception of the world and influence our moods. While we can't always change the part of the journey that continues beyond the garden gate, we can do much to shape the sense of welcome, beauty and ease by designing household gardens that are beautiful places.
When done well, these spaces thoughtfully integrate car and foot traffic, hardscape, plantings and sensory stimulation. In too many cases, however, these spaces are not done well and are neither beautiful nor engaging – this despite the fact that there are countless ways to create beautiful, functional and welcoming gardens around homes.
The journey through these spaces presents some of the best available opportunities for our clients to see nature unfolding. Observing birds, watching butterflies land and flutter away, discovering a shoot emerging from the earth as a signal of spring's arrival, catching the drift of a fragrant flower or enjoying the visual pleasure that comes from noticing a contrast in texture or color – all of these small experiences engage us all and set us up for a good day away from home and soothe us at day's end.
GARDEN VARIETIES
In her essay The Role of Nature in the Urban Context, researcher Rachel Kaplan describes a "mini-restorative experience," a moment of engaged fascination that just might make it easier to cope with modern life – and a literal opportunity to breathe deep and pause to smell the proverbial roses.
These entry gardens can take many forms. The first I'll discuss here is generally called the street garden and is best described as the first space for the greeting of family and friends. It not only indicates where to enter a property by car or on foot, but also establishes what real estates agents call "curb appeal." In so doing, a street garden marks a property's edge and begins to establish an outdoor room that makes moving through the space enjoyable.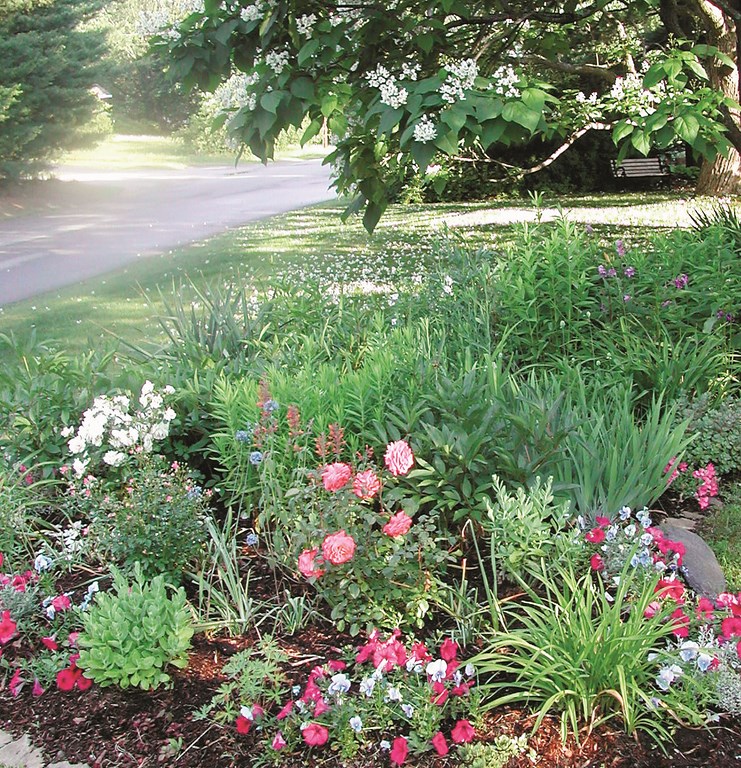 Here's a street scene that gives the homeowners the opportunity to meet and greet neighbors while tending the garden and makes a strong, positive impression on those who either walk or drive by.
Far too many homes feature a broad, grassy swath that extends from the house to the street without visual interruption – almost as if the land belongs to the street rather than with the home. That may be fine if the home sits back from the street on several acres, but if that's not the case, it's a yard that is unlikely to be used other than for the exercise of mowing it.
By contrast, a beautiful street garden is a gift to the community. All who drive or walk by will be uplifted by its beauty, and there's no better way to meet and greet the neighbors than to be caught tending the flowers.
This attraction is compounded when the landscape includes features such as a stone wall placed near the property line and planted with perennials – or a low (or high) fence covered with vines. A mixed border of perennials and shrubs, a copse of trees or a woodland wildlife corridor will also succeed in drawing the eye from the street.
At their best, of course, street gardens work two ways: from house to street and vice versa – but preferably with different views from those angles. A mixed border with perennials planted on either side of a shrub border or hedge works well in such situations.
The house sides of these gardens create a sense of enclosure, space and the outdoor room, while from the street any views of that enclosed space are limited and restricted to ensure privacy. Massed trees, fences or walls serve well here, particularly with transitions marked by architectural details including post lamps, pathways or gate markers.
PLEASURE AFOOT
After leaving the street garden, homeowners and guests often encounter what are called driveway gardens. Long or short, narrow or wide, these spaces, whether experienced from a car or on foot, can and should be compelling.
A long driveway, for example, offers opportunities to celebrate existing forests through mass underplantings of ferns or the creation of tree allées. Shorter driveways can be made to be similarly engaging through deployment of fences or hedging screens covered in flowering vines. Add a flowering perennial bed planted for year-round interest, and there will be enough beauty to coax out smiles on any morning or evening.
This driveway garden greets the home's owners and their guests with a real visual treat as they approach the house by car – and wonderful aromas (Peony 'Festival Moxina') if they walk up the driveway.
The next garden area may be described as the door-yard garden – a term that actually originated in colonial times, when the area just beyond a house's door was fenced off and effectively defined the limit of the domestic domain. This space historically housed flowering perennials for pleasure and the scenting of the house and linens as well as herbs for medicine and cooking, flowering shrubs, trees and vines.
Whatever the configuration, entering the door-yard garden officially signifies that one is home.
Today, many refer to these gardens as "foundation plantings," but that's a term I dislike because I fear it has led too many people to plant in linear rows along the footprint/foundation of the house and/or garage. By separating myself from that term, I find it easier to work with clients in designing these areas as outdoor foyers and much easier to apply the principles of the outdoor room.
Just consider what happens when you call these areas "gardens": The front door and family entry areas become beautiful planted places that invite and welcome everyone to the home, with the added bonus of lovely views from inside the house. (With that latter viewpoint in mind, I always design from inside the house and from the rooms used most in order to ensure that uplifting views can and will be seen.)
Some of the best plantings for these spaces include mixes of perennials, dwarf shrubs, conifers and small- and mid-size trees as layers under a taller canopy. This approach calls for wide beds that can accommodate the mixed border planting – a lead I take from British garden designers and their lush borders.
DESIGN BASICS
As I work, I also keep the "right plant, right place" concept in mind while observing three key parameters: space, horticulture and aesthetics.
[ ] Spatially, selecting plants that will not outgrow the area is critical. Placing a Rhododendron 'Catawbiense' that wants to grow to be eight feet tall and wide in a three-foot planting bed right next to the front door or under a low window, for example, is sheer folly. The plant ultimately will engulf the doorway, cover the window and of necessity be hacked into some ungainly, woody shape. If what is called for is indeed a Rhododendron, there are many fine, smaller cultivars available for use.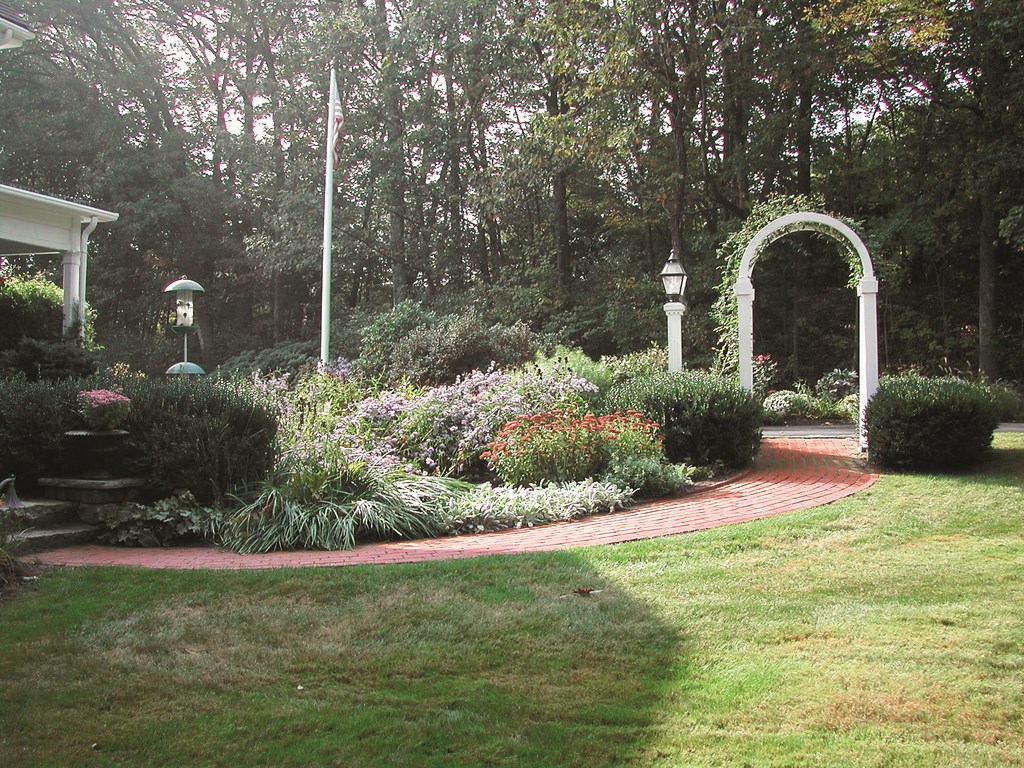 A dooryard garden is at its best if it offers homeowners and guests a clear break from the world outside its confines, in this case taking them through a gate and along a sweeping, well-planted walkway.
[ ] Once a plant of the proper size is chosen, you need to consider what will make it thrive and look its best in the given horticultural environment. Planting a sun- and dry-loving plant such as Perovskia 'Little Spire' in a bright, well-drained area is preferable, for example, to planting it in dry, shady spot or in a damp, sunny spot.
[ ] Aesthetically, you need to assess the available combinations of plant forms, textures, leaf shapes and flower colors to create engaging moments. Red leafed Acer palmatum 'Red Filigree Lace,' for instance, combines beautifully with blue-needled Festuca 'Elijah Blue.' Or, for a stunning mixed border that works from early spring through frost and holds winter appeal, try combining Iris sibirica 'White Swirl' with Echinacea 'Magnus,' Sedum 'Autumn Joy,' Hydrangea quercifolia serrata 'Preziosa' and Picea 'Glauca Globosa.'
While assembling the right plant palette for these various garden spaces, I also need to think about winter.
Perennials largely disappear when the cold weather comes to where I live in New England, although some maintain a presence with seed or flower heads. The shapes of these twiggy deciduous structures, seed heads or conifers can be used to establish intended empty spaces – a pattern that supports or creates a visual composition rather than leaving a void.
I've always preferred perennials' stems and pods to bare ground when it comes to maintaining winter forms. Actually, I like the way they look when mounded with snow, outlined by frost or dripping with icicles.
CASUAL DISCOVERIES
I recently discovered another winter benefit that delighted my daughter and me as we watched a flock of small birds play in our perennial garden: They hopped from stem to seed pod to ground and back, some lingering on the ground to eat seeds scattered from the pods across the snow-covered ground. We couldn't tell exactly what the avian party was all about from our window view, but nonetheless shared a few minutes of simple joy in beholding the frolicking birds.
And let's not forget about lighting, waterfeatures, sculptures, ornamental containers and all the other sorts of garden accessories and amenities that can add to the appeal of household gardens – or the use of fragrant plants and those that sway in the breeze: Designing to appeal to all the senses is sure to encourage a sense of fascination among families, guests and even passersby.
Each of them will be engaged by different elements at different times, but a beautiful garden is one that captivates the senses and draws the observer close for an experience of discovery and delight. Beauty may truly be in the eyes of the beholder, but a truly beautiful garden will seem beautiful to one and all.
Maria von Brincken, APLD, owns and operates a full-service landscape design practice in Sudbury, Mass. Her award winning work has been published in Fine Gardening and is featured in Front Yard Idea Book (Taunton Press). She has also been interviewed and quoted by national newspapers, has appeared on local television and has given lectures at garden clubs, symposiums and conferences. She can be reached at This email address is being protected from spambots. You need JavaScript enabled to view it..