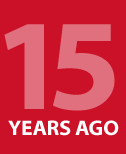 'In all my years as a landscape designer,' began Stephanie Rose in her Natural Companions column for November 2003, 'I've always told my clients that nobody can know ahead of time how a plant will adapt to or behave in any given situation.'
'Most plants, of course, really are somewhat predictable when you place them in a client's yard . . . as long as you
pay attention and use those that are typically considered to be noninvasive. By contrast, plants that are considered invasive – whether it's all the time or only some of the time – should, under any and every circumstance, be considered invasive and managed as such.' She continued:
***
'A client of mine wanted a somewhat Asian landscape, with minimal planting and lots of manicuring, pebbles and massed plants as well as a strong hedge to provide privacy for his yard and specifically for his new pool. After much consideration about the types of hedges available to us, we settled on Black Bamboo for fast growth and great coverage.'
***
'Yes, Black Bamboo is considered . . . to be a running bamboo, but my client had a Black Bamboo specimen in his front yard that had been planted many years before I arrived. Without any root barrier and with plenty of direct, full sun and ample water, it had not trailed or run more than a few inches in any direction.'
***
'My contractor and I took this as a sign that we could be reasonably confident that the Black Bamboo we wanted to plant in the back would stay contained. And just to be sure, we set up root barriers for the new planting.'
***
'Fast forward four years: Although I had periodically stopped by to check on the landscaping and had never spotted anything out of line, I was surprised one afternoon to receive a letter from my client's lawyer. The letter noted that the bamboo had run into two out of the four neighboring yards.'
***
'Upon inspection, we discovered that the bamboo had indeed sent a few shoots into a sloping ivy area in one of the neighbors' yards; in this case, there was little threat to their landscaping. One of the other neighbors, however, had been chopping down shoots as they came up through his lawn for more than two years; this was worrisome, as we didn't know how far the problem could go.'
***
'No matter who was responsible, my feeling was that we all needed to work together to correct the problem. At that point, it didn't much matter that I had informed the client of the nature of the bamboo before we planted it. . . . I brought in a bamboo expert to assess the situation. I introduced him to the specimen in the front yard, which he noted had only spread a few inches. . . . When he looked at the backyard bamboo, by contrast, he was amazed to see how well it had grown.'
***
'Basically, we determined that because the bamboo was so healthy and the slope was so steep, even the addition of another root barrier would not be able to contain the bamboo in this setting for long. As a result, we concluded that it needed to be removed and replaced.'
***
'Here are a few points to consider: It's important to consider not only the plants you're installing, but the surrounding neighbors and their gardens. . . . Is there any possibility that maintaining the plantings properly and efficiently – in other words, giving them ideal conditions for bountiful growth – will invite problems down the road?'
***
'[I]t pays to remember that every plant behaves differently in every situation,' Stephanie concluded. 'You might be lucky enough to get a hedge to grow evenly or an invasive plant to stay contained, but it can't hurt to err on the side of caution, consider contingencies and plan accordingly.'
Have you had this sort of experience with a design element you've installed, whether it's a plant or a tree or a structure that creates a conflict with your client's neighbors? Were you able to resolve the problem as directly as Stephanie did in this instance? Please share your experiences by commenting below!
Stephanie Rose wrote her Natural Companions column for WaterShapes for eight years and also served as editor of LandShapes magazine. She may be reached at [email protected].