Articles
Interview by Jim McCloskey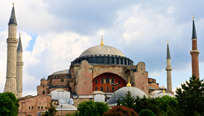 When you ask David Tisherman what it takes to design at the highest levels, the answer comes back in a hurry: "Three things," he says: "education, inspiration and travel."
The first two, he observes, come from hard work in classrooms; close observation of design precedent and the setting; and having an open, inquisitive mind when it comes to sizing up the client and the client's capacity to get into the process.
"Lots of professionals have good educations and know how to find and act on inspiration as they work with their clients," he continues. "What many of them miss is an understanding of the value of getting out and actually traveling to great places and basking in the genius and inventiveness of designers and artists and architects who have for centuries embodied and defined excellence.
"This is why I enjoy leading international tours," he says, with destinations that have included Turkey, Israel, Egypt, Spain, France, Italy and more – places where he introduces his companions to ancient works of art that are still influential today. We asked him how he prepares these tours and more:
How long have you been a traveler?
Ever since I could afford it.
After I graduated from college and began working for a living, I had some lean times while I established my portfolio and reputation. As soon as I started making headway – back in the early 1980s – I started setting aside time and resources to travel. Ever since, I have made a point of taking one or more trips every year, and with very few exceptions those trips have had something to do with expanding my professional horizons.
I look at it this way: My personal library is filled with beautiful books on great art and architecture. They're a wonderful resource to a point, but I'm a visual guy and have always preferred seeing things with my own eyes.
Particularly when it comes to architecture, the books are filled with great shots that establish a certain sense of a location. But in a way, they're more showcases for the skills of the photographer and his or her sense of light and shadow and balance and composition than they are objective representations of a place or a space. I want first-hand experience of these things, and I don't see that there's any substitute or supplement for it.
Some examples?
There are thousands of them. Take any book that has photographs of the Acropolis in Athens: You find wonderfully well-composed shots of the Parthenon and maybe some temples off on the sides, but there's no way you get a sense of the grandeur of the space without moving around on the hilltop, looking past the monuments to the surrounding terrain, watching people walk around and seeing the expressions on their faces. The experience of the space can change your life in ways that looking at photographs never will.
The same can be said of the Alhambra in Spain, the Sistine Chapel in Rome, the pyramids and the Sphinx in Egypt and the Greek and Roman temples in Asia Minor: You get an immediate, authentic, gut-level impression of the history, of the people who built these things and of what it must have taken simply to design and put them up without the aid of computers and books. It's pretty cool – and inspiring in ways that even videos just cannot be.
I like the fact that I've seen an actual Grecian pool to inform my sense of what a modern Grecian-style pool should look like. I also like to tell people I've seen what may be one of the world's first spas. It's all about building a first-hand knowledge base.
How do you choose destinations?
I go to places where I know I'll see things that will blow me away. They have to be places where I will learn things and that I can appreciate as a professional designer and builder.
I like going to Venice, for example, to see a place where ordinary distinctions between water and land are completely set aside. I love Paris and the amazing fountains you can reach from there. There's Rome, there's Florence, where you can see the flaws in the marble of Michelangelo's David and stare at Boticelli's Birth of Venus. Southern France, Spain, Israel, Egypt: They all have monuments and historic sites that carry me back in time and show me how those people built things and, as important, how they made their work beautiful.
From the start, I have roamed the world looking for details and techniques and approaches I can apply in what I do back home. I learned to beautify decks and drain heads by walking through 2,000-year-old cities, seeing how the ancients made insignificant things look gorgeous. These experiences have made me reject almost all off-the-shelf solutions and seek out alternatives that serve aesthetic purposes at the same time they function flawlessly.
Do you have a favorite place – one you've visited again and again?
I'm in love with the ancient parts of the Middle East – the terrain on which modern Turkey, Lebanon and Israel now exist. I could take separate trips and go to Greece to see Athenian temples and sculptures and Italy to see ancient aqueducts and amphitheaters and hippodromes and Spain to see Moorish influences as they're found in the Alhambra. Or I can go to Turkey and in a very brief time absorb elements of all three of those great cultural legacies in one place.
Asia Minor has stood at the crossroads of culture and trade for thousands of years, and successions of conquering peoples made their marks. The Greek settlements and ports and trading centers were replaced by Roman settlements and cities and ports, and when Rome's Byzantine Empire collapsed, Islamic influence came to the fore. It's a real proving ground for styles and technologies and materials, and the fact that you can take in about 2,000 years of our design heritage in one trip makes for incredible opportunities.
To me, there's nothing like exploring beneath the city of Istanbul and seeing the cisterns that enabled the city to withstand sieges throughout its history. To see the gymnasium at Sardis, to see pools raised out of the ground by 18 inches (a detail I've used for years) or to see a Roman temple with hybrid Corinthian/Ionic columns with encircling rather than vertical flutes? It's all too amazing to miss.
You can look at photographs until you're blue in the face, but until you walk by and among the gigantic columns of the temple of Apollo at Sardis, there's no way you can develop a full appreciation of the scale and grandeur of the place. What makes sites in Turkey so special is that there are no ropes to keep you away from the architecture. You can walk through the ruins of temples at your own pace and see things from every possible angle. It just takes your breath away.
How do you figure out what to see?
That's the easy part. I talk with an agency I've worked with for years and let them know that I want to link up with tour organizers and local services that have a sense of what I'm after and can schedule things in ways that make my trips a great experience.
For my next trip, for example, I was determined that I would get to Cappadocia, which has some spectacular ruins including dwellings cut into the faces of cliffs where the locals took refuge from armies passing by. Not only will my companions and I survey the area in a hot-air balloon, but we'll also be staying in a hotel built into one of the cliff faces. It all looks incredibly cool and I can't wait to get going.
One more thing: In planning these trips, I don't like to rush -- and I also want to be thorough. I like to take my time and make certain I've done a place justice in my visit, basically because I never know when or if I'll be back.
I have a friend who stayed in a seaside village in Greece for a whole week in the 1970s, getting a tan and enjoying the locals and their food, music and drink. Just as he was leaving, he spotted a small sign on the main road that pointed to extensive Minoan ruins up in the hills about half a mile above the village. For more than 40 years, he's been annoyed by the constant desire to go back and see those ruins.
That's the kind of regret I want to avoid, and you do it with planning and by consulting with experts. To me, travel is just part of my business, and I am as professional about it as I am about sourcing materials and collaborating with my clients.


David Tisherman is the principal in two design/construction firms: David Tisherman's Visuals of Manhattan Beach, Calif., and Liquid Design of Cherry Hill, N.J. He can be reached at This email address is being protected from spambots. You need JavaScript enabled to view it. . For information on his upcoming travel plans, see the description of his Elite Historical Traveler Series on the Artistic Resources & Training web site, www.theartofwater.com