Articles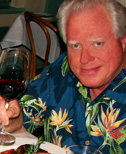 An Interview by Eric Herman

Brian Van Bower's 'Aqua Culture' column has appeared in every WaterShapes issue since the magazine's inception and has become an inspirational touchstone for many along the way. Now in his 12th year of writing for WaterShapes, Brian has covered a vast array of topics, all with a unique brand of wit and plenty of common sense.
Not only does Brian stand among the industry's best-known teachers and leaders, he is also a recognized authority on food and wine. Together with his brother, Guy Van Bower, he co-hosted a Miami radio show on those subjects for six years and has long been active in the American Institute of Wine & Food.
We recently interviewed Brian about pursuing the good things in life and how that pursuit fits in with the world of watershaping.
You've written about the importance of "lifestyle" to the watershaping industry. How do you define the word lifestyle?
It's different for everyone, of course, and is whatever you make it. If you prefer to lead a crummy, miserable existence, that's your lifestyle. But for me, lifestyle is all about what I call "the good life" — which happens to have been the name of the radio show I did and, in my mind, is connected with food, wine, travel and sailing. I especially love eating great food, drinking fine wine and sharing those experiences with other people.
Is sharing a central part of your concept of the good life?
Everyone eats and most people consume alcohol of some sort, so it's natural to enjoy these pursuits with others. In business terms, for example, enjoying food and wine is a wonderful way to build friendships with clients and industry colleagues. On top of that — and this is something I've written about in my WaterShapes column numerous times — when you have an industry that's supposedly focused on luxury and making people feel good about themselves and their lifestyle choices, knowing a thing or two about the finer things in life makes practical sense.
When you can truly appreciate a great glass of wine with a client, it's a great equalizer and serves as a wonderful shared interest: You get to know your clients better and on a deeper level, which ultimately helps in the design process and makes the business part of things more enjoyable. There's really no downside.
What would you say to people who have trouble mixing work and enjoyment?
I feel sorry for them because they're missing out on so much. I urge everyone to explore the things they love — whether it's art, music, travel, backpacking, vintage watches, whatever it may be. You may have to explore a bit to find out what fires your passion, but the more you learn about the things that make you happy, the more nuances you'll find in the enjoyment. In other words, if you put some effort into things that give you pleasure, you're almost certain to be rewarded.
What are the keys to striking the right balance between work and play?
I often say, "Work hard to play hard" — a bit of a cliché, but I've always believed that you gain more from your experiences by giving everything you have. You can go too far with anything, of course, and it's important to strike a comfortable balance, but I generally prefer to err by going too far than by not experiencing life to the fullest.
Also, it's important to be fully present and participating in whatever you're doing, whether it's work or play. So when you're having dinner with friends, turn off your cell phone and focus your attention on what you're doing. Truly enjoy the experiences you're sharing with others.
How do watershapes fit into this picture?
To me, they're part of a great lifestyle, no matter what form they take. Just being around water is a good thing. This is why almost every brochure or advertisement for a resort property will prominently feature the swimming pool. Nothing against our architect friends, but if the brochures featured the building — no matter how beautiful it might be — it's just a building and wouldn't make as effective a statement about pleasure.
With a pool, you know immediately that the overriding message is about recreation and enjoyment. Watershapes are invitations to enjoyment, so it's natural that businesses selling pleasure would use them to get people to visualize themselves having a great time. Pools almost always prompt me to think of myself enjoying a relaxing day with a cold drink in hand, or cooling off with a swim and being around lots of other people who are all doing the same things.
How do those benefits translate to client relations?
As I see it, it's all linked. Almost everyone who wants a watershape has memories of past experiences — and those memories are what brought them to my door. The fact that I want to share in those experiences and expand on the good mood by getting to know my clients over a wonderful glass of wine or a nice meal goes right along with building joy into the collaboration.
Let there be no doubt: I'm still there to do the work of providing them with a beautiful environment — but by sharing great food and wine, the clients will then make positive associations with me and get more deeply engaged in the process. It's as though the fun of owning a watershape begins long before it's complete or even gets started.
Also, it's been my experience that when I run into problems or challenges along the way, having shared good times helps because there's a positive relationship in place. Whatever the issue may be, it will be resolved in the context of overall good feelings.
It's important to point out that wining and dining with clients will never be a substitute for exceptional performance. You still have to do the best job you possibly can. But when you combine outstanding work with great fun, clients are going to be happy, which leads to referrals as well as great memories and personal associations.
Should watershapers allow their own ideas about fun to inform their designs?
It's inevitable that you're going to project yourself into the work. In fact, it can be tremendously helpful as you make design decisions. But, of course, you're always working with the site and the clients' tastes and priorities, and those come first. Still, you're also using your own creativity.
In a very real way, I see what I do as a process of dreaming on my clients' behalf, using what I know as a foundation for expressing ideas that flow from them to me as we work together. This is why you can look at some projects and know who designed them. We all have our ways of imagining things, and we leave our imprint on the results.
We've talked about food and wine, but you mentioned sailing at the outset as well.
When I was growing up in southern Florida, sailing was like our family religion — and it's still that way for me now. When I'm on the water, I escape all the rigors and pressures of daily life and let the wind and water take over. Things occasionally get exciting, but what I value most are the quietest, most meaningful moments under sail, when I'm free to take in all the natural beauty. I sometimes like sailing alone to enjoy those experiences, but I also love sharing these experiences with family and close friends.
I understand that you and your brother, Guy, will be hosting a "lifestyle event" through Genesis 3. What's that all about?
It's going to be a great time. Washington State is producing some terrific wines and we've lined up wonderful tasting events and spectacular dinners while we're there. Everything about the event is designed to expose participants to a form of the good life and to demonstrate how powerful the sharing of these experiences can be.
There aren't too many occasions in one's professional life when business becomes purely pleasurable. This is an educational event, and there are teaching processes involved in what we'll be doing that will help anyone who attends to feel more comfortable relating to upscale, quality-oriented clients. But it's also a "classroom" that includes incredible natural beauty as well as canoeing, hiking, bike riding, hot-air balloon rides — and, of course, great food and wine.
Editor's note: For more information on this event, visit www.genesis3.com.
Brian Van Bower runs Aquatic Consultants, a design firm based in Miami, Fla., and is one of the founders of the Genesis 3 Design Group. As the author of the 'Aqua Culture' column in WaterShapes, he is a longtime contributor to the magazine. For more information, go to www.aquaticconsultantsinc.com.
Eric Herman is the editor of WaterShapes magazine.
People in this conversation