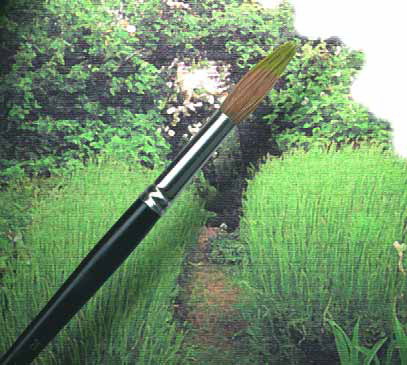 I've never been big on trade shows and conferences. For years I have resisted them in the belief that they were mostly for those who had time to attend them and craved the camaraderie and social opportunities they offered.
I've always looked at the programs and have seen that there's usually been something to learn during these events, but I brushed off the possibility of attending because I always thought I could get most of what I needed by working and paying attention to books and magazines. Also, there was always the issue that, as the sole provider in a one-person operation, spending so many days away from my clients and prospects would prove costly.
I know now that it's time to change my tune.
For a variety of reasons, I broke down and decided to attend the Aqua Show in Las Vegas last November. The main attraction for me was the fact that I could get a day-long dose of David Tisherman's drawing course at a fraction of the cost of Genesis 3's week-long school.
ON THE ROAD
Ever since I was a kid, one of my passions has always been drawing. I thought Tisherman's course would give me a push toward integrating more of my artistic skill into my everyday work. This, I thought, would make the work more enjoyable for me while at the same time it might improve my presentations.
What I didn't anticipate is the wealth of knowledge, networking, information exchange and other peripheral benefits I'd gain by being a landscape designer in the midst of a bunch of "pool guys."
Writing for WaterShapes for six years has given me some insight into the world of watershaping, but my sense now is that I hadn't truly integrated what I'd learned or fully comprehended how much my familiarity with the magazine had influenced my work as a landscape designer. It surprised me, but that's the strong effect the show had on the way I now think about what I do.
I came to the show and the drawing class with some relevant background: For the past few years, in fact, I have been honing my skills in botanical illustration. But running my own design business, supervising jobs and dealing with the multitude of other activities of daily living has made it difficult to explore my capabilities in this arena – and I have always been slightly frustrated that I haven't had time to paint or draw as much as I would like and instead do little more than draft blueprints that don't fully engage my artistic impulses.
I've incorporated color into my drawings for some time, but I'll concede that I haven't been confident enough to create fully detailed perspective drawings or elevations for my clients, except as quick sketches. What I learned at the show and have been applying since is the real value of developing (and using) these skills as part of my presentations.
So I get to use my artistic skills to elevate my business. What more could I ask?
As Tisherman says, he doesn't sell projects; rather, and as anyone who has seen his drawings and designs knows, they sell themselves. Before the long day was through, I saw that the same principle applies to the landscape realm and that the bottom line is that we cannot snap a picture of how a finished design will look. With some training and practice and a little talent, however, a good designer can draw pictures for clients that will enable them to visualize the basic look of the finished product.
Tisherman has said this very thing countless times in his columns and articles in WaterShapes, but in his classroom he brought the thought home in a most compelling way.
APPLYING KNOWLEDGE
In thinking about the course since I came back home, I've come to see the role of presentation drawings in a new light.
I know that changes will occur from that initial drawing, but I also see how the first impression a drawing makes will work in my favor on several levels at once. First, clients see what they will be getting and can either buy into the design as is or suggest changes; no matter what specifically happens, this process reveals and/or generates a design direction. Second, clients see that you have artistic talent and can express and communicate your ideas effectively – a big confidence booster for them. Third, if the first two points work in your favor, clients will be inclined to hire you.
As a result of all this, I have a stronger view of how art can work for me – and I'll also rid my life of at least one source of frustration by working on my drawing and coloring skills while doing what I love in designing landscapes.
Even if your passion for the work doesn't extend to drawing, I would highly recommend to any landscape professional (or pool professional, for that matter) who doesn't already have drawing skills finding a good course in perspective drawing and presentation skills. Forget about that fear of spending the time and money: It will pay off.
I was so impressed by the drawing class that I developed a keener interest in attending the other seminars staged during the Aqua Show by the Genesis 3 team. In addition to talks by Messrs. Brian Van Bower, Skip Phillips and David Tisherman, I also sat in on Janet Lennox Moyer's presentation on landscape lighting, Anthony Archer-Wills' discussion of pond design and James van Sweden's talk on the use of water in landscape.
I went to these seminars believing I was familiar enough for my purposes with the subject matter and, in James van Sweden's case, with the specifics of his approaches that I could have stayed away from any or all of them, but what I found in attending and listening to audience questions and discussing specifics with colleagues afterwards is that I picked up much more than I'd expected – particularly from my perspective as a landscape designer.
One of the most interesting points that came up in the presentations and discussions is that landscape designers and architects have a distinct advantage over pool professionals because we come to clients' tables with defined levels of design expertise.
That's not to say a "pool guy" can't design just as beautiful a watershape as can a talented landscape designer or architect. It's just that by integrating our years of design experience with the technical aspects of watershaping, we have something of an edge in developing a more integrated final product – if, of course, we've taken the time before embarking on these projects to learn about and work with others in the watershaping trades to the betterment of our efforts.
BACK IN THE FIELD
As in all things, it's how you use knowledge (new or old) that makes the difference. I wouldn't even begin to approach a project that included a watershape, for instance, without first consulting with a qualified installer on what is involved in taking the project to completion.
For a project in which I'm currently engaged, I'm working with two pool builders, a general contractor, a landscape contractor, an arborist, an artist, a lighting designer and various other peripheral tradespeople. My job at this point is project management – that is, facilitating communication and solving problems on the job site and making certain that everyone, including the clients, knows exactly how the project is progressing.
We're working with my design, but I recognized even before putting pen to paper that this would be a collaborative effort and that all of these trades and efforts would have to be coordinated to complete the project successfully.
What surprised me is the enhanced appreciation I have of my role in the aftermath of my experience at the trade show. In talking with watershapers and hearing the kinds of things they think about through the questions they asked, I have since found it easier to communicate with them in the field. To be sure, attending a conference is a bit like speed reading, but it gave me a clear understanding of some things I'd never really considered and showed me a whole range of things I still need to learn.
The most profound insight I picked up at the show is that, after six years of writing for watershapers and repeatedly discussing the importance of integrated design, collaborative effort, clear construction planning and all the other elements of good watershaping, I've been pretty much on the right track all along. What seems funny to me, however, is how much more strongly I feel that way now than I did before I went to Las Vegas.
I think it's because we all tend to operate in isolated arenas, coming out as needed to work with others in completing an installation. We'll design and then watch our designs being built. Whether it's landscaping, watershaping or construction, however, I now believe as never before that there's more to it than that.
Through recent experience at the show and back in the field, I see that what has been missing from my projects is the full understanding that, although we're engaged in designing and building something, there's a bigger process involved that includes changes and dealing with the unexpected and managing client expectations in ways I'd never understood so clearly before.
WORKING THE PROCESS
These steps were all part of what I've been doing for all these years, of course, but I'm now conscious of the process in a way that enables me to communicate more clearly, effectively, and right up front with my clients and collaborators about what's coming.
I'm more comfortable now meeting with clients to let them know that blueprints and technical and perspective drawings are tools that get a project moving but that the project may evolve and develop as the process unfolds and that flexibility may be required to create a quality result. Any client who does not understand or accept this point, I now know, is probably a client to avoid.
By contrast, clients who comprehend the overall process are likely to be those you'll enjoy working with and will end up with great watershapes and landscapes. It's our job to educate them and to provide them with enough information (written, expressed or drawn) to make good decisions about their projects as they develop.
That's a lot of insight flowing from a quick, four-day experience at a trade show that seemed on its surface to be completely out of my line as a landscape designer, but there you have it. My advice to others in the design trades is to look for these opportunities: A trade show's focus may seem peripheral to your skills or scope of work, but I found that this one worked for me on a number of levels. And I suspect there are other events out there that may be similarly useful.
I guess you could view this as a way of "thinking outside the box" and stepping out of our pigeon-holes. In my case, the Aqua Show was a jolt – and a breath of fresh air that helped me see the opportunities open to design professionals who work skillfully with water.
Stephanie Rose wrote her Natural Companions column for WaterShapes for eight years and also served as editor of LandShapes magazine. She may be reached at [email protected].