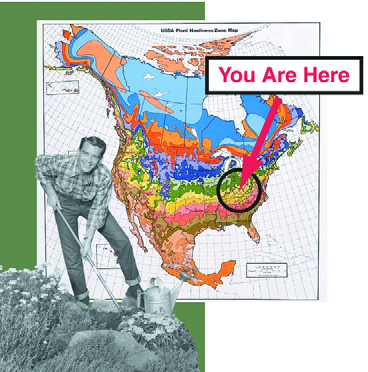 We're all familiar with the climatic differences we experience in areas that get lots of snow as opposed to places that seldom (if ever) experience freezing conditions. These not-so-subtle climate distinctions mean a lot to us as human beings – and have even more meaning in the world of plants and landscaping.
That's why almost every one of my columns about plant selection has contained a disclaimer about checking with your local nursery to see if a particular plant will grow in your area. That's also why the experts have developed a variety of systems intended to classify "climate zones" throughout the United States.
Each of these systems offers its own criteria for classifying particular plants as useable in given zones, and knowing a bit about a specific locale's characteristics and how various plant varieties relate to them can be a big help as you design your watershapes and their surroundings.
On the one hand, they give you an authoritative way to inform clients what they can and can't have in their yards. On the other, if you get a bit adventurous, they can help broaden your plant palette and help you move a step or two beyond what the nurseries have on hand to meet popular tastes.
DIFFERENT STROKES
A number of these climate-classification systems have been developed, but I'll focus on the two I've encountered the most: The USDA's hardiness-zone classification system and the Sunset climate-zone system.
[ ] The United States Department of Agriculture became involved in this area when it created a classification system based mainly on average annual minimum temperatures found in the United States.
The zones are arranged from north to south, with Zone 1 at the top of the map and Zone 11 toward the south. When I started in the business about 14 years ago, there were only ten zones. An eleventh zone was added a few years back, and many of the other zones have been divided into "a" and "b" sub-areas.
To view the USDA map – and find a great interactive feature that will help you wherever you live and/or work – click here. In the map keys, you'll find that Zone 1 has an annual average temperature below -50 degrees Fahrenheit, while Zone 11's annual average temperature is above 40 degrees F. (It's not surprising that big swaths of Alaska and Canada are in Zone 1, while Zone 11 includes Hawaii and parts of Mexico.)
If you live in an area outside of the Western United States, the USDA system is your best guide to plant hardiness and should be your first stop when it comes to designing a landscape or garden that will thrive. Simply determine which zone you're in and use it as a tool in selecting your potential plant palette.
Most published plant guides offer some sort of zone indicator right up front in a plant's description. You can also ask your local nursery for this information or check out plants you're interested in through the Internet. One key point: If you live in a zone that experiences freeze, you should probably also consult with your local weather service for information on when to plant.
The addition of the new zone and subdivision of some others has made USDA's planting information much more precise, but the system still has some drawbacks. Remember, for example, that temperature alone does not guarantee survival of plants: Soil, water and various other factors all combine to influence the success of any planting.
[ ] The Sunset magazine publishing empire has developed its own plant-classification system. Packaged in the thick Sunset Western Garden Book, this system not only considers temperature, but also a range of other factors such as latitude, elevation, ocean influence, continental air influence and mountains and hills – as well as microclimates.
The Sunset system is much more precise than the USDA system for planting in the western United States and therefore offers landscape professionals here a superior tool for ensuring the success of designs and installations. The book also gives a detailed explanation of each zone, outlining its features and specific characteristics and defining the growing seasons within each zone.
Not consulting this guide and simply picking plants you like can be a recipe for disaster when you have access to so much valuable information. As you become familiar with the system, it's also possible to push the boundaries of each zone and (as I often do) experiment with plants that are not considered hardy enough for a given zone but are within reasonable reach – that is, within a zone or two. I like the odds for success in lots of these cases.
Unlike the USDA system, which is structured fairly rigidly from north to south, the Sunset map has lots of detail and contours across its 24 zones. Zone A1 is in Alaska, while Zone 24 is in southern California, but in local areas around Los Angeles, for example, you'll find Zones 2A, 3A, 11 and 18 through 24.
My own work takes me all over Los Angeles, so it's imperative that I consider the zone system and its islands of variation when choosing plants. In the San Fernando Valley, for example, I grow many plants that survive blisteringly hot weather. Just over the hill in Santa Monica a few miles away, those plants may be stifled by the ocean influence.
Even within the confines of the Valley, the Sunset system contains many different zones. Up in the hills of Encino, for example, I can use certain plants that won't survive a mile or two away on the valley floor, either as a result of freeze or extreme heat.
USING THE GUIDELINES
A key word to consider in using any zone system is guideline. Consulting hardiness maps is essential and a good first step toward successful plantings, but it's important to know that they're reasonably conservative in what they tell you and that there are situations where you can push the boundaries.
For example, your client who lives in Sunset Zone 18 may have a passion for a plant that is considered hardy only for Zone 24 – generally speaking, a warmer climate than Zone 18. Placed in the middle of the yard in Zone 18, this plant will most likely have trouble thriving. Positioned directly next to the home, however, this same plant might do as well as or better than it usually does in Zone 24. Why? Because the heat generated by the home (or a watershape) may create a microclimate that is sufficient for the plant's particular needs.
These microclimates come in many forms, depending upon exposure, temperatures, wind factors and more. You can even create a microclimate with plants themselves that will enable you to use plants you might not be able to otherwise: Sheltering less-hardy plants from wind or other extreme conditions by using a hedge or some other garden enclosure, for example, might make all the difference.
Something else to think about when conceptualizing a design is that many plants, such as fruit trees and bulbs, require freeze. Say your clients in Sunset Zone 23 have told you they want plenty of fruit trees in the area surrounding their watershape: A quick look at your Sunset Western Garden Book might lead you to inform them that very few stone fruits do well in that area. But that's not to say you can't plant them there; all it may mean is that you will need to consult with a nursery or fruit grower to find out which varieties survive best under these warmer conditions.
As you consider your options, one of the things you will consistently find working in your favor is that nurseries typically carry only plants they can guarantee will grow in their immediate area. I was recently called in to install a landscape in Lake Arrowhead, a mountain resort about 6,000 feet up in the mountains that ring Los Angeles. Hostas usually only survive as annuals in Los Angeles and are therefore not carried in large quantities by our local nurseries, but the nursery I worked with up the hill (in Zone 3A) stocks hostas as a staple.
It can be fun crossing zone boundaries in this way, but you need to exercise a bit more caution with your plant selections and ask your nursery lots of questions before making your choices. As I've written many times, your clients will be much happier when 95% of their landscape survives through the first year because you considered hardiness than they would if only 75% made it because you were more concerned about planting plants you thought would look good!
Stephanie Rose wrote her Natural Companions column for WaterShapes for eight years and also served as editor of LandShapes magazine. She may be reached at [email protected].