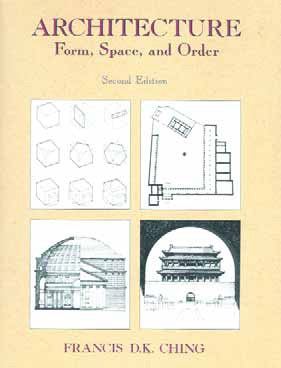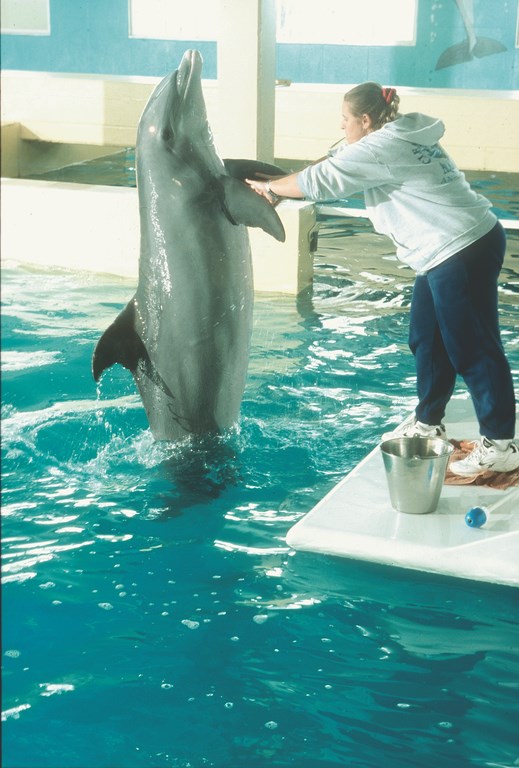 It was a rainy Wednesday morning in January when I first toured the Clearwater Marine Aquarium. I was on hand to inspect the recent installation of a pair of our horizontal sand filters for the facility's marine-mammal pool and see just how well the pool-filtration products were faring in this somewhat unusual (but not unheard of) application.
Located on Island Estates in Clearwater, Fla., the aquarium was bustling with activity from the moment the doors opened at 9 a.m. On this day, a group of pre-school children had arrived to see the aquarium's newest dolphin, Presley, and his friend, Panama. The staff also explained to me that the aquarium, like other indoor attractions, is always busier when the rain falls. I joined right in with the crowd, fascinated by everything I was seeing.
My guide, the aquarium's director of life support and marine facilities, Bill Meier, led me to the marine mammal pool – currently home to Presley and Panama but with the capacity to hold several more. This was the vessel on which my company, Pentair Pool Products of Sanford, N.C., had installed the sand filters. As I watched the children's faces as they in turn watched the dolphins, I began to realize that we were involved in something truly special.
KEY IMPROVEMENTS
Part of my responsibility as business director for Pentair's large pool systems is to visit designers and builders across the country to gain a better understanding of how our products are being used to meet client needs and expectations. I've been in the pool business for nearly two decades and I've seen the company's products used in everything from country clubs and apartment complexes to hotels, waterparks and health facilities, but this was certainly one of the most impressive, important installations I've ever seen.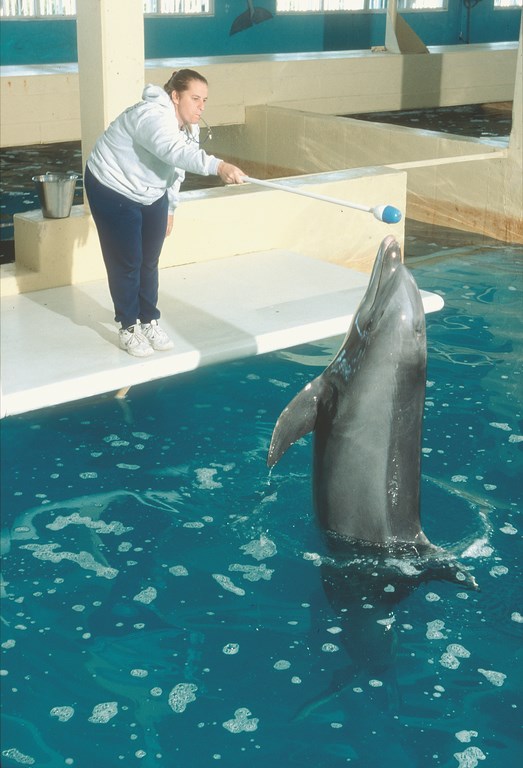 We'd been called upon in one of many phases of a facility-wide renovation project intended to make the Clearwater Marine Aquarium a world-class institution. The "filter project," as the aquarium staff called it, was about redesigning the pump-and-filter system on the dolphin pool and making the vessel more useful in furthering the aquarium's mission of providing more educational opportunities, more exhibits and better habitats for the aquarium's permanent residents and animals in rehabilitation.
The tanks on which the renovated filtration system was placed now serve as home to two dolphins, but everything is sized to accommodate several more as need arises. Some of the animals are to be rehabilitated and released, but others, including Panama (shown here), have been classified by the experts as 'unreleasable.' (All photos by Marc Vaughn)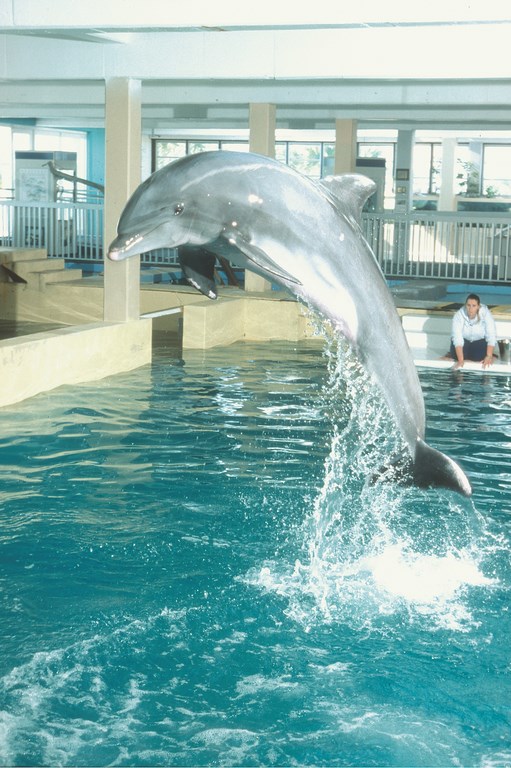 From the outset, it motivated us that the dolphin pool is one of the most popular of all the aquarium's attractions, and we've been pleased to deliver a system that has enriched the habitat through a significant upgrading of the filter system – an improvement needed to ensure a safe and nurturing habitat for multiple dolphins.
Such large, active, well-fed animals place an obvious burden on any filtration system – and the challenge is even larger because the tank is meant to house sick and injured marine mammals. To keep them as happy and in the pink as Presley (shown here), the water must be maintained to a higher-than-usual degree of clarity and cleanliness.
Overall, the aquarium's renovation project is the subject of an ongoing, $3 million fundraising drive and is scheduled to unfold gradually during the next five years. By the time everything's finished, the dolphin pool will be joined by a coral reef and shark habitat, a rescue complex, a cypress swamp exhibit, renovation of the sea turtle habitat and a new, interactive snorkeling area that will allow visitors to swim with aquarium residents.
As my own tour unfolded, I learned more and more about the history and current activities of the aquarium and was inspired by the fact that Pentair was playing a small but significant part in one of the most ambitious aquarium-expansion programs anywhere in the United States in recent years.
SEA SHEPHERDS
Since incorporation in 1972, the Clearwater Marine Aquarium has been a valuable asset for sea animals as well as the residents of the Tampa Bay area. In fact, the non-profit, working aquarium is dedicated to public education as well as to marine research, assisted animal therapy and the rescue, rehabilitation and release of sick or injured marine animals. (For more background, see the sidebar just below.)
Proud History
Each year, approximately 100,000 people from around the world come to the Clearwater Marine Aquarium to learn about dolphins, sea turtles, otters and other wonders of the sea – a success story that began in 1972 with a handful of volunteers.
A big break came in 1978, when the city agreed to lease an abandoned waste-treatment plant on Island Estates to the fledgling aquarium project. Renovations were begun, and by 1979 the first classroom had opened. Soon, volunteers built a pontoon boat to gather specimens and conduct field trips for the marine biology classes. Little by little, the cement and steel building was modified as an aquarium and, in 1980, was granted a permit to build 65,000 gallon tanks for the rehabilitation of dolphins, whales and sea turtles. By 1981, the first exhibit room was open to the public.
Through the next few years, individual and corporate donations began following the immense volunteer efforts, and the aquarium grew steadily. Many animals were cared for, and in 1984 an Atlantic bottlenose dolphin named Sunset Sam was rescued and given a permanent home at the center. (He passed away in December 2001.) By the 1990s, several dolphins had been rehabilitated and successfully released into the wild, and the aquarium's sea turtle nesting program and beach renourishment studies also enjoyed great success.
Today, with 20 full-time employees and more then 200 volunteers, Clearwater Marine Aquarium is home to many marine animals rescued, rehabilitated and (in many cases) eventually released by the facility's Stranding Response Team, the most successful in the nation.
— M.F.
During my tour, I learned that Panama had lived in the wild until she'd beached herself in Panama City, Fla., in 2000. At the time, she was severely underweight, dehydrated and seriously sun burnt. Further examination showed that her teeth were extremely worn down, a fact that would have made it difficult for her to catch fish in the wild and that led the National Marine Fisheries Services to declare her "un-releasable." Since her 2001 transfer to Clearwater Marine Aquarium, she is progressing in her training and her personality is beginning to shine once again.
For his part, Presley is an adult male bottlenose dolphin. Born at Sea World in San Diego, Calif., he's at the Clearwater Marine Aquarium for an extended period and was once a daily performer at the New York Aquarium, to which he'd been "loaned" for several years.
These two dolphins are both in the aquarium's Marine Mammal Program. Trainers work with both animals on a daily basis, providing them with a structured, nurturing and stimulating environment.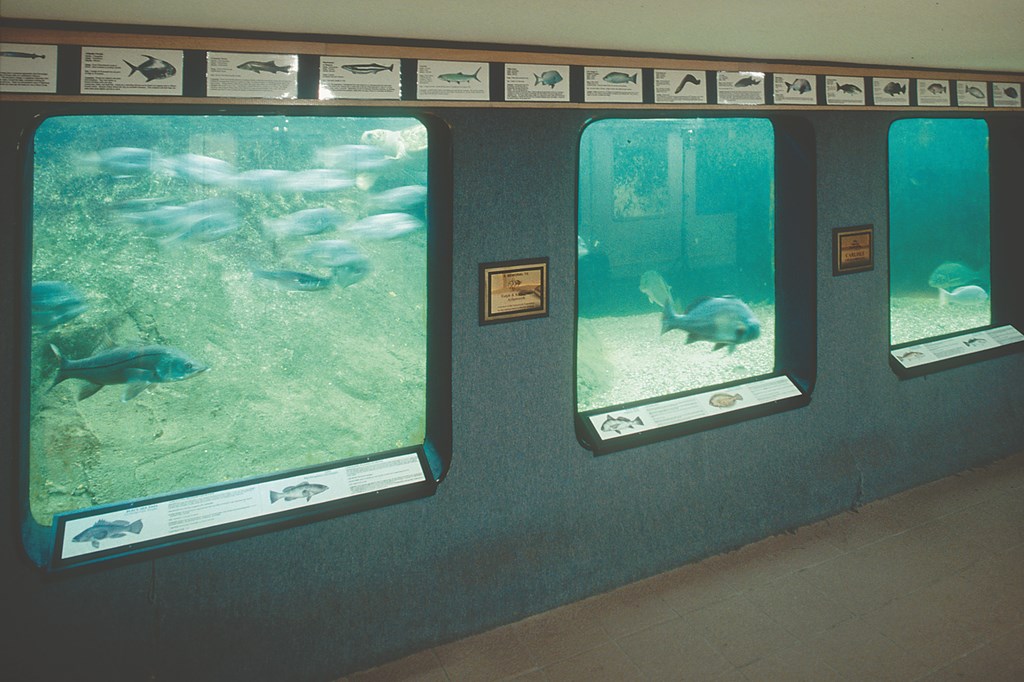 The aquarium's facilities extend well beyond the rehabilitation and training tanks. These large windows offer easy access to huge displays of local marine life, with everything scaled to the needs of a fascinated viewing public.
Those who work with the animals offer vital public education through the Marine Mammal Program, which features two ongoing educational programs: "Day with a Dolphin," which offers a behind-the-scenes look at dolphin training, care and conservation; and "Trainer for a Day," which allows participants to shadow trainers through daily routines of food preparation, animal care, exhibit maintenance and animal training.
The enthusiasm surrounding the dolphin tanks touched every other exhibit I saw. Obviously, seeing Presley jump in the air thrilled the children, but so did the opportunities they had to touch silky stingrays in the nearby hands-on beach exhibit or to learn first-hand about caring for sick and injured marine animals. At every turn, my pride in being involved with such a worthwhile enterprise kept growing.
TO GOOD USE
Certainly, it was extremely satisfying to see that our efforts to develop top-quality swimming products were being realized in such an unexpected and emotionally rewarding way.
The filters we'd installed are our Two-Head Smoothie (THS) horizontal sand filters – relatively new units that had been developed to meet the need for cost-effectiveness and high performance in the mid-size range between our popular Triton line and the larger stark filters made by Pentair's Paragon Aquatics division.
Our role in the renovation had to do with replacing an old row of 11 smaller filters (left) with a pair of large ones (right). The change has given aquarium staff much more elbow room in the equipment area, but the low ceilings in the space meant we had to reconfigure the piping to suit a much lower profile than usual.
In this case, the space-saving design was ideal for the aquarium's small equipment rooms, offering greater flow with fewer filters. The 360,000-gallon pool originally used 11 Triton filters that covered 50 square feet of floor space. These were replaced by just two THS filters, which feature longer sand beds that allow for far more filter area (up to 27 square feet) in a compact package.
So far, says Meier, the filters are working out well. In fact, the new filters have a footprint of just 15 square feet, opening up the equipment room for much easier maintenance and control.
Full Circle
The Clearwater Marine Aquarium's nationally recognized Full Circle Program is a particularly impressive example of the kind of program that made us at Pentair so proud to be involved in this renovation project.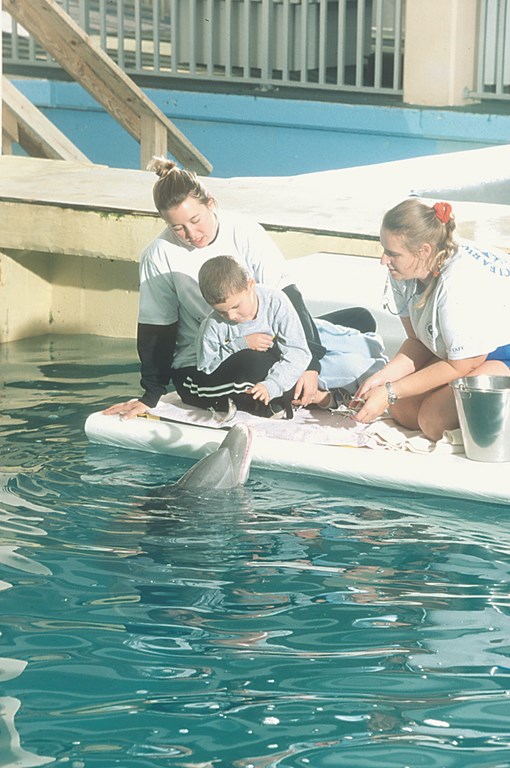 It's a set of specific activities that offer animal-assisted therapy sessions to children from four to 17 years of age who have physical or mental disabilities and enables them to interact with dolphins, river otters, sea turtles and stingrays as they learn about marine environments. The program has built such a reputation that it has won coverage in USA Today; on HBO, Animal Planet and the PAX network; and in the book, Dolphin Key, by John Land.
— M.F.
More important than the space saving, however, is the improvement he's noticed in water clarity – an improvement that has led to a reduction in maintenance costs, which is a key consideration in bodies of water containing marine mammals. The equipment room is now so tidy, efficient and modern, he says, that he's planning on including it as part of some facility tours.
Pentair became involved in the project through the Clearwater branch of South Central Pool Supply, a nationwide distributor of pool and spa products. They contacted us because they thought the THS line would be a good fit for the project. When we learned a bit more about the dolphin pool and the overall nature of the renovation program, we were eager to get involved and demonstrate how our products could be applied to meet the aquarium's special needs. We also saw it as an opportunity to support a facility that is both an asset to the environment and its local community.
Our participation was spearheaded by Jim Hunter, the company's Commercial Pool Application Engineer. He lives in Clearwater and was therefore particularly motivated to become directly involved in bringing this phase of the renovation project to life.
One of the unique challenges offered by the facility was a low ceiling in the equipment room. As Hunter soon learned, installing the THS tanks with their optional automatic backwash face piping and diaphragm valve kits would mean raising the ceiling, lowering the floor or modifying the piping.
For cost reasons, the options quickly boiled down to one: piping modification. In collaboration, Meier and Hunter, with some help from Paragon Aquatics, patiently designed a low-profile, parallel plumbing system that now allows four pumps to circulate water through the two THS filters independently, two pumps per filter. Backwashing of each filter is also controlled individually using the programming available with the automatic backwashing option.
FACING THE FUTURE
Understandably proud of this phase of the renovation, Meier is sincere in saying he hopes to include the equipment room as part of his behind-the-scenes tours. But that's just one small component of a truly ambitious set of long-term plans for the facility.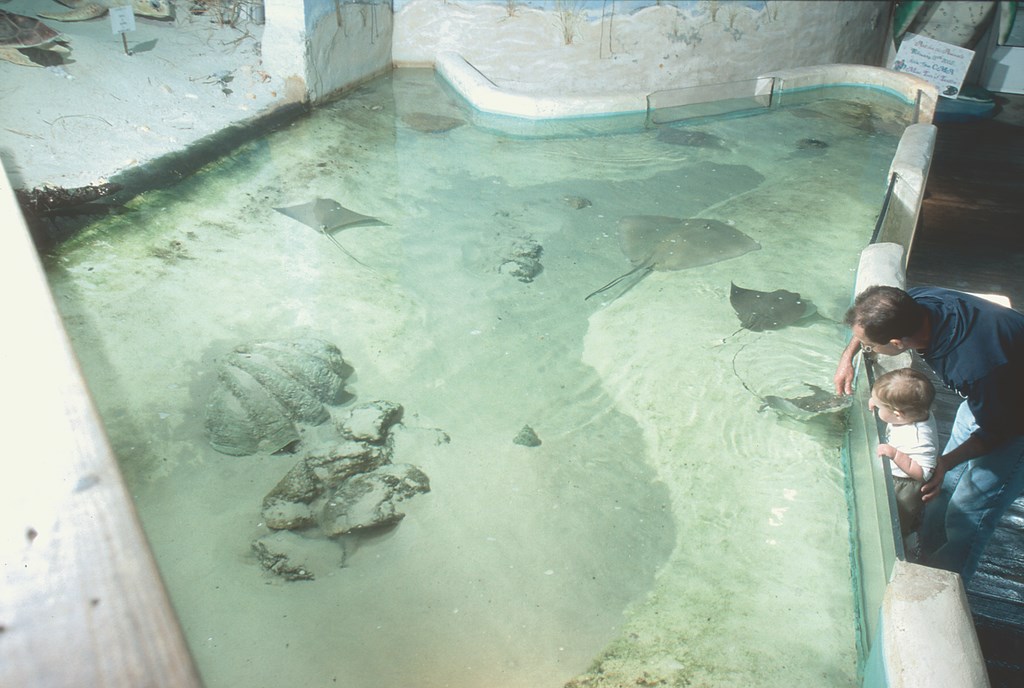 The aquarium's mission as an educational institution has led to the establishment of lots of areas where children and adults can "interact" with marine creatures. One popular spot is this shallow tank, which permits close encounters with a number of rays.
There's no question that the Clearwater Marine Aquarium's wonderful programs touch every human emotion and serve a wide range of needs in a positive way. Despite tremendous growth and development, however, the aquarium remains a working, "neighborhood" facility – a place where children and adults alike can visit any time to wonder at the never-ending diversity, grace and beauty of creatures of the sea.
The filter project for the marine mammal pool is now complete, and the renovation to the turtle hospital is under way. As part of its ongoing fund drive, the aquarium received a $100,000 grant from the city to pay for renovations to the habitat for Mo, an endangered loggerhead turtle, as well as an expanded deck over the lagoon that surrounds the facility.
It's slow work, said Meier, but with a combination of community support and corporate sponsorship, it's all coming together. The filter project for the dolphin pool was an early step in the right direction, but there are many more habitats that need new filter systems – so it looks as though I'll be back in Clearwater several times in the next five years and will have the opportunity to watch this whole, soul-satisfying renovation project unfold.
Mike Fowler has been around the pool industry since he was nine years old, when his mother started working for a large pool contractor in southern California. He graduated with a bachelor's degree in communications from Cal State University, Fullerton, in 1984 and worked for a handful of local pool contractors following graduation until 1991, when he was hired by equipment manufacturer Purex to work in its technical service department. When Purex was purchased by PacFab in 1994, Fowler went along and became a marketing manager for the company in 1995. When PacFab became Pentair in 2000, Fowler was named business director of its Large Pool Systems division, a full-line product manufacturer and supplier offering commercial and high-end residential filters, pumps and heaters.