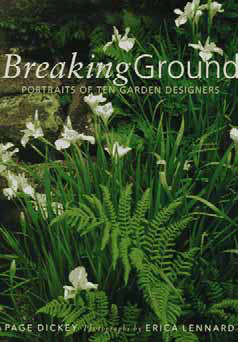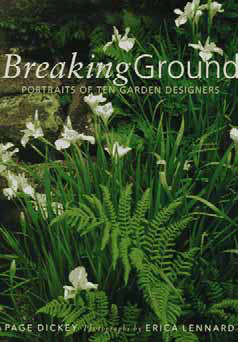 It's no exaggeration to say that landscape design, whether residential or commercial, is in something of a rut these days. Nor is it saying anything new.
Even in settings separated by great distance – a planned community in Plano, Texas, for example, compared to one in Toms River, N.J. – you'll find almost the exact same hardscape and planting treatments. There's just an incredible homogeneity in design these days.
If you find yourself depressed by that predictability (or are stuck in those creative doldrums yourself), I strongly recommend picking up a copy of Breaking Ground: Portraits of Ten Garden Designers (Artisan, a division of Workman Publishing, 1997). Written by Page Dickey, this heavily illustrated 208-page text treats us to insightful and intimate looks at a set of extraordinarily diverse
designers, each with vastly different personal backgrounds and each working over a range of settings.
Although the book is straightforward in structure – a series of designer profiles covering a handful of key projects along with coverage of the careers and philosophies of each – you'll find some important perspectives and inspiring content. One of the key themes carried through all entries is the notion that landscape and garden design should exist within and be inspired by the setting.
In one case, designer Patrick Chassé works extensively in Maine and focuses on mirroring the rugged rockwork that lends so much drama to his region's geology. In another, we're treated to the works of Arizona artist Steve Martino, who draws his inspiration directly from his arid surroundings in the Sonoran Desert. In yet another example, we see the compact works of Madison Cox on rooftops in New York City.
Certainly, this notion of taking cues from settings is important (and well-worn), but these artists follow that train of thought in unique and compelling ways. I was also fascinated to read about their philosophies, backgrounds and those they cite as influences on their careers. Some came from academic backgrounds and are licensed landscape architects, but others moved into garden design based on their experiences in related fields, including the visual arts, interior design and architecture.
The combination of geographic diversity of the settings with the spectrum of backgrounds carries this compact text beyond the ordinary – much to the credit of the writer who sought out this particular set of designers for inclusion in the book.
We encounter on the one hand the natural and formal influences of landscape architecture professor Ron Rutsko, and on the other the Asian influences applied by Chassé in designing his rockwork. There's also the Middle-Eastern spark to Cox's rooftop gardens contrasted with the Legorreta/Barragan-influenced naturalism of Martino's desert gardens.
These contrasts and themes are supported by truly beautiful, well-photographed projects. Taken simply as an idea book, this is an incredibly useful text. But when considered in light of the diversity of settings and design approaches, it becomes something of a manifesto that attacks aesthetic monotony while singing the praises of a setting-driven individuality.
Mike Farley is a landscape designer with more than 20 years of experience and is currently a designer/project manager for Claffey Pools in Southlake, Texas. A graduate of Genesis 3's Level I Design School, he holds a degree in landscape architecture from Texas Tech University and has worked as a watershaper in both California and Texas.