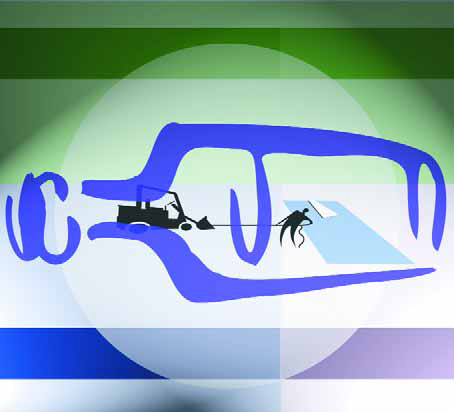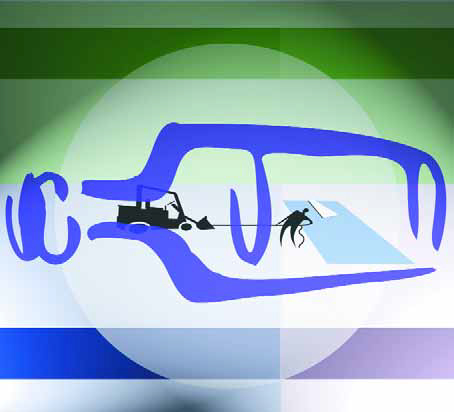 Let me introduce you to an exciting project I've been working on most of this year. Right from the top, I'll say that even in the realm of the unique and rarified, this one is truly amazing.
The clients are quite well-to-do, and the moment you walk into their home, you can't help recognizing that they are accomplished art collectors with an eye for modern masters as well as folk art. Their beachfront Malibu, Calif., home – one of several they own and occupy around the world – is best described as part residence, part museum, with views that go on for miles.
They live on the water in the Malibu Colony, where many of the homes are truly spectacular. John Lautner designed one of the more distinctive structures in the neighborhood, and my clients live in one designed by the respected Los Angeles architect Ed Niles, whose work evokes the modular modernity of Le Corbusier, Water Gropius and the Bauhaus. Situated on a relatively small lot fronted by a narrow band of beach and a rock-strewn reef, the home is an artful collision of concrete, glass, space and light in a spectacular setting.
Even I was impressed. I've built my career by working for clients who appreciate fine design and can afford watershapes of the highest quality, and as a result I've been in a bunch of amazing homes. But this setting is exceptional – and to say I was excited to get involved would be an understatement.
TO THE CHASE
When I became involved in the project, the homeowners already had a set of plans for remodeling a narrow courtyard that already contained an uninspired rectangular pool and green slate decking.
The new plan, little more than a sketch at that point, called for a pool/spa combination with a pattern of intersecting radiuses that created a wavelike effect down one side of the structure. The concept had merit, but there was little to go on and I knew that we all had quite a way to go in bringing the rough idea to fruition.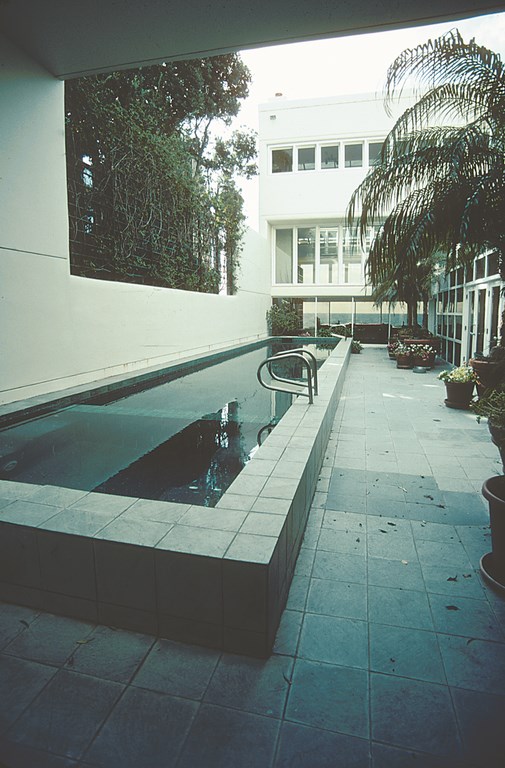 The pool being replaced dominated the space with its raised beam and bulky presence. Our mission was to replace it with something that did a much better job of harmonizing with an extraordinarily dramatic space.
From my first visit, I knew immediately that this was going to be a complicated job. For one thing, the elevation in the courtyard around the existing pool didn't seem right. For another, there were obvious drainage problems. In addition, the equipment was located in a property-line setback that was supposed to be left clear for emergency access. Finally, the construction techniques associated with the existing pool and the deck seemed rather shabby, given the context.
On top of all that, access to the pool area was extremely limited, with the only available passage through a long five-foot wide entryway. It was also clear that, in a place like this, there wouldn't be much latitude given for construction crews, equipment and materials on the street. I'd worked in Malibu before, so I knew as well that working through the city's labyrinth of red tape could be a real challenge.
All of this is why one of the very first things we discussed was timing.
Frankly, these clients are accustomed to having things done on their timetable and their schedule. Because I knew in a matter of seconds that working on this site under these conditions would be no picnic, I let them know clearly that if we were going to go forward together on this project, it would have to be on Tisherman time, not theirs. We had a good laugh and they agreed – sort of.
The first thing I did was pull a set of plans and permits on the original pool construction, which had been completed some years after the home had originally been built. As far as I could tell, it was low-grade construction – a deficit that would be confirmed over and over again as we proceeded. It was at this point I first mentioned to the clients my concern about the relative elevations of the deck and home and let them know that there might be problems with any wood framing near deck level.
ON THE SURFACE
I immediately set to work in fleshing out the plans for the courtyard. Right off the bat, and as is the case in most of my projects, most of the decisions had to do with materials selection.
The original architectural plan had called for slate to be used the deck surface, a choice that would pick up the look from the interior's slate flooring. But that choice, as reasonable as it sounded, was not structurally correct for the application.
After a great deal of discussion and multiple meetings, we settled on a 12-by-12 bluestone that would be gauged to a tight, 3/4-inch thickness. (I'll be covering this project in detail in upcoming issues, and we'll definitely return to the specifics of the edge and the deck material.)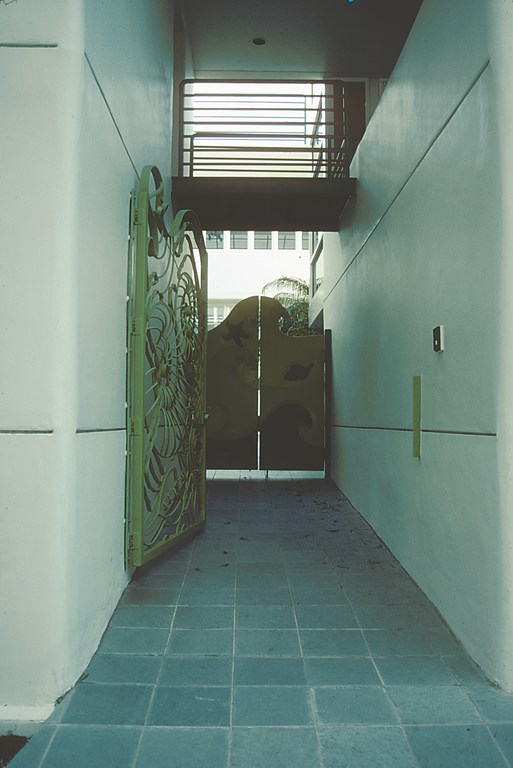 Access to the job site was a nightmare – a long passageway barely wide enough to allow passage of excavating equipment that had to be driven by extraordinarily careful operators on an incredible number of trips back and forth.
We also started talking immediately about the interior finish of the pool and spa. In keeping with the visual scale of the relatively small vessel, my preference was for using a one-by-one-inch glass tile in a blend of three colors and two finishes. The clients were intrigued, so I put together six sample boards with different combinations of tile in differing ratios.
They ended up selecting a gorgeous combination of greens that I'm sure will be dazzling when the project is finished.
I bring up materials here to emphasize an important point about my preferred design process: To the greatest extent possible, I design pools and spas to match materials in their specific dimensions and shapes – a theme of proportion and scale I'll touch on more than once in future columns about this project as we get into construction techniques and what it takes to produce visual harmony, balance and appeal.
We also talked about the spa and the how it would have multiple jets and distinctive seating configurations and a stand-up well for total-body hydrotherapy. We talked about the use of a remote-control system and about planters and landscaping and fiberoptic lighting. We also talked about practical concerns, such as establishing a sub-grade equipment location, and covered as best we could the overall logistics of the project.
As we got further along in the design and planning process, both the clients and I became more and more excited. At one point, he said that he wanted something that was a true showpiece – something that befitted the setting. Knowing this, I now suggested that we install multiple laminar jets and associated fiberoptic lighting, all computer-controlled to create a variety of effects.
SHOWTIME
Probably because I was so excited by the laminar-jet idea, he liked the concept but wanted to see for himself what I was talking about.
At that point, I contacted my friend Paul L'Heureux of Crystal Fountains, a Toronto firm that manufactures a laminar jet system that would be perfect for this application. At the same time, I called in Steve Zorn of Pentair Pool Products (Sanford, N.C.) and Steve Gutai and Ron Soto from Laars & Jandy (Petaluma, Calif.) for a full-scale project meeting and site visit.
Before driving to Malibu, where we would be joined by service expert Kerri McCoy as well as Eric Herman and Jim McCloskey from WaterShapes, the five of us gathered at my house to mock up a system that combined Pentair's lighting system with a Jandy control system and a pair of Crystal Fountains' laminar units.
I'd have to say that this meeting represented the best of what can happen when people in the trade work together. We were all there to produce the most beautiful pool possible and make it work with the best possible systems, regardless of manufacturer. The governing idea: Everybody wins when we band together to do great work.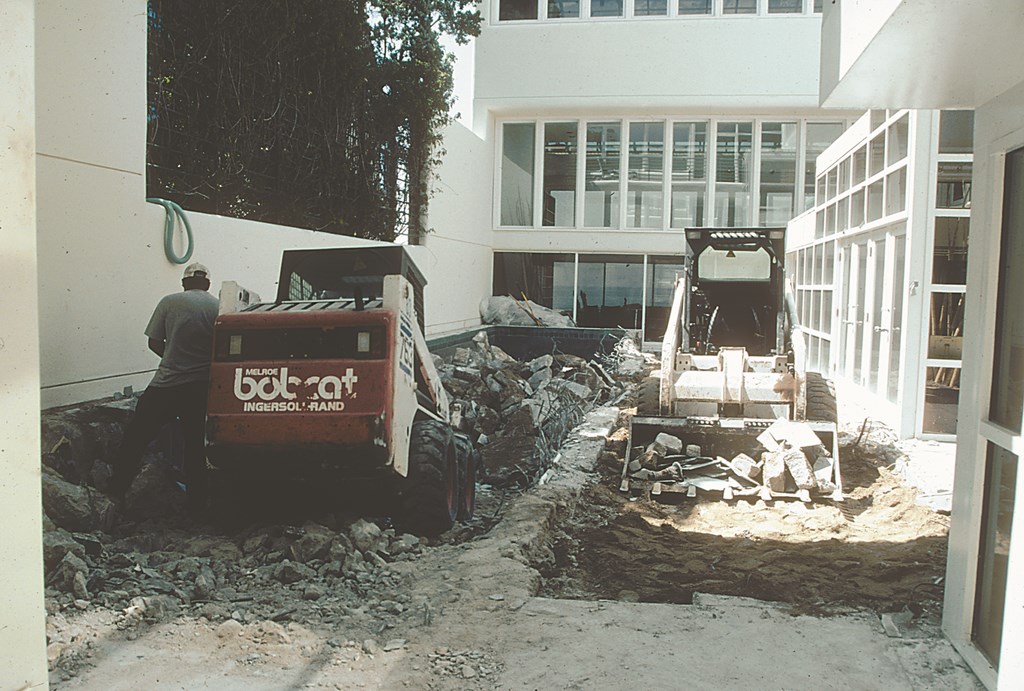 The excavation itself was a snap, because there was no steel or mesh in the deck and the old shell gave way quickly. What we found once the site was cleared, however, was anything but simple to deal with – as future columns will relate.
Drawing on the talents of people from such excellent companies, all working together creatively for the benefit of a single client, was something rare and inspiring. We packed up the gear and on a warm evening showed the clients the technology, using the old pool for the demonstration.
Although they were duly impressed, the final decision on the water effects lingered – he in favor, she doubtful. Despite this hitch, we were able to finalize most of the major decisions on materials and equipment, and the pool was engineered based on a plan that called for the pool, a spa, 650 square feet of bluestone deck and three large planting areas adjacent to the pool. The plans I submitted to the engineer also included a significant sub-drain system, a sump with pump and equipment vaults – and some fairly amazing plumbing runs.
With all of the important plan points settled, we began demolition – and all of my worst fears about the site and the existing construction were realized and then some. The existing pool was indeed an abomination, with undersized PVC plumbing and grossly oversized pumps. The slate decking and its concrete sub-base had no structural integrity – we found no steel or wire mesh in the concrete at all – and the pool shell itself had numerous voids.
Removing all of this material created an enormous hole where the courtyard once had been. As we moved ahead, it didn't take long for us to recognize that things were going to get much tougher than anyone wanted them to be, even given the fact that I had been anticipating trouble because of the original deck elevations.
In fact, the series of events that began unfolding when the last of the demolition and excavation were completed would test me in ways I'd never encountered before and called on every shred of design skill, construction know-how, client relations and patience I have. The story will end well, I think, but the blizzard of details and disasters we had to address in the first phases of the project will be enough to fill several pages in many issues of WaterShapes, so stay tuned.
Next, we'll cover what we found when we peeked below the surface of this spectacular home.
David Tisherman is the principal in two design/construction firms: David Tisherman's Visuals of Manhattan Beach, Calif., and Liquid Design of Cherry Hill, N.J. He can be reached at [email protected]. He is also an instructor for Artistic Resources & Training (ART); for information on ART's classes, visit www.theartofwater.com.