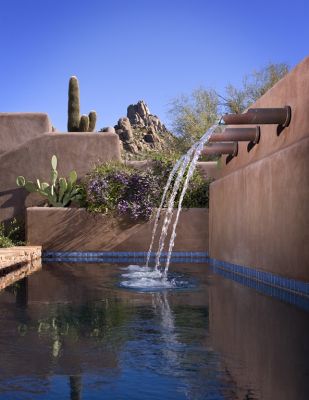 By Kris Kesler
When second-generation metalworker and sculptor Kris Kesler wanted to take his custom waterfeatures to a higher, more artistic level, he took off his welding mask and picked up a computer mouse. It's been liberating, he says, enabling him to design everything from simple scuppers to hurricane-proof fountains and take care of the details that make them work on screen before he puts his hands in gloves and goes at it with hammer and tongs.
Growing up in a family of industrial and commercial fabricators, I was steeped from an early age in traditional metalworking techniques – hammering, planishing, leather-sandbag shaping and my favorite, torch welding. Learning at my father's knee in his commercial steelwork factory led me to admire the artistry of craftspeople as they transformed raw hunks of metal into functional and often beautiful works of art.
The power of that experience has always stuck with me. Later in life, when I decided to launch my own water- and fire-feature company, I was excited to get back behind the welding mask and combine my own creative roots with something inventive and exciting.
I quickly realized, however, that in today's design endeavors, computer skills are just as important as good torch work and mastery of the English Wheel. More important still, I learned that by combining the two worlds I could unlock almost limitless artistic potential.
DIGITAL DELIGHTS
It's this combination of old-world savvy with modern technology that sits at the heart of my company, Bobé Water & Fire Features (Phoenix, Ariz.). From the start, our goal has been to create both off-the-shelf and custom pieces that can be recognized as works of functional art in their combinations of the fluidity of water or fire with the beauty and permanence of metal.
Computers and CAD technology have been around for decades now and have been useful design tools for a generation, and I knew I wanted to put them to good use. It surprised me to learn, however, that relatively few designers and fabricators were using them in place of classic techniques and plain old guesswork.
As I saw it (and still do), water in particular is a finicky medium – so unforgiving that even the slightest imperfection or design gaffe can result in unexpected (and highly noticeable) flaws in performance. In that context, I viewed computer modeling as the perfect means of ironing out the details before fabrication began, but I also recognized the fact that no CAD system can test the strength of a structure or its individual parts, nor can it simulate the effectiveness of different construction techniques or determine how well a completed project will work over time.
It's a two-stroke process, in other words, and it has been most satisfying to learn that starting my projects by working on screen can save me countless hours of finessing and fiddling with materials on the fabrication floor.
This project, installed at the John C. Lincoln Hospital, required us to develop this 20-foot-long, six-foot-tall fountain and its internal array of 15 pumps as a single piece we could crane into the courtyard. My computer was an invaluable tool throughout the design, fabrication and installation processes, at each step helping us visualize what could be done before we committed ourselves with welding torches.
No matter whether I'm making the most basic spillway or the most complex water/fire feature, I begin the design process using SolidWorks 3-D CAD software from Dassault Systèmes (a French company with a U.S. office in Concord, Mass.): The software enables me to run thousands of simulations and virtually test everything from tolerances and leak resistance to the smoothness of the water's flow.
This process takes time, of course, but working in metal is also time consuming, expensive and labor intensive, so I see tremendous advantages in devising and testing pieces digitally – not the least of which are eliminating the usual second guessing and giving myself the ability to move into the production phase with confidence that what we produce will perform as intended.
To my mind, it's a perfect way to help reconcile the eternal conflict between art and commerce. Through digital analysis, reliable results become far more certain and thereby relieve us of the costly need to engage in trial and error or start all over again when we miscalculate. It's a win-win situation that makes the pieces more affordable to clients as well as more durable and reliable.
Moreover, even with a completely one-off piece, my computer system lets me study how it will work in the real world. That means there's nothing left to chance and that even my most creative flights are grounded in functionality. That's great, I think, especially when you want to construct, ship and lift a one-piece, ten-ton, copper-and-steel fountain into place in a hospital courtyard – as we recently did in Phoenix.
ONE-PIECE TRIUMPH
When the architects of the new pediatrics wing at the John C. Lincoln Hospital contacted us, they already had a fairly specific design in mind: a long, linear, S-shaped fountain to fill an outdoor courtyard. My task was to engineer the 20-foot-long, six-foot-tall double-sided system without letting the internal structure interfere with the pre-determined shape.
On top of that, I had to figure out how to drop the pre-plumbed, ready-to-go fountain into a three-sided courtyard whose fourth side was completely blocked by walls, concrete benches and towering palm trees.
As installed, the fountain seems fairly straightforward. The exterior is sheathed in eighth-inch-thick recycled-copper panels (weighing 18,000 pounds in all) that we left untreated so they'd develop a beautiful natural patina over time. The copper itself provided very little by way of structural integrity, so we milled each panel to include an internal tab that could be bolted to a skeleton made from quarter-inch-thick stainless steel.
This interior skeleton was designed to support everything – including the upper water trough and the plumbing and the pumps – and keep it all together as we craned the piece into position.
If we'd had the option, we would have preferred using external motors and filters on a fountain of this type, both because it would be easier to service and because we were completely familiar with such systems. But the client specifically asked us to build all mechanical features into the fountain itself – a task further complicated by the fact that the site wasn't completely level.
This project isn't mentioned in the accompanying text, but it illustrates the level of detail that goes into a fountain structure that seems simple in appearance but is actually a mass of critical details, every one of which we must get right. Again, technology offers us a wonderful assist, allowing us to work through the details to make certain the finished product is exactly what we want it to be, functionally and aesthetically.
I wasn't thrilled by the prospect of shimming up an already-heavy fountain made even heavier by the internal equipment, but we made it work. And by then, of course, I'd also figured out – aided greatly by my computer – how to organize the 15 submersible electric motors and an intricate system of manifolds and baffles to create even water flows of 18 to 20 gallons per minute per foot.
With those 15 internal motors running 24 hours a day, seven days a week, limiting vibration was a major concern. To do so, each motor as well as the entire copper skin float on rubber mounts that allow independent movement. Not only does this take care of any vibration-related issues, it also helps the fountain endure the drastic temperature swings of the Sonoran Desert, where triple-digit highs and bitterly cold lows are all too common.
The computer modeling also allowed us to save time and money by facilitating complete construction in our shop. Long before the oversized load was dropped precisely into place, we had crunched the numbers on everything, from finalizing the location of all internal gussets and crane-lift points to designing a custom wood palette we could successfully load onto the back of a flatbed trailer.
The final crane lift into the courtyard was stressful, but it was comforting to know we already had run through the entire process on a virtual basis. All in all, it was an amazing installation day: The fountain was up and running within an hour of being put in place.
BERMUDA TRIANGLES
Another of our large-scale projects took us almost 3,000 miles due east of Phoenix to Hamilton, the charming capital city of the island nation of Bermuda.
In this instance, we were asked by a Florida-based architecture firm to come up with a signature water feature for a new, 107,000-square-foot building on the main boulevard coming up from Hamilton's bustling port. Backed by former Prime Minister Sir John Swan, the 10-story complex will be the country's tallest, largest commercial building when it's completed in mid-2010.
Designed in glass and stainless steel shaped to resemble ship sails, the illuminated fountain is the most intricate we've ever devised. With a ten-foot-diameter base and elements ranging in height from 12 to 14 feet, it will highlight the entry of a modern glass-and-steel tower with its soaring blue-green glass panels and stainless-steel frames.
It's a glorious, ultra-high-visibility setting – pressure enough on us without even considering the fact that the entire six-ton structure had to be designed to withstand the hurricane-force winds that regularly buffet the island. What's more, the entire support structure and all mechanical systems are to be buried in concrete before we install the sculpture, meaning every alignment must be perfect from the outset.
This fountain structure, destined for installation in front of a major commercial building in the capital city of Bermuda, is still a work in progress, but I've included these images to show how a whole array of specific components are fabricated individually and then come together in final form. In this case, the supports for the sails (as well as such key features as a decorative center drain) gradually rise from the shop floor as we turn a beautiful, computer-assisted vision to reality.
As always, I started with 3-D engineering software and plotted out the 3,000 feet of continuous welds that will give the fountain its strength once the sails are stitched onto the stainless-steel base structure. That base structure will house all of the plumbing, structural supports and lighting systems and will include adjustable feet that will enable us to fine-tune things once we arrive on the slightly inclined site. This will all be buried in concrete and topped by a granite slab penetrated by bolts that will secure the sails.
Weighing up to 3,000 pounds each, the glass sails are made using a three-layer, hurricane-proof glazing injected with a metallic blue-green reflective material. Putting additional stress on the contact points, each sail pitches over at an angle – and they all must rotate on their bases to allow service access to the main drain and the laminar jets arranged around the base.
At night, the LED-equipped laminar jets will shoot arcing beams of lighted water through the center of a larger water stream that will rise from 12 to 15 feet in the heart of the fountain, giving the whole space a seductively active glow.
SPOUTING OFF
While the value of computer simulation has proved itself time and again with our custom projects, it has also had a transforming influence that reaches every corner of our fabrication business, right down to the simplest scuppers.
We know from practical experience that imperfections in their manufacture can lead to bubbly, uneven water flows that ruin the pristine, glasslike streams in which most clients are interested. So we started from scratch, combining virtual and real-world testing that led us to insert multiple chambers and angled interior baffles in all of our scuppers, letting them produce clear, bubble-free cascades without using filters or rock traps.
The work we do with our major, custom projects – and all we learn from designing and developing them on our computers – translates efficiently to reliable performance of small custom features as well as the scuppers, runnels and spouts we produce for the general marketplace. (Photo at right courtesy Landscape Development, Valencia, Calif.)
This constant tweaking and trial-and-error – both on the computer as well as the shop floor – lets us produce scuppers, spouts and a range of other products for a broad range of clients and applications. It has also made us highly responsive when clients call on us to do something out of the ordinary.
In one recent case, a distributor asked me to develop an all-new fire/water feature that would truly catch the eye of his clients – something they'd never seen before. Using the newer "waterfall fireplaces" as a point of departure, I designed a freestanding, 360-degree fireplace in which the exterior shell was completely encapsulated in flowing water.
For design flexibility, the structure can be clad in copper, stainless or Cor-Ten steel. The central fire window is topped with a three-sided water fountain, while heat passes through a series of vents that rise only a eighth of an inch above the flowing water. It's just another example of how computer design has freed us to push the boundaries of engineering and artistry – even with products intended for wide distribution.
To be sure, computers never will replace the human touch. Although I've come to enjoy working on screen, I know I'll never see it as a substitute for traditional fabricating experience or the sort of intuition that comes directly into play as objects take shape in my hands. We may be more productive than we've ever been, but when all is said and done, it's still an art form – and work I truly love.

Kris Kesler is head of engineering and design at Bobé Water & Fire Features, a manufacturer of custom watershape fixtures located in Phoenix. As a metal fabricator and sculptor, he is the creative force behind the firm's lines of steel and copper fire and water pots, waterfall channels, fire pits and scuppers. Kesler began his career in custom fabrication while working for his father, Bob Kesler, who fabricates commercial equipment using stainless steel. His ambition is to shape copper and stainless steel into elegant yet durable artwork for high-profile homes and public venues.