By Mike Farley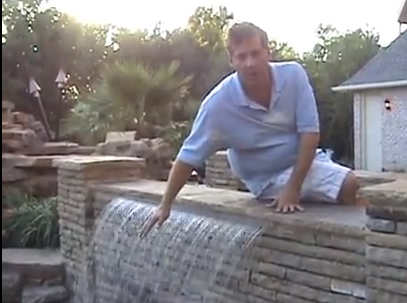 I've been discussing watershapes with clients for about 25 years now, and it's been a long time since I was surprised by any of the questions they've asked me along the way.
I've noticed, of course, that in many cases I've been asked the same questions over and over, so not long ago it occurred to me that creating a resource that offered good answers would help me build my clients' knowledge bases and make them more comfortable with the prospect of owning and maintaining their own pools, spas, fountains and waterfeatures.
That's where my What Is It? Series originated: I pressed my daughters into service as videographers and have, for the past six months or so, visited completed projects to discuss various details that come up most frequently in my conversations with homeowners. Some that seem incredibly basic are among the most common. Others, such as this one on a rainfall detail set on a bridge, are a bit more advanced.
My desire in addressing these topics isn't to be exhaustively technical. Instead, I seek to give my clients enough information to meet the immediate need for clarification without getting anyone bogged down in the fine print.
Give this one a look and feel free to share the link with your own clients as you see fit. I've done what I can to make the approach as generic and plain-wrapped as I can; I also abided by the general rule that if an explanation takes more than a minute or two, it probably needs to be broken down into a couple parts.
My own clients say they've enjoyed my approach; I hope yours will, too.
To see the first video, please click here.
Mike Farley is a landscape designer with nearly 25 years of experience and is currently a designer/project manager for Claffey Pools in Southlake, Texas. He holds a degree in landscape architecture from Texas Tech University and has worked as a watershaper in both California and Texas.