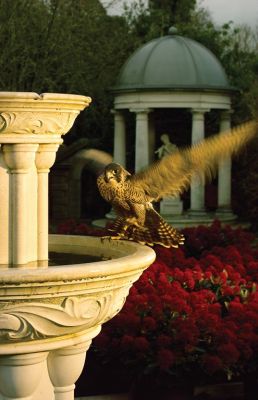 By Adrian R. Coles
Natural stone is one of the planet's most enduring artistic media and has been used in all historical eras across all design traditions in richly varied ways. From the pyramids of Egypt to the Great Wall of China, from the friezes of the Parthenon to the masterpieces of Michelangelo, it has always been the material of choice for work that matters.
For all its beauty and durability, however, natural stone has its limitations: Even in modern times with modern technology, it must be quarried or harvested; fabrication of finished pieces is laborious; and its weight makes moving it from place to place both costly and time-consuming. It's also not a renewable material: Supplies of many of the world's most favored types are restricted, and some are simply no longer available.
It's in this context that cast stone has emerged as a viable alternative in reproducing the looks, textures and sheer physical presence of natural stone materials. We at Haddonstone Ltd., for example, offer cast-stone products that can be used in architectural, landscape and watershape settings in ways that are virtually indistinguishable from pieces made of marble or limestone – and do so at a fraction of the cost with a consistency and precision that are difficult to achieve with natural materials.
We started modestly in 1971 with a facility near Northampton, England, that turned out just seven ornamental pieces in cast stone. In the ensuing years, that list has grown to include more than 500 standard pieces, and we're now capable of accommodating an endless array of custom possibilities as well.
Through it all, our goal has been to provide watershapers, landscape artists, architects and anyone else involved in the design and installation of exterior environments with choices among fountains, urns and assorted other garden accents that complement projects in any number of scales and styles. As such, we see ourselves not as passive suppliers of manufactured design elements, but as active collaborators in helping designers bring their projects to fruition.
CASTING FORMS
Put simply, cast stone is made using crushed limestone mixed with a cement-based binder. This mix is packed into molds to create objects in a range of shapes from the simple to the intricate – everything from straightforward balusters, columns and capstones to highly figured fountain bowls and ornaments – all without the labor involved in carving natural stone.
We use two different approaches, one a dry-mix process that produces a material that weathers and gains a natural-looking patina over time, the other an advanced wet-mix system that creates a far more durable material that changes very little in appearance when exposed to the elements. Either way, when we release an object from its mold after setting, the finished piece has a surface texture very similar to that of natural stone. Moreover, as is the case with cut stone, our pieces will exhibit slight shade variations from piece to piece, reflecting the color of the natural materials we use in the manufacturing process.
Raising the Bar
We at Haddonstone pride ourselves on the quality of our products and have worked as hard as we can to formulate and promote standards for cast-stone products within our manufacturing segment.
To that end, our firm was a founding member of the United Kingdom Cast Stone Association, an organization that defines strict levels of technical performance and quality control for its membership. One of the group's requirements is regular testing of materials not just in a company's own laboratories but by an independent laboratory as well.
A.R.C.
The finished pieces have a great deal of strength and, with proper engineering, can even be used as structural elements in conjunction with reinforced concrete. For the most part, however, these objects are purely decorative and need no special maintenance so long as they're not exposed to extremes of weather. (In extremely hot conditions, we recommend watering a garden only in the cooler hours of the morning or evening; in freezing conditions, we suggest emptying fountain bowls to avoid any potential damage.)
This technology has enabled us to develop a wide range of stock and custom pieces. Fountains and other water-related pieces have always been a big share of our collection, and we also have something of a specialty in pool, pond and fountain copings and surrounds. Standard styles range from classic Palladian and Gothic forms to Regency, Victorian and even Art Deco detailing – a fine complement, as mentioned above, to our ability to develop original works based on specifications provided by designers.
Since our modest start, we've watched the demand for cast-stone objects grow by leaps and bounds. In 1987, this led us to move down the road to new manufacturing facilities at Brixworth that have since been expanded many times. By 1990, we'd set up shop in the United States and now have a manufacturing plant in Pueblo, Colo., to go along with a warehouse facility in Bellmawr, N.J.
These expansions have given us the flexibility we need to participate in the full range of projects around the world, and we're especially proud of getting more and more involved in restoration projects to which we supply pieces that are historically consistent with original designs: It's yet another wonderful complement to our ability to work in completely original forms.
The photographs accompanying this text show just a few examples of our capabilities in cast stone and demonstrate, we hope, that the sky truly is the limit when it comes to what can be achieved with these objects in exterior environments.
---
Sprucing Up Downtown
Designed to breathe new life into its city, this project revolves around a body of water in Altamonte Springs, Fla., called Cranes' Roost Lake. Working with the project team, we supplied a variety of both standard and custom stone castings, including a classic balustrade system, a copper-domed temple and a pair of five-column pergolas that took their place at the water's edge.
---
A Capital Classic
Our work with the Omni Shoreham Hotel in Washington, D.C., was another tour de force for us. In addition to a triple-tier fountain, we provided benches, urns, 500 balusters, coping stones and 100 custom pier caps that now surround the property's main terrace and entry stairway – all seen in a wonderful perspective through a distant balustraded temple we provided.
---
College Spirit
This project showcased our ability to replicate classic forms – in this case the three tiers of a much-deteriorated original fountain at Eton College. As part of our commission, we took molds from the original and created an exact replacement. The results were so outstanding that we asked for and received permission to use the molds in producing additional fountains (including a small cherub-topped version seen here) among our standard offerings.
---
Combining Styles
Seaham Hall & Serenity Spa near Durham, England, offers a distinctive blending of traditional and contemporary styles. We served both visual missions by providing simple rectangular pond surrounds to go along with more overtly ornamental balustrades nearby.
---
Intersecting Interests
Sometimes a single watershape can be the focal point of an entire, grand landscape, and that was certainly the case for this project at the intersection of Excelsior and Grand in St. Louis Park, Minn. Surrounded by mixed-use commercial and residential development, our triple-tiered fountain quickly became a hub, magnet and landmark for the expanding community's common area.
Adrian Coles is CEO of Haddonstone, a manufacturer of cast-stone architectural features in Northhampton, England. He joined the company 20 years ago and worked as its managing director for 16 years, playing a fundamental role in establishing Haddonstone's U.S. operations, which are also under his managerial control. Since graduating from Salford University in 1975, Coles has been a member of the Royal Institution of Chartered Surveyors in the United Kingdom. Before joining Haddonstone, he worked in the construction and property-development industry for 18 years.