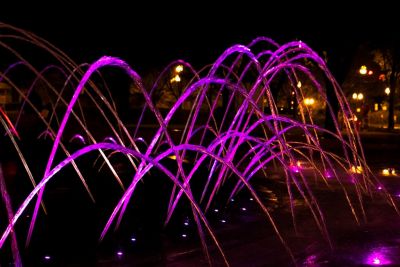 By Asmaa Elkorazati
Projects in significant public spaces are rewarding on many levels, but they also carry their fair share of challenges, mostly in the forms of scheduling, coordination and communication.
For us at Crystal Fountains (Concord, Ontario, Canada), these hurdles are beyond familiar: For decades, we've been a go-to working partner for fountain and interactive waterfeature projects around the world, from the Crown Fountain in Chicago and the Fountains of Versailles in France to multiple installations associated with the Burj Khalifa in Dubai and the ongoing restoration of the main fountain plaza at Longwood Gardens in Pennsylvania.
It's quite a track record and we're proud of it, but we know we're so frequently asked to participate in projects at this level because we bring advanced sets of skills related to fountain, lighting and control technology to the table and know what it takes to present design and construction teams with workable solutions.
A case in point is the recently completed park at the entrance to Chicago's celebrated Navy Pier, which is currently the focus of a $115 million renovation in commemoration of its 100th anniversary.
URBAN RESOURCE
The pier opened in 1916 and was named to honor veterans of World War I. Since then, it has become the most popular of all of Chicago's many tourist attractions, drawing more than nine million visitors annually. The structure reaches more than half a mile out into Lake Michigan and includes exhibition and entertainment areas, numerous restaurants, an IMAX theater, a children's museum and a Shakespearean theatre – not to mention an iconic Ferris wheel.
The renovation is meant to renew the pier's architectural, cultural, environmental and recreational landscape while augmenting its availability to the community. Dubbed "The Centennial Vision," the governing plan's objective is to include more opportunities for evening and year-round entertainment; more compelling landscape and design features; and a more engaged relationship between visitors and the lakefront.
The landscape architecture firm of James Cormier Field Associates won an international design competition in 2013 to bring this vision to reality. As was just mentioned, one of the pillars of the plan is further development of green spaces to engage and attract the public. To further that mission, the Polk family – legendary Chicago retailers – donated $20 million through its charitable foundation specifically for the design and development of the entrance area.
Construction of the fountain in Polk Bros. Park took place in the most public of spaces in front of Chicago's famous Navy Pier. The fountain structure covered an unusually large area, which required the staff at Fountain Engineering (Wheeling, Ill.) to exercise a superlative level of precision in contouring and leveling the decks in preparation for installation of the lighting system (the focus in these images) and of the fountain jets -- placed with similar care in the sheeting-draped mound encircled by the deck.
This 13-acre space, to be named Polk Bros. Park, will serve as the Navy Pier's "first impression" and includes three highly interactive outdoor spaces meant to showcase art and cultural programming. The focal point here is a 12,500-square-foot interactive fountain plaza – and that's where we at Crystal Fountains became involved.
The waterfeatures were designed and engineered by Fluidity Design Consultants of Los Angeles. The fountain consists of a ring of arching jets set within an innovative, sloping landform. The system's 250 jets are programmed to mimic complex patterns including (among others) waves, schools of fish and flocks of birds. In the center of the plaza, there's a system of flush-mounted lights and another array of nozzles that bring the entire space to life when the sun goes down. All of the fountain equipment was installed with great precision and craftsmanship by Fountain Technologies of nearby Wheeling, Ill.
The rhythmic jet patterns can expand or contract within the circle, with the delicate streams of water and splash zones illuminated by LED lighting. These displays are fully programmable, with water and lighting choreographed for special displays that extend the attractiveness of the space well beyond daylight hours.
FINDING SOLUTIONS
We became directly involved early in the project through our longstanding relationship with Fountain Technologies; we've also enjoyed working with Fluidity Design Consultants on several occasions. When collaborating as members of a design team on any given project, the value of existing contacts and personal familiarity are important and go a long way toward ensuring project success.
We were included early in the process, and one of our first tasks had to do with making product recommendations that aligned with the design team's core ideas. The staff at Fountain Technologies is as aware as we are that working with a single manufacturer's products offers advantages when it comes to consistency in aesthetics and performance both in and on the ground – that is, with nozzles and controls as well as lighting. Our full range of available products made it relatively easy for us to pull everything together.
On warm, summer days, the fountain is a magnet for children, with the unusual shaping if the surface offering lots of opportunities for raucous interactive play. The fog feature lends a special atmosphere to the space when in use, while the flexibility of the jet displays creates opportunities for involvement that don't all depend on the user's willingness to get soaked while scrambling over the fountain's mounded surfaces.
In this particular case, working with Fountain Technologies again was a dream situation: They are capable, reputable and knowledgeable waterfeature designers and contractors, which allowed us to step back and leave site supervision and commissioning to them. Nonetheless, we did work closely with them to customize the configurations of the lighting fixtures to suit the specific set of installation requirements they encountered on site.
We also became directly involved just prior to the grand opening of the waterfeature: There were some issues with the lighting-fixture wiring, and we sent in a technician to assist the Fountain Technologies crew. Happily, all of these systems were up and running before the big day.
Winter Fun
When the fountain is off to protect its systems through Chicago's bitter winters, Polk Bros. Park will still be a draw because the fountain space is converted into an ice rink for the season. It's another component in the campaign to make both the park and Navy Pier year-round attractions.
The rink features a circular skating ring around the fountain, with a smaller, contained rink on the interior isolated from the outer ring by the fountain's mounded structure. The interior rink, much smaller, will be used by children just picking up their skating skills. The outer ring will allow more accomplished skaters to enjoy gliding through a far larger space.
-- A.E.
Another area of direct involvement had to do with our use of digital multiplex/remote device management (DMX/RDM) network technology in our control systems. This approach is relatively new in fountain programming, so we worked closely with the installers to review the design, installation and commissioning processes – and all went smoothly. But truth be told, while the technology entails a steep learning curve, we didn't run into anything that close communication and a bit of extra on-site support couldn't resolve successfully.
The cool thing about our DMX/RDM system is that it operates with low-voltage components and is the only available system that fully meets NEC and UL requirements for safety in the presence of water. In addition, the unit allows all devices on the network to be accessed for troubleshooting and commissioning directly through the central network. This eliminates many of the challenges that arise in the installation and commissioning phases, giving installers a simple, methodical way to test and ensure that each light or sequencing device is properly connected and functioning to specifications.
For the rest, Fountain Technologies is very familiar with our products and technology: They took the reins and ran the project skillfully.
FOUNTAIN EVOLUTION
For all of the ease with which various components of Polk Bros. Park fell into place, we learned a couple lessons along the way as a result of this particular project's immense scope and scale.
In using so many DMX controlled pumps in the programming of nozzle effects, for example, we came to see the need for a new nozzle technology that won't place such great demands on project infrastructure in the future. By figuring out a way to pattern, regularize and simplify installation in our development shop, we will speed the construction process and reduce overall project costs for similar installations in the future.
We've been making strides along similar lines with our LED lighting systems for many years; transferring this developmental philosophy to nozzle technology is likely to prove just as beneficial for future installations with respect to economy and reliability.


One of Polk Bros. Park's key missions was to engage Navy Pier visitors after dark – and that extension of social activity into evening hours clearly started happening the day the park opened. The changing colors, the changing jet heights and patterns, the sheer energy of the space once the sun goes down transform the park and have turned it into a significant gathering place for the community.
We also learned that paying close attention to network wiring – and diligently using a systematic approach to commissioning – is critical to having a clean start up. To speed this process, we've developed installation videos that move systematically, step by step, to ensure that there will be no issues with start-up routines.
Finally, we reinforced our knowledge that old-school, analog control of nozzle effects is still the way to go. In Polk Bros. Park, DMX control of dry pumps in the equipment room gets the job done. Recently, however, we've also been seeing placement of submersible pumps directly in fountain basins. This is problematic, unsafe and dangerous: Putting line-voltage equipment in a fountain basin is a bad idea, especially in an interactive deck!
But you get the picture: There is always room for further development and refinement and incorporation of new ideas and technologies. Recent years have seen the emergence of deck-level arching jets and finger jets, for example, and we're nearly ready to market an all-new deck-level moving jet.
And there's more to come with jet technology as well as with control systems, where we're working to simplify control panels and power-data systems while making certain they're code compliant. We also want to make them easier to install by reducing wiring points in the field and offering as much plug-and-play functionality as possible.
With Polk Bros. Park at its entrance, Navy Pier will continue to polish its reputation as a world-class public space and vibrant Chicago landmark. We're proud of the role we played in the project, happy to have collaborated with such skilled partners and delighted to stand back and watch the fountain complex engage, entertain and refresh new generations of visitors. It's all about making a strong first impression, and this, we believe, is a great one.
Asmaa Elkorazati is business development manager at Crystal Fountains and has more than 15 years of experience in the waterfeature industry. A specialist in the North American market, her knowledge of the industry, client inclinations and trends in the architectural marketplace have been refelceted in her work on such projects as First Baptist Church (Dallas), Longwood Gardens in Pennsylvania and the Alaskan Zoo in Omaha, Neb. For more information, visit www.crystalfountains.com.