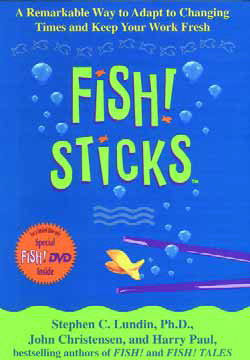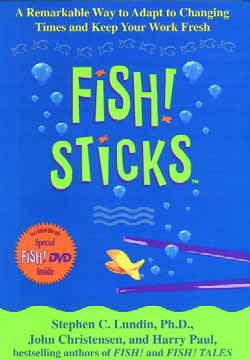 Watershaping can be so demanding a profession that it's easy to lose sight of the fact that what we do should really be fun and enjoyable. That's why I bring up two books this month that make a case for approaching your work in ways that encourage a daily sense of joy and adventure for both you and your clients.
The first is simply titled Fish! Written by Stephen C. Lundin, Harry Paul and John Christensen (Hyperion, 2000), it's a modern parable about a woman named Mary who has taken over as manager of her company's toxic-waste management division.
It's a job with horrid potential, but as the story goes, Mary is helped by a visit to the famous (and very real) Pike Place Market in Seattle, where she's captivated not only by the wonderful fish on sale, but also by the joy and pleasure she derives from shopping there. What Mary learns is how to take a seemingly miserable job and turn it into something that is not only tolerable, but in many ways extraordinary.
She learns along the way that you choose your attitude and that how you feel about what you do for a living or in your personal life is really a matter of choice. She also recognizes that, whatever it is you do, you should give it your full attention while you're doing it, avoid distraction and stay in the moment. This is crucial, we learn, to providing clients with a memorable experience that leaves them feeling good about their interaction with you.
A final lesson Mary learns at Pike Place is the importance of playing while you work. This is not to say that one should goof off or waste time, but that you should have fun and find joy in diligence and in focusing on the task at hand.
Certainly all of this is wonderful advice and something from which many of us might gain wisdom and a more positive approach to the often-arduous process of building pools, spas, ponds, streams, fountains and other bodies of water. But most of us also know that, while it's easy to give lip service to finding joy in our work, it's another challenge to apply such principles over time.
That's why the same authors followed up their first trip to the fish market with Fish! Sticks (Hyperion, 2003). Here, we meet a nurse named Rhonda who works in a hospital that has implemented a program to foster a positive working environment – but has seen those efforts fade with time.
Rhonda visits a fictional sushi restaurant in New York City and, like Mary, comes away with an important set of lessons aimed at maintaining the practices and attitudes described in the first book.
First, Rhoda learns, you must "find it," meaning that when you take on a new approach you must internalize the idea by figuring out where you fit within the overall scheme of the business. Second, you must "live it," which means determining in specific terms what you can do to apply the positive attitude. (This is a big point, because every company and organization is different and the authors make it clear through Rhoda that every company and every individual needs to find its path.)
Finally, Rhoda recognizes that there's a third step and that she must "coach it." This can be best described as establishing and implementing the structure in a way that each person is involved and every person participates in reaching the organization's overall goals.
Each of these books checks in at fewer than 120 pages, making for extremely quick and very entertaining reading. As is the case with other books that define principles that can be applied across various situations and disciplines, Fish! and Fish! Sticks are books you may find yourself returning to as you work to create what I choose to call "the adventure of watershaping."
Mike Farley is a landscape designer with more than 20 years of experience and is currently a designer/project manager for Claffey Pools in Southlake, Texas. A graduate of Genesis 3's Level I Design School, he holds a degree in landscape architecture from Texas Tech University and has worked as a watershaper in both California and Texas.