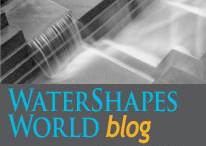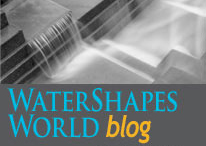 Eric Herman
Every year during fire season, we see aerial news footage of houses that have burned down next to swimming pools full of water. It always makes me despair and wonder, had there been a way to use that water to stave off the fires, would those houses have been saved? And, are there scenarios where an available water source might even save lives?
Growing up in Southern California where wild fires are part of life, I've seen the destructive power up close. I've been evacuated three times, have had friends lose their homes and have witnessed what it's like to live in a community that's been devastated by the flames. It's a sudden tragedy that often unfolds in a few terrifying minutes . I'm struck by the fact that in a landscape that inevitably burns, and in a region replete with swimming pools, both consumers and our industry do not usually connect those painfully obvious dots.
And it's not that the technology to fight fires with pool water does not exist. It has for decades both in form of pumping systems with fire hoses and gas-driven pumps, or simple plumbing and stand pipe set ups that bring water to the street where it can be quickly accessed by fire fighters. It is my view that all pools in areas subject to wild fires be equipped with both. I believe it should be mandated in building codes and should not be optional, because as it is, pools are being installed without those capabilities in areas where someday those simple measures might spell the difference between a frightening episode and losing everything.
My good friend and colleague, Bill Drakeley, co-founder of Watershape University practically tackled me at a recent meeting saying that he believes the government in states like California should get involved and force the industry's hand, and that this editor should use the WaterShapes platform to make the case. Typically not a fan of such public mandates, Drakeley was adamant that this was an area where it makes sense to adopt firefighting requirements in places that burn.
"How many houses with pools have to burn down before we get a clue?" he wondered. "Not installing the simple plumbing or pumping systems in these properties is just plain stupid."
Designer/builder and WU instructor, Paolo Benedetti, agrees completely: "It's absolutely a no brainer. What we need to do to help the firefighters is bring the water closer to the driveway so they can access it immediately. Otherwise, they have to locate the water source, layout rigid pieces of suction hose and attach all the couplings. All of that can take 10 to 15 minutes while the house burns down. If all of that is assembled underground, with a riser located within 20 feet of the roadway, they can hook up a single suction line to the truck and start pumping almost immediately."
As for self-contained, on-site firefighting systems, he adds, "It depends on where the property is located and how long it takes the fire department to get there. I had a project where you had to drive 30 minutes on a dirt road, so obviously in a location like that, it's going take a long time for the fire department to show up. There's never a downside to having your own firefighting capability on site."
Although rare, there are cases of homeowners successfully using pool water to push back the flames. Back in 2007, the Trabuco Canyon/Santiago Canyon fire raged through largely rural eastern Orange County, Calif. A good friend of mine and longtime resident in the area,was able to fight off the flames using cart-mounted, gas-driven pump and hose system and his 50,000-gallon pool.
His home is located on a promontory surrounded by open land on three sides. For four long hours as the burning chaparral landscape fueled towering flames raging directly adjacent to his property, he sprayed the roof and eaves of his two-story luxury home waiting for help to arrive. Fire fighters eventually showed up and the house was saved. As it turned out, they also set up a command post in his backyard because its strategic location, and they slept under his gazebo and used the outdoor kitchen. The local fire chief even held a press conference in his driveway.
Had it not been for the fire-fighting capability, the result would've very likely be must different. I remember my friend telling me when he first had the pool installed, "It's not a matter of if this land will burn, it's just a matter of when." His forethought and small investment in the pumping equipment obviously paid off.
That's the mentality needed in areas prone to fire. If there's a pool on site, everyone involved should be certain that it's equipped for the moment the water is needed most. Anything short of that really is just plain stupid.