Articles
By Bruce Zaretsky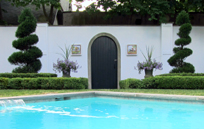 Once I've worked my way through traffic-related issues of patio design (see "Defining the Flow" in the November 9 edition), I turn my attention to an array of other factors that influence the space, starting with
views, the sun and the prevailing winds.
While it would be great if I could observe a site for a full year or more before making any decisions about these issues, that's a luxury I seldom enjoy. This is why there is yet another sequence of questions with which I'll pepper my clients in the interview process as I determine how they plan to use the space. But it's also a matter of getting to know the space and its features on my own.
Some of these considerations are fairly obvious, but others will take some thoughtful reflection.
Borrowing Views
Time spent on a patio generally includes viewing the surroundings, so I will sit at key vantage points and take in all the vistas the site has to offer: the neighbor's house, play sets, sheds and other up-close features, as well as distant mountains, hillsides, lakes, streams or oceans. And I don't ignore the negatives, including power lines, warehouses and nearby windows that have the ability to turn the space into a fishbowl.
In sizing up all of these features, many times we will end up working to focus on or enhance those views, but other times we will need to do all we can to block them or at least fix attention elsewhere.
When blessed with dramatic views such as water or mountains, we invariably use them to advantage. That might mean placing a sitting area or the dining terrace in such a way that the view is readily accessible. Or it might mean creating a bit of romance and mystery by placing a tree or structure to block part of the view while guiding the homeowners and their guests to an even better place to enjoy the view, perhaps on the upper level of a deck.
Basically, we look for ways to maximize the impact of the views – whatever it takes or whatever can be done to make the landscape that much more dramatic and enticing.
On the flip side, our experience with most suburban backyards leads us to spend almost as much time blocking views as enhancing them. Quite often, we find that patio spaces are within easy eyeshot of neighboring properties – so we see their play sets, pools, compost bins and sheds as well as they see ours.
Generally speaking, all it takes are well-placed stands of plants, a sturdy fence or a privacy wall (such as the one shown in the photograph above) to solve this issue, but we often strive for more creative solutions. A simple flowering tree placed in the line of view, for example, won't completely block things out, but it will tend to force the eye to focus on it rather than on what's beyond, pushing undesirable elements further away visually and reducing their influence on the overall view. As I tell my clients, if the neighbors really want to look at you, they will find ways to do so; why not just imply privacy with a visual twist?
Sun and Shade
Another curse of suburban life is the fact that many newer developments are constructed on old fields and places where the existing trees and shrubs have been removed. Placing a patio in an open yard (especially when it faces south or west) can make homeowners and their guests feel like they've been stranded in the Sahara.
This is why I'm constantly looking at sun angles when I'm meeting with prospective clients. If they're going to be using the patio on hot July weekends, for instance, then I'm going to be sure I provide them with some shade.
Well-placed shade trees (planted early in the process to allow them to get established and start growing) will provide enough shade to lower the temperature on a patio by ten or 15 degrees. If my clients do not have the patience to wait for a tree to grow, we will design and construct shade structures instead, including pergolas, sail-cloth shades or even roof systems.
In planning for these elements, we work in accord with the sun's movement. In some cases, we will design systems that block up to 100 percent of the sunlight that hits an area in peak hours. But that's generally not our goal, so we will do sun-angle studies and then design shade systems accordingly, using a pergola's rafter sizes or a sail-cloth shade's anchoring system or some other item to block out the desired amount of sunlight.
One of the tougher considerations with shade is that the passage of the seasons changes the angles – and we're seldom on the job long enough to know exactly how things change as the year progresses. But that doesn't keep us from considering the issue and using experience to help us keep things as pleasant as they can be in these key outdoor spaces.
Air in Motion
Another key factor that calls on our experience, as well as observations we make on site, has to do with the wind and how it moves across and through our clients' properties.
In windier areas, we will try to set the patio in a location where the house itself will help to block the wind and shelter the space. Unfortunately, this isn't always practical, so we will make use of plantings (stands of evergreens, for instance) or even walls to help push the wind up and over the patio space.
Obviously, there are issues of balance here: While we want to keep napkins and paper plates from blowing off the dining table, we don't want to block the gentle breezes that can make outdoor spaces enjoyable even on hot days. Again, it's a matter of experience and on-site observation – and something we keep tabs on the entire time we're on site.
Next time: We'll wrap up this sequence of articles with a look at fire features and watershapes as components in backyard designs.
Bruce Zaretsky is president of Zaretsky and Associates, a landscape design/construction/consultation company in Rochester, N.Y. You can reach him at This email address is being protected from spambots. You need JavaScript enabled to view it. .