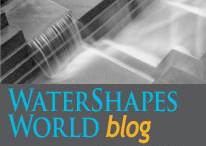 It's that time of year again, planning for Thanksgiving and family fun on the one hand while simultaneously getting ready for the International Pool|Spa|Patio Expo and an altogether different sort of family fun on the other.
For the former, we'll have an unusually full house this year, with both of my brothers and at least one and possibly two of my three sisters here with their families and significant others in tow. I'd like to think they're coming to see how their brother, a vegetarian for 40 years, does in preparing
a big turkey. My suspicion, however, is that they mostly want to see my granddaughter, who's becoming quite the entertainer at the ripe old age of six months.
It'll be great to have my family around for the holiday: It's the first time so many of the six of us have gotten together in several years, and my wife, her brother and my own brood will be on hand as well. I just wish my mother was feeling up to making the trip, but she's 92 and I can hardly blame her for wanting to stay a safe, relaxing 1,100 miles from the hubbub.
As for the other big November event, I'm looking forward to the national pool show with almost as much anticipation. I started attending these expos in 1986 and have missed only two I can think of since. I've come to see them as a different sort of "family reunion" – renewing acquaintances, kicking over the traces and sharing hopes for good years to come for all of us.
I go into this particular expo knowing that these have been rebuilding years at WaterShapes and that the transition from nearly all-print to completely all-digital has been an interesting, mind-warping ride. But our development team has made tremendous progress in recent months, and the site now has a presence that will, I am confident, carry us on to an even more influential role in the way the watershaping industry develops – stronger than it ever could have been had we stayed as a trade-only magazine.
The difference, of course, is that the Internet is utterly open and democratic: We have no desire to encrypt information or put it behind paywalls and password screens, so anyone and everyone can see what we're doing – and I'm happy to report that more and more consumers are finding their ways to our site now that nearly all of what we're doing is (finally!) fully searchable.
It's been fun bringing mountains of new content to the fore – especially working with people who make videos and have allowed us to bring their passion for communicating to a wider audience that includes their fellow watershapers alongside consumers. It's also been amazing to work with the magazine's archives and carry the old columns and features forward into entirely new digital incarnations. Again, it's been like visiting old friends and reacquainting myself with their lives and times.
By looking forward and back simultaneously, we at WaterShapes continue to work with professionals in furthering the arts and crafts of watershaping, but I see boundless good to come from our having invited consumers to look over our shoulders and figure out just how much untapped potential there is in modern watershapes. And it'll only get better in times to come: Once we finish the herculean task of translating the archives from print to digital form (about six months from now), we'll rededicate ourselves to presenting fresh projects and perspectives and will strive as always toward advancing the state of the watershaping art.
In light of all this, I carry a cornucopia of gratitude as Thanksgiving approaches. I'd be delighted to see you and express it directly if you're attending the show; I'll be in Booth #5946 in the Genesis 3 Pavilion and would love to touch base. But sorry: We already have 20 on the list for Thanksgiving dinner here, and I've run out of room!