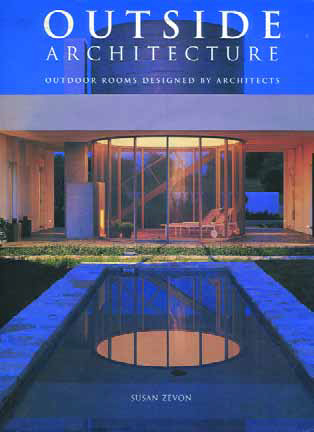 Amazing things can happen when great architects think beyond the walls and tackle exterior design as part of their projects. That's a message that comes through loud and clear and repeatedly in Susan Zevon's Outside Architecture (Rockport Publishers, 1999).
Throughout the book's 190 generously illustrated pages, she covers the work of 18 architects – using multiple examples from each while focusing not so much on individual projects but rather on key features, styles and design philosophies that cut across the range of the fine work on display. About three quarters of the projects are residential and range stylistically from classic to modern at locations scattered across the United States and Mexico.
Nearly all of the architects were new to me, an exception being Ricardo Legoretta. There's a wonderful passage describing a meeting between Legoretta and fellow architect and collaborator Luis Barragan (who's not featured) during which Barragan challenges Legoretta to think more about exterior space. As explained in the text, Legoretta went on to create fantastically innovative exteriors, almost all of which include some form of water. (I'm particularly intrigued by Legoretta's use of cobble in shallow reflecting pools.)
Of the architects I didn't recognize, I was most inspired by the work of the southern California firm of Moore Ruble & Yudell. If you decide to pick up this book, don't miss the firm's extraordinary Pacific Palisades project – one of the most beautiful exercises in classic Spanish Colonial style I've ever seen.
Each of the book's sections begins with introductory text describing the work and the design philosophy of the individual architect or firm being discussed and then proceeds through images and descriptions of various projects. There's always a helpful focus on drawing connections from site to site, and it's worth noting that swimming pools in a variety of styles and settings are prominent in the majority of these projects.
On that level, Zevon's book is a terrific source of ideas for watershapers, especially those in the residential pool market. There are also scores of beautiful details in the form of exterior walls, shade structures, screens, pathways, patios, planted areas and entertainment areas. Many of the projects also include fountains and other small water features, but it was somewhat disappointing that streams, ponds and cascades are not represented at all.
The most powerful portions of the book were those having to do with collaboration. This is, essentially, a book about architects stepping beyond the walls and designing exteriors, and many of the discussions centered on cooperative efforts between the principle architects and landscape architects, designers or contractors. In seeing such beautiful work and learning that the projects could not have been completed without joint effort, I find a powerful and profound point here about breaking out of creative isolation and finding the opportunities that come through working with other knowledgeable people.
On that front, I found Zevon's profiles inspiring and am now more fully convinced of the value and potential benefits of my working, as a watershaper, with architects, landscape architects and landscape contractors. When you combine that sort of inspiration with a large set of ideas vividly on display, Zevon offers a resource well worth careful reading – and a spot on your bookshelf.
Mike Farley is a landscape designer with more than 20 years of experience and is currently a designer/project manager for Claffey Pools in Southlake, Texas. A graduate of Genesis 3's Level I Design School, he holds a degree in landscape architecture from Texas Tech University and has worked as a watershaper in both California and Texas.