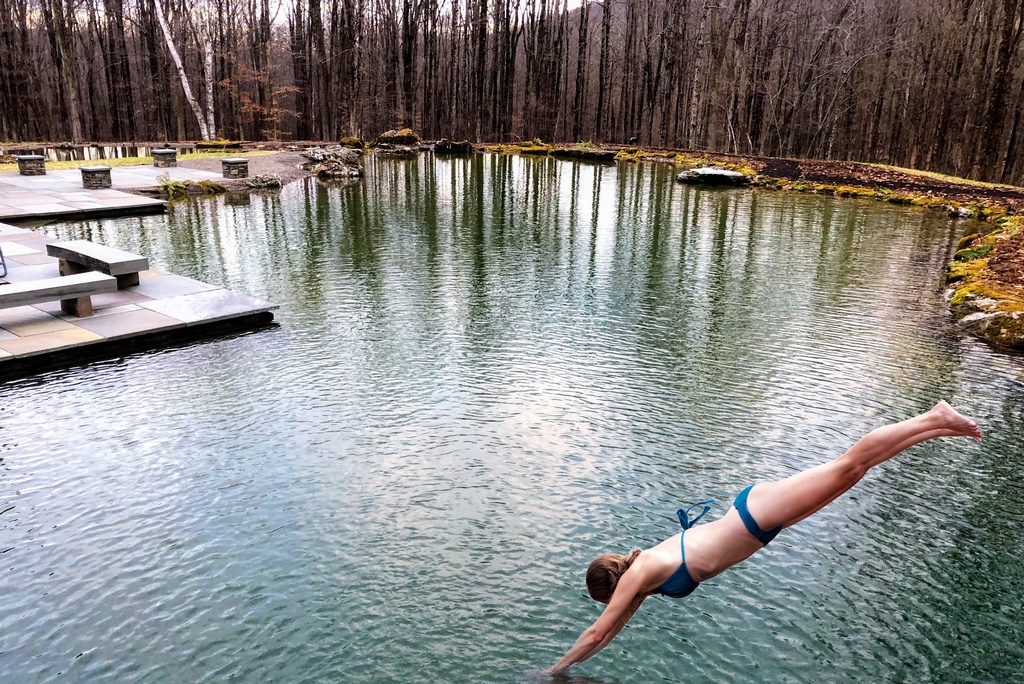 When designing a watershape, you do it with both the setting and the client in mind. It's a duality that exists on every project.
Ultimately the water must feel at home in the surrounding environment, while, at the same time,
the work should create emotional connection for the people who live and spend time there.
In this case, we had both a beautiful rural-New York setting and an ideal client. Everyone involved worked to create something that would celebrate the landscape, and also reflect the vital spirit that flows through my client, Nikki Carchedi, and her wonderful family.
Truth be told, many ponds, if not most, are used for some form of wading or swimming. It's inevitable, even in small decorative ponds that people find their way into them. We simply cannot resist the water.
It is, however, unusual to be asked to build a pond for diving, an activity typically reserved for large swimming pools or natural bodies of water. These kinds of unique opportunities don't come along every day, and when they do, I believe it's incumbent upon us to make the most of the situation and "dive in" with all the care and enthusiasm we can muster.
A PERSONAL VISION
When it comes to water and an appreciation of nature, Nikki is truly a kindred spirit. A trusting soul with an adventurous mindset, she gave me creative carte blanche, while being extremely supportive and enthusiastic start to finish. She is a dream client one might say.
In preparation for this article, I introduced her to Eric Herman, WaterShapes editor; and, as always, Nikki was perfectly insightful. "There's something very therapeutic about water," she explained to Eric and me on a recent Zoom call. "Whether it's a lake or the ocean, it's always been a fun and important part of my life — a true source of enjoyment and rejuvenation."
Her level of appreciation for the experiences water can provide is beautifully reflected in how she views the role her "diving pond" will play in her family's lives going forward. "This project is for generations," she said. "I have three kids, one who is 23 and 21-year-old twins. I also have younger nieces and nephews, so I definitely wanted to create a place where we all could spend time together and enjoy the outdoors.
"Last summer we had our first pond day," she recalled. "Everyone from the five-year-olds, to my mom, who's 64, was jumping off the diving rock, and enjoying the whole experience. Seeing the age-gap of who can enjoy our pond is amazing."
And, as she explained, she also finds the same level of joy in her more private moments by the water. "The sound of water is very soothing," she added. "It's a welcome release, just like you can experience in nature. I never dreamed that having a water feature in your home could be as amazing as this. I would have been happy with a pool, but I discovered this whole other set of possibilities."
Those remarks are typical of the thoughtful dialogue we enjoyed throughout the course of the project. I'm always inspired and excited to get down to the work at hand; and, in this case with such an enthusiastic and thoughtful client and beautiful setting, I'll admit there was an added spring in my step.
Nikki was definitely the right client for this type of design. It wouldn't suit everybody, but that's the beauty of the process. You're constantly adapting to the space and the people who live and spend time there.
TAKING THE DIVE
It seemed fitting in this situation that the two defining design features were all about diving and fire – because both are integral in the way that people interact with the water, but in entirely different ways.
Starting with the diving, the client loves to jump and dive off of rocks. Right from the start, I was inspired by the idea of discreetly including a diving platform and diving well in the project – but doing so in a way that wouldn't be as immediately obvious as it usually is in a swimming pool.
The narrative here is that the diving spot was discovered, rather than built — creating that sense of adventure you might have experiencedas a child. It's a narrative that's as old as human existence. Diving has been going on for as long as we've been getting wet and can be seen as both a natural sport and a source of instinctive enjoyment.
It certainly resonates in my personal experience. I used to sail little boats around the Adirondacks and would see groups of young people jumping of cliffs that were a hundred feet high. Often they were completely naked, having a whale of a time. It also made me think that you really have to know what you're doing or you could really hurt yourself. When you hit water at a high speed, it's incredibly hard. And, of course, if you strike something, like a rock, beneath the surface, you'll be subject to very serious injury.
It was absolutely critical that Nikki's diving pond be entirely safe and compliant with the diving construction standards applied to pools.
The diving platform rock here is about six feet above the water. That might not sound all that high, but you have to keep in mind that your head is five or six feet above that, so it feels very high, especially for someone like me who has vertigo.
The diving portion of the pond is nine-feet deep and is compliant with a variety of specific dimensions. We considered not only the depth, but the size of the diving area to the grade of the slope leading up to shallower portions of the pond. We also made sure there are no overhangs where one can bang their head.
All of that is hidden by the fact the appearance that this pond is a natural body of water that you might find in the wild. Of course, in nature, people have to figure out where they can dive safely and where they cannot and that can be a painful and dangerous process of trial and error. Here we've made it feel very natural, but there is also a safe place designated for diving.
SUBTLE APPROACH
When you move beyond the architectural area adjacent to the house, you are immediately in a naturalistic setting, which just happens to have this deep pool immediately under the waterfall. That's typically where you find deep pools in nature, under waterfalls where the bottom has been carved out by the constant flow of water over the years. It really is like a natural swimming hole that you'd come across in the wild.
The vessel is freeform with the swimming and diving area roughly 100-by-100 feet. This flows over a waterfall which also acts as a skimmer to carry all the pollen and leaves into a lower shallow pond (where much of the biological treatment occurs). If you didn't know it's a diving pond, you'd never guess. The diving platform looks like a very natural rock formation with a beautiful waterfall, and the water's so clear you see the bottom and lose the sense of how deep it is.
There's a sneaky little path that leads up to the diving rock that, again, you probably wouldn't even recognize unless you know it's there. We didn't want some kind of grand staircase leading to the rock. This way, it feels more like a diving spot you discovered in nature and over time have worn a small path up to it.
The stone material was all a very hard surface limestone that's common in the area. It has spectacular weathered character with lots of moss, lichen and signs of erosion and oxidation. As we were going through the material, we found this wonderful piece that looked like the opening to a cave. I thought we had to take advantage of the piece, so we decided to have water flowing out of it, as though the cave was formed by a spring or artesian well of some kind.
As it turned out, it was perfect for the diving structure.
On this project, as is true of all of my work, I was on the lookout for ways to express natural narratives. In this case, we have a natural body of water that was probably made by glacial activity, with all these beautiful rock formations left behind millions of years ago.
WARMING THE SHORE
Now, it looks as though human settlement has come along and placed a house right on the banks of the pond, with this architectural stone deck on the water's edge. The design deliberately reveals the "hand of man" and in the process makes the natural environment look more so by dint of the contrast.
We located the large square fire pit adjacent to the water as a way to draw you closer to the edge, even when it's cold outside. There's a good deal of hidden structural work at the patio/water interface, where we built a large CMU retaining wall that supports the patio and intrudes into the water. This completely hides the 60-mil EPDM liner and geotextile, which lines both ponds and is concealed and protected beneath the gravel and rock that covers the pond's interior surface.
Nikki and her family can enjoy the water when it's warm enough for swimming and also when it's cold by the fire. In that sense, it becomes a year 'round feature that's part of your life. (We've also taken to calling it the "firepond"as it also enjoys the added benefit to the property with it's 6" fire hydrant.) Note: I don't get the fire hydrant comment, but it may because I am not seeing images.
The deck functions as a waterside living and working space. Nikki is a prominent real estate broker, and she reports taking her work outside, weather permitting, and working on her computer and taking calls while she's enjoying sitting by the water.
And she's not the only one drawn to the water's edge. As is so often the case, the water attracts all kinds of animals, from small invertebrates to predatory birds and terrestrial mammals. Again, some people will practically run screaming at the sight of a frog, but Nikki grew up swimming in natural bodies of water, so she has no problem with the presence of natural fauna.
I couldn't agree more and have long thought that the presence of various creature, aquatic, land or airborne, make the setting all the more endearing. Frogs are our friends. The tadpoles devour the algae and the adults remove all the mosquitoes.
That same sensibility applies to our approach to water-treatment. As is true with all of my projects, I eschew harsh chemical treatment typical of swimming pools in favor of biologically-based systems. This water is treated naturalistically with colonies of bacteria and algae in the form of beneficial biofilm, and plant material that absorbs nutrients that would otherwise give rise to invasive algae blooms, harmful bacteria and cloudy water conditions. The water is oxygenated by a babbling streams that feeds into it, and by the waterfalls.
TO THE GOOD
I cannot say enough about how much I enjoyed this project. We had no major problems, and lots of great help from Bervy Excavation, a local company that was absolutely outstanding start to finish.
Looking forward, the landscaping surrounding the water is yet to be developed, but that's part of the fun of owning a feature like this, you grow with it over time. It will look different every year as the plantings grow in and the pond becomes more lived in, both by people and the natural forest denizens.
Knowing that our work together will result in years and years of enjoyment for such a wonderful family is tremendously gratifying.
"It's still amazing to me that we have such a beautiful body of water right outside the door that we can enjoy every day," Nikki explained. "Whether we're going swimming or just sitting by the water's edge by the fire, we are truly fortunate and couldn't be happier."
Anthony Archer Wills is a landscape artist, master watergardener and author based in Austerlitz, N.Y. Growing up close to a lake on his parents' farm in southern England, he was raised with a deep appreciation for water and nature – a respect he developed further at Summerfield's boarding school, a campus abundant in springs, streams and ponds. He began his own aquatic nursery and pond-construction business in the early 1960s; work that resulted in the development of new approaches to the construction of ponds and streams using concrete and flexible liners. The Agricultural Training Board and British Association of Landscape Industries subsequently invited him to train landscape companies in techniques that are now included in textbooks and used throughout the world. Archer-Wills tackles projects worldwide and has taught regularly at Chelsea Physic Garden, Inchbald School of Design, Plumpton College and Kew Gardens. He has also lectured at the New York Botanical Garden and at the universities of Miami, Cambridge, York and Durham as well as for the Association of Professional Landscape Designers, from which he received the 2013 Award of Distinction. He is also a 2008 recipient of The Joseph McCloskey Prize for Outstanding Achievement in the Art & Craft of Watershaping.