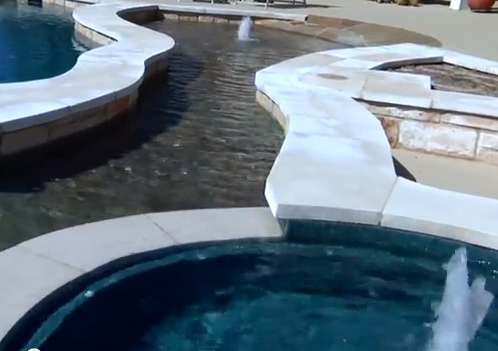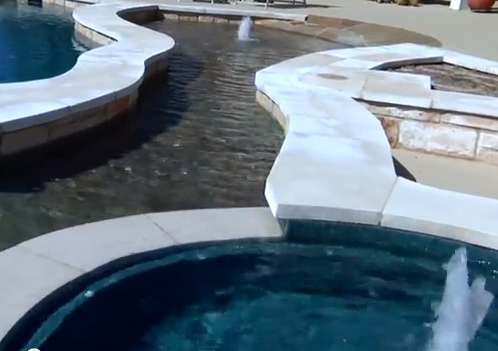 This video is a great example of the phenomenon known as "mission creep": We started out with a discussion of what's involved in making a residential swimming pool and spa accessible to someone who uses a wheelchair – a good and worthy subject on its own – but the project so perfectly illustrates a couple of additional points that we kept the camera rolling.
The video covers one specific ramp in fine detail, but I want to stress two more general points about planning for wheelchair access: First, a properly sloped ramp
takes up a good bit more of a project's footprint than the typical set of steps, so it helps to be working in larger spaces where you can manage the scale of the ramp relative to the rest of the features you're including. In a tight backyard space, in other words, some sort of lift system might actually be a better solution despite the aesthetic challenges it would offer.
Second, wheelchair accessibility is absolutely not something that can be an afterthought: In this case, a lot of time and thought went into establishing the relative elevations and contours, and getting into something like this as part of a late revision or change order would be a nightmare encompassing the shell, the plumbing and the decks – not to mention the finish materials.
I won't jump the gun and discuss how this video moves beyond wheelchair access, but let me say that this project was quite special in numerous ways and offered us the opportunity to get to several other wrinkles of the design process I saw value in sharing.
To enjoy the ride, click here!
Lew Akins operates Ocean Quest Pools out of three offices in central Texas. He started in the pool business in California in the late 1970s, opening his own design/build/retail firm in Texas in 1984. Widely acknowledged as a pioneer of the vanishing-edge concept, he added "design consultant" to his list of services in 1998. He may be reached at [email protected].