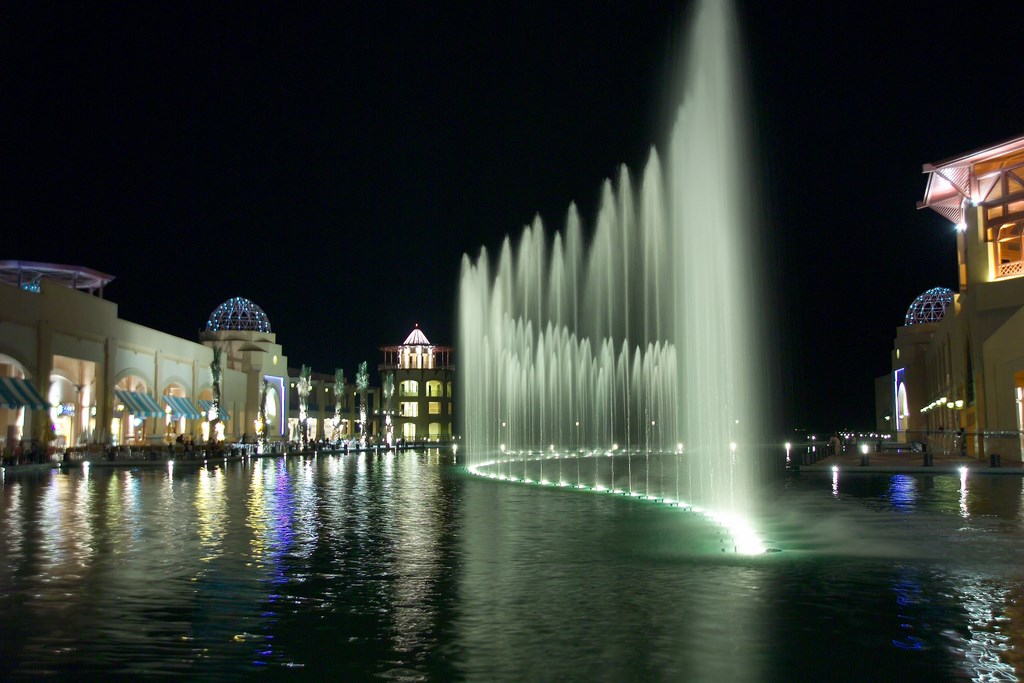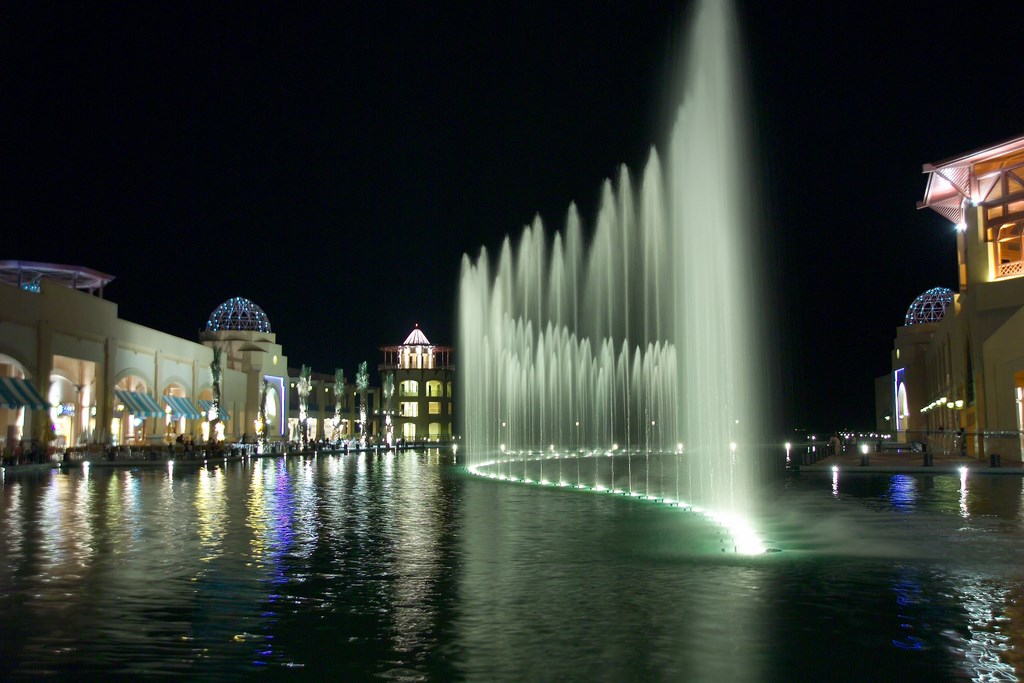 Throughout ancient times, water was central to the thinking of Arab, Persian, Moorish, Moghul and Turkish architects and designers, with largely anonymous representatives of each civilization preparing elaborate spaces with fountains, reflecting pools and other watershapes at their hearts.
In the past, these societies' greatest architectural works almost invariably featured elaborate watershapes that bespoke their technical skills as well as a general love affair with the beauty, luxury and necessity of water. With new developments burgeoning across much of the Middle East these days, fountains and watershapes of all varieties are once again playing important roles in design as
status symbols and as symbolic conquests of the environment.
But in a more modern context, these watershapes are now being used as sources of entertainment. This latest wrinkle has driven developers at all levels to pursue ambitious projects intended to make various residential communities, major highways and parks and civic plazas stand out and be noticed.
It's even reached a point where these applications are a matter of economic necessity: Centers of commerce as well as leisure doggedly compete with one another to create spectacles that attract attention, and stunning watershapes are often the key. In shopping malls throughout the Middle East, for example, advanced watershapes are seen as encouraging repeat visits, longer visits and enhanced sales.
With our headquarters in Toronto, Crystal Fountains has been creating fountains and watershapes for 40 years and has worked hard to keep pace with this demand, which is so great that we opened a coordination office in Kuwait in 2006 and are now in the process of setting up a branch operation in Dubai. These are exciting times, as I trust the projects I'll describe here will demonstrate.
FAR-AWAY LANDS
The Middle East is a place of tremendous contrasts and extremes. Dubai, for example, is quite unbelievably hot, but it's also vested with almost unimaginable wealth and features some of the world's most outrageous expressions of architectural modernity in a setting where echoes of the distant past can be heard at every turn. It is a difficult yet remarkable place to do business, basically because the constant demand is always for pressing the boundaries of the state of the art.
Standing head and shoulders above all the projects we've done so far in the region – quite literally – is our work on the extensive range of watershapes at the Tower Park around Burj Dubai, already the world's tallest building while under construction. It will be completed in 2009, and as grand as it will be, it's only part of a much bigger picture.
New shopping malls are a huge attraction in Kuwait, but as exemplified by Kuwait 360 , shopping is only part of an expanded social experience. Designed by RTKL architects and set in a busy, growing residential area, when completed this mall will offer both engaging leisure and shopping experiences amid superb architecture and among variety of waterfeatures including lakes, pools, cascades and streams spread over several acres.
Indeed, new commissions come at us from all directions these days, with numerous projects in the design stage along with those under construction, those nearing completion and those that are now in operation. These include fountains and watershapes at shopping malls as well as for new town centers, business parks and public areas in Dubai as well as Abu Dhabi, Doha, Kuwait, Saudi Arabia and Egypt.
We opened our Kuwait office in 2006 under the leadership of engineer Mohamed Adhami, but we've been active in the region since the early 1990s. At that time, our markets in North America were in a collective, colossal slump, so we shifted our focus to large overseas projects in Dubai and elsewhere and have steadily built our regional business ever since.
Abu Dhabi has been pursuing a mass-scale beautification program for the past 15 years and more, and our most recent efforts there have been as part of the Corniche project, which includes more than 70 watershapes. Dubai began pursuing a similar program in 2004, and the challenge there has been keeping up with the limitless ambitions of civic and business leaders.
In a commission direct from the owners of Global Touristic, we created a state-of-the-art interactive show for the Reef Oasis Blue Bay Resort in Sharm-El-Sheikh, Egypt – the first water display of its kind to be installed in that country. Featuring LED lighting with digital color mixing, the dynamic system was designed and built in less than three months and has been such a draw that many other local developers have since sought animated features of their own.
The leisure environments we help to create there are a huge factor in Dubai's tourist trade. In fact, it can be said that Dubai is rapidly becoming a Middle East version of Las Vegas, complete with big light shows and fantastical outdoor water displays.
The noteworthy detail here is that much of Dubai's construction drive has come through private property developers rather than the government. Given our existing relationships in Abu Dhabi and the contacts we established with key teams of designers and supporting contractors, we've enjoyed privileged access to the market on a variety of levels – and there doesn't seem to be an end in sight.
EXTREME WATERSHAPING
Most of the systems we work on are located outdoors – about 90 percent, in fact.
Obviously, this positioning offers substantial challenges mostly having to do with evaporation. On average, we lose about four-tenths of an inch per day across the total surface area of what can be large pools, so simply keeping them supplied is an issue. In some cases, we take advantage of the ready availability of seawater, but that solution brings on issues related to corrosion that narrow our choices of components, plumbing and finishes while increasing concerns about maintenance – with all of these adjustments coming at a price.
Desert winds are also a factor, raising concerns about fountain over-spray and forcing us to develop and deploy advanced control systems that lower fountain displays when the breezes pick up beyond tolerance levels to keep decks (and passersby) dry. And with the wind, of course, comes sand – an abrasive material that gets into everything, including equipment and components. The solution here involves use of large surge tanks that let sand settle out before water is re-circulated.
Global geography is an issue as well, with time zones and travel offering their own sets of challenges for our Canada-based operation. With an eight-hour time difference between the Middle East and Toronto, our days can be long – and then there are the weekends: The official weekend in many Middle East states is Thursday and Friday, giving Western companies just a three-day window for business communication. That's shifting to greater acceptance of a Friday/Saturday weekend, but for the moment, this sort of scheduling is a major concern.
Smart Village in Cairo, Egypt, is a thoroughly modern business park for high-tech/Internet-technology/communications companies including Microsoft and Vodafone. The landscaping is designed to create the sense of an 'oasis' for company employees and their visitors; to that end, we created a lake fountain at the heart of the complex that relates to high-tech aspirations as well as 5,000 years of history and culture.
Happily, language is not a barrier, as English is the language of business, contracts, drawings and documentation throughout the region. But familiarity with a language isn't the same as full and open communication of the sort we can achieve when working in the United States, for example, which means we need to go to great lengths to explain Western standards, be exceedingly careful with terminology and prepare ourselves to work with consultants from North America as well as Europe and Asia (India in particular) and a variety of other Arab countries.
This requires patience, a focus on clarity – and a willingness to make certain everything is documented and that processes of communication are well established, easy to follow and well used. Good training is the key, but patience is always the watchword.
Along the way, we've encountered some highly dynamic people, true leaders in shepherding in new eras of economic growth. Many are young and very well educated in the ways of Western management – and all of us face the need to find quality workers who can meet our needs, which is not a simple task in such a high-demand environment.
We've been at it in the Middle East for nearly 20 years now and have become accustomed to the everyday challenges of working in the region. As you'll see in the accompanying photographs and brief descriptions, these are cutting-edge projects that reflect not only our focus on developing a strong regional team, but also a common quest to accommodate ancient needs in new and inspiring ways.
---
Super Shopping
We recently completed work for 18 waterfeatures at the extension of the BurJuman Center in the heart of Dubai, where the retail space has been expanded from 300,000 to an enormous 800,000 square feet as part of a total commercial/residential development package covering almost three million square feet.
Touted by its owners as "the world's most luxurious shopping destination," the center includes high-end retailers such as Louis Vuitton, Cartier, Ferragamo, Donna Karan and Saks Fifth Avenue. It also retains core elements of Arabic heritage and design tradition intermixed with the latest in international architectural concepts.
The four courts of the mall bear themes associated with nature: Earth, Water, Fire and Air. Working closely with the developer, the architects at KPF and retail designers at Eric Kuhne & Associates, we at Crystal Fountains oversaw the design and implementation of 18 distinctly different water elements in an area known as the "water hall" of the retail space and in the gardens of an associated residential space with lower-floor offices.
The watershapes greet visitors at the access points from three parking lots and carry them through the ground floor, first floor, second and upper levels of the mall with a variety of looks and experiences. By turns, they see water foaming, welling, bursting, spouting, raining, and flowing over sculpted marble, onyx, stainless steel or granite as clear streams, water walls and cascades, lily ponds, water under glass, sequenced water effects, laminar streams and misting effects.
---
Scaling the Heights
A key project for Crystal Fountains in the Middle East is currently under construction as part of what is already the world's tallest building even though it's still far from complete. Known as Burj Dubai, the structure will ultimately have more than 160 stories, was designed by Skidmore Owings & Merrill and is being developed by EMAAR Properties.
The tower will stand at the center of Downtown Burj Dubai, a $20 billion, 500-acre development widely referred to as the most prestigious square kilometer on earth. It will feature residential, commercial and retail components, the first Armani Hotel & Residences, exclusive corporate suites, a business center, an observation platform (on Level 124!) and four luxurious pools and spas as well as 150,000 square feet of fitness facilities.
We've been working with the architects and developers almost from the start of this landmark project and ultimately will design and commission more than 20 watershapes for Tower Park (the ground-level area immediately surrounding the tower), nearby Island Park and the Boulevards that ring the space.
Almost every imaginable sort of watershape will be featured in the environs of the tower, including stepped and wall cascades, intermediate pools (between cascades), fountains, overflowing water tables, reflecting pools and pools featuring animated display jets.
---
Waterfront Wonders
The Al Kout Mall (Fahaheel, Kuwait) is part of a huge waterfront development on the Persian Gulf. The developers at Tamdeen Real Estate commissioned Crystal Fountains to design and supply both indoor and outdoor watershapes.
Inside the mall, four interior waterwall features flank the escalators, with aerated water running over heavily textured rock surfaces to bring a relaxing, oasis-like atmosphere to these areas.
Outside, the central fountains are located in an artificial lagoon (approximately 1,000 feet long by 165 feet wide) that opens onto a marina. The jet system spans more than 800 feet, with main fountain displays climbing more than 30 feet into the air and a central jet rising to almost 150 feet. (Given the dimensions of the pool, the base is a light blue/green to keep the water a bit cooler as a means of reducing evaporation.
These exterior fountains are a focal point day and night, with music, lighting and choreography provided by our own computer-control technology. In all, the program array includes three animated daytime shows and nine musical evening shows that feature tunes by a local composer.
In addition to the main lagoon and fountain, we also created a pool about 160 feet wide and 80 feet long with a 130-foot-long overflow detail that send a laminar sheet of water down about four feet. An additional feature with a total of 40 jets is arranged in five rows to create programmable water arches reflecting the forms of the bridge crossing the main lagoon beyond. The detailing of the pool creates additional visual links leading visitors to the upper pool that's part of the main lagoon.
Michael Denman is director of overseas operations for Crystal Fountains, a design and manufacturing firm based in Toronto. He's been involved with watershape components and designs for more than 20 years, joining Crystal Fountains in 1995 as its United Kingdom-based director of European operations. He was promoted to his current position in 1998, relocating to Toronto in 2002 and currently managing an international network of local partners, attending key industry conferences and running fountain projects in Europe, the Middle East, South Africa and the Far East. Before joining Crystal Fountains, Denman was general manager for Aqua Line Concept, a Paris-based firm that involved him in major projects for Disneyland Paris as well as the Moroccan Pavilion at Seville's Expo '92. He also spent two years in Paris at Jetdil, a distributor specializing in waterfeature components. While there, he was engaged in the development of various systems for Parc André Citroen and the Astérix theme park.