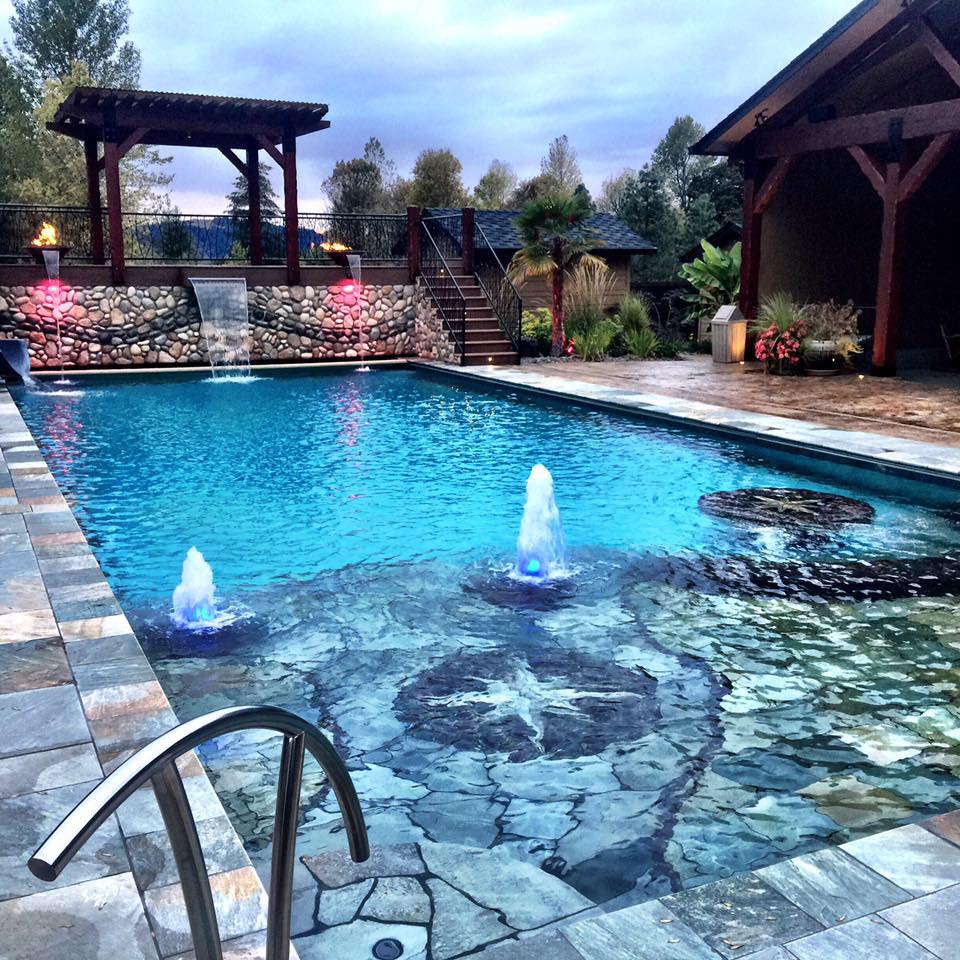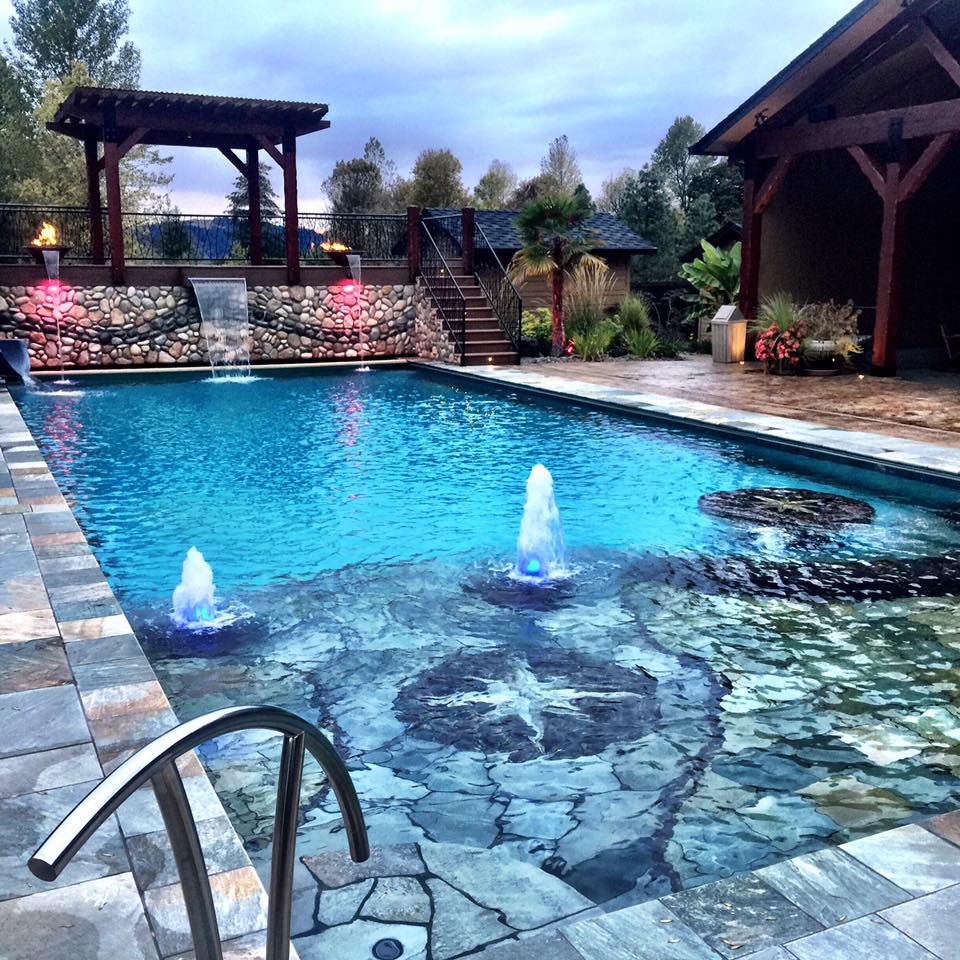 Do custom pools always have to be built out of concrete? According to Oregon watershaper, Phoenix B. Owens, the evolution in package pools and stainless-steel wall systems, as well as vinyl liners, enables his company to match the creativity of shotcrete installations using alternative construction methods with more than a small dose of imagination.
By Phoenix B. Owens
I started out building pools when I was a teenager working with my dad, Gary Owens. We were building mostly vinyl liner pools back in those days in and around Eugene Ore., and elsewhere; but, even then, he was surprisingly creative.
We were building raised walls with waterfalls, incorporating artificial rock and lots of stamped concrete with different types of coping and hardscape features. For vinyl pools back in the day they were pretty fancy. In effect we were customizing package pools back in the early 90s, which was almost unheard of in those days.
There weren't many choices in terms of standard shapes and most of ours back then were the classic kidney pools and some rectangles. We worked with a manufacturer that, as far as we knew, was the only one that could make custom shapes. My dad started coming up with some really creative designs – like a radius pool with a square corner for wedding cake steps, as an example. The manufacturer would make it, and then we'd sell half a dozen more based on that design.
ACROSS THE LINES
Many builders work with one type of structure or another. Custom shotcrete builders I've known tend to steer away from package pools and fiberglass, and vice versa. For many years, there was a stigma attached to liner pools, some people called them "baggies" and they were considered a cheaper option compared to shotcrete. These days that has changed, but even 30 years ago, we were always trying new things and offering choices to our clients.
We moved into fiberglass pools and started building some out of shotcrete. Maybe we didn't know better at the time, but nothing was off limit. My dad knew we had to be flexible to reach as many customers as possible and he was willing expand his knowledge. In a corner of the pool industry based on repetition with few options, we were deviating from the norm, and it really set us apart here in the Oregon market.
Suffice to say, I learned a lot from my dad, and that spirit of innovation has stuck with me as I've built my own company. (My dad passed away in 2007.)
I've also taken on a variety of pool types over the years, working with a number of package-pool systems and fiberglass. In the broad view, it's fair to say that package pools and fiberglass, have steadily moved towards more and more customization.
Package-pool wall systems are now easily customizable with almost any shape, size and set of features available that you're find in shotcrete pools. You can attach spas, create vanishing edges, perimeter overflows and virtually any other detail you can image. The wall systems are more robust than they used to be and they are typically easier to install.
Likewise, liners can be made to any shape and size you want. Liner patterns have exploded in terms of variety and artistry. I'd even so far to say some look like beautiful works of art. There are embossed patterns that add depth and texture, and some with glittering iridescent elements that create a beautiful shimmering effect. Every year, liner manufacturers introduce new patterns; some that resemble exposed aggregate finishes, others that look like tile mosaics from Italy.
Modern liners come with longer warrantees and can easily last 10 years, or longer. But still, the ability to easily change a liner and completely transform the look of the pool appeals to many homeowners.
BLENDED BEAUTY
Today, I build mostly stainless-steel/shotcrete hybrid pools. Again, my dad introduced me to the concept of hybrid pools after he read an article in Popular Mechanics, and built our family pool using the method back in 1970. In fact, it was only when our neighbors stated asking for one that he decided to quit his job as a steel fabricator and go into the pool-construction business. So, it's fair to say the hybrid concept has always been at the heart of the family business.
I like the way that hybrids give you the best of package pools and concrete pools. All the walls are stainless with the same type of X-brace system used in all types of package pools, composites and stainless. The system we use is incredibly durable and can be installed in any shape and size you want.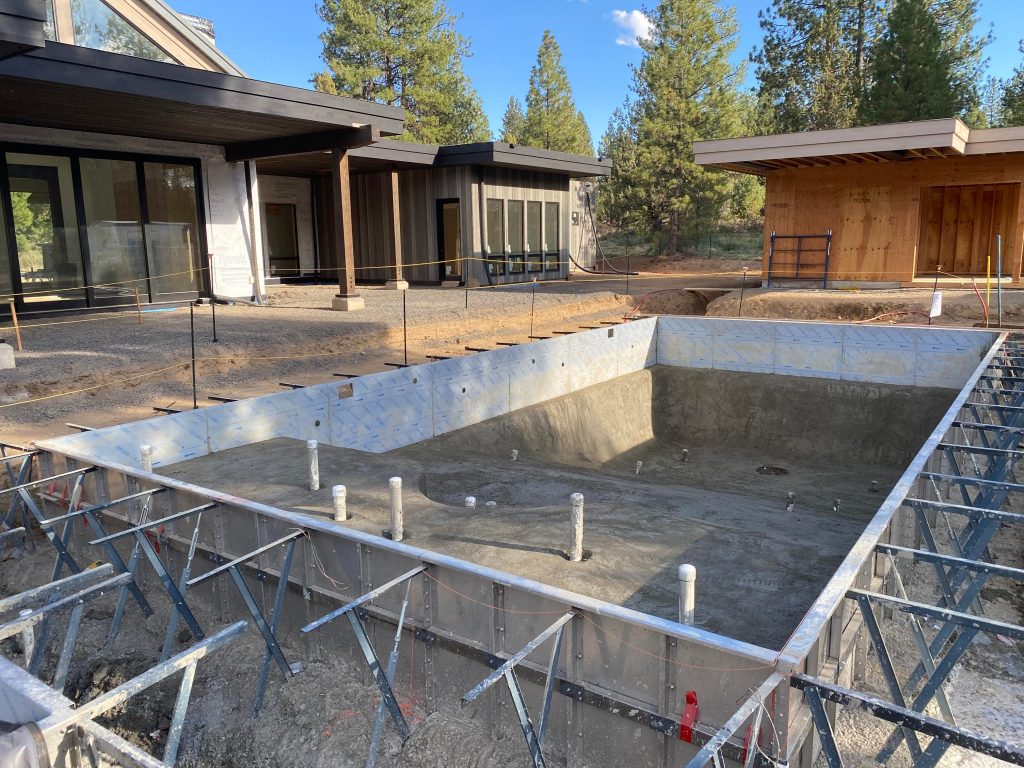 The pool floor is steel-reinforced shotcrete, which we also use to create steps, benches and lounging shelves. We also pour a band of concrete around the back of the walls to lock in the footings. That means the walls are sandwiched between concrete on the bottom, which makes them extremely sturdy.
(It's important to note that working on competent soil is extremely important, just as it is in a shotcrete pool. If the soil expands or contracts, it can damage the floor and footings.)
One of the many things I like about the hybrid concept is the level of control you have at the top of the wall. Many of our pools have automatic pool covers, which are very common here in the Pacific Northwest. With shotcrete pools you have to have highly skilled applicators who will "brown out" the top of the wall at the bond beam to create a perfectly level surface for the cover track. We can do that, but it's much easier, faster and more reliable with steel walls which are easy to level. Also, the system we use has its own auto-cover box built into the stainless walls.
Also, the coping and first 36-inches of decking around the pool are supported by the X-brace system. When we back fill the area outside the walls, we use native soil that will settle over the first year creating a gap beneath deckThere's no way for water to freeze and expand causing the coping or surrounding deck to move, because it's supported by the steel X-braces.
We've found that over the years the hybrids hold up remarkably well in freeze-thaw conditions because they are less directly impacted by expansion and contraction.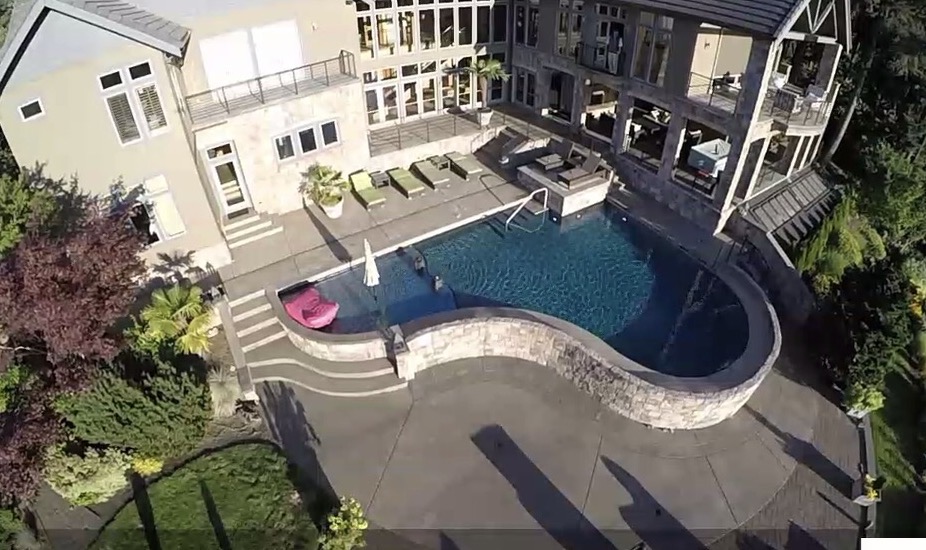 Backing up, the installation process is straightforward. We over-excavate the pool area and pour a "sidewalk" that will serve as the base for the walls, which are bolted into the concrete. The steel for the floor is attached to the walls through holes near the bottom. We then pour a 12-inch footing around the base of the walls. When we shoot the floor, as mentioned above we'll also shoot all the interior structures. In effect, the walls work like a permanent form.
ON THE SURFACE
While we do have the option of using liners for the surfaces, most of our pools are finished in plaster, exposed aggregate and tile. Many of our pools look highly customized with signature rockwork that some people have said looks like folk-art. It's the last thing you'd expect on what some would consider at least partly package pools; but, once the structure is in place, you can do everything you might apply in a traditional shotcrete structure.
The same applies for vinyl pools. Although we don't do too many liners these days, some of my more outlandish designs have been done with liners.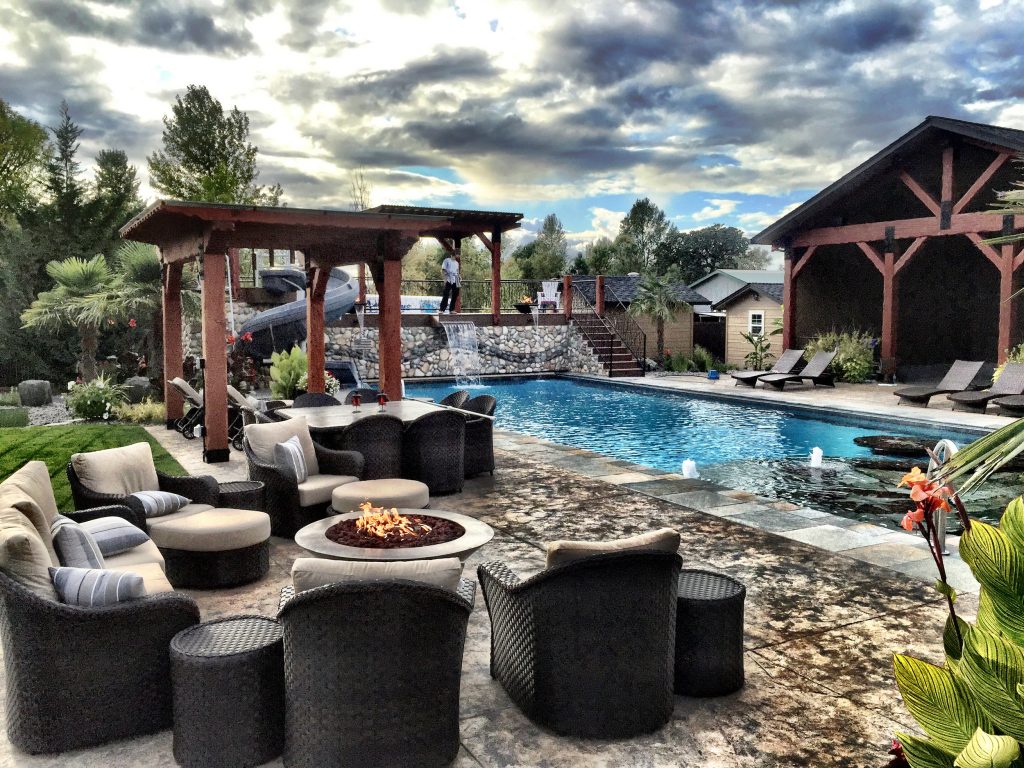 We did one in a quarry several years ago that had an attached spa, a plexiglass dam wall and a cave over the spa. We made stalactites in the cave and installed fiber optic lighting, and it had a waterfall crashing over the mouth of the cave. It was outrageous, completely custom and something no one would ever expect in a liner pool.
There aren't many, but there are some key caveats with stainless-steel/concrete hybrid pools. You really shouldn't use saltwater chlorination with stainless, because it will cause corrosion. Also, building pools this way is not inexpensive; they are every bit as "high-end" pricewise as a custom gunite pool.
Phoenix B. Owens is founder and owner of Owens Custom Pools in Eugene, Ore., a firm that has built a reputation for highly adventurous pool designs.