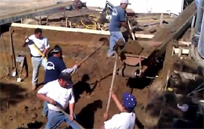 In the last video I offered here, we were working on a site with access so limited that only mini-Bobcats were able to negotiate the passageway from the backyard to the street.
That space was positively luxurious compared to the one highlighted in my latest contribution: In this case, we had only 24 inches to work with and a ton of digging to do, so coming up with a system using conveyor belts was the best way to go.
There are two key points to be made here. First, while there are sites that are difficult to build on, there are only very few where construction of a watershape is impossible. All it takes is a little ingenuity as well as an awareness of the full range of options available to you.
Second, delivering on the difficult can be a costly proposition. There's an awesome amount of labor involved in hand-digging on this scale, and tying up this many conveyors basically for the duration of the dig comes at no small cost for the project.
On all fronts, communication is the key. I have always believed that it's a big part of my job to get out of the way of people who want to live the dream, but I also believe that the more they know about what's involved in a project and why, the better off we all will be.
To see what I mean in this instance, click here.
Randy Beard operates Pure Water Pools, a construction/service firm based in Costa Mesa, Calif. He may be reached at [email protected].