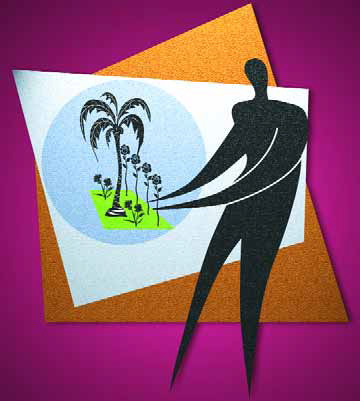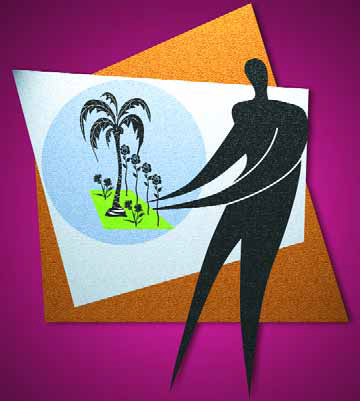 Whenever I receive a call for an initial meeting about a potential project, I always envision – before the client ever opens his or her mouth – that I will be adorning a multi-acre estate with a classic garden that will someday be written about in books and examined by landscape students throughout the world for generations to come. Doubtless, this call will be about the project that will bring me both fame and fortune!
Now back to reality.
Although there are plenty of large-scale landscape projects to be had, the smaller projects are much more plentiful. And they are often, as I have found, just as if not more demanding of my creativity – and just as satisfying to my clients and me. As the maxim has it, "Good things come in small packages" – and I truly believe this is so when it comes to small garden spaces.
MEETING NEEDS
My appearances on "The Surprise Gardener" might make it seem as though I specialize in small projects. A typical show takes a small yard or space and transforms it in the course of a day into a paradise of a sort the homeowner never dreamed possible. Actually, this is only a tiny part of what I do, but I find that my show projects make me operate with a discipline that has led to good outcomes in my other projects.
Most of the design projects I tackle in my business are in fact quite involved and certainly require more than a one-day effort. So as I await that huge estate job, I find that designing in small spaces allows me to be both specific and focused in my work.
Where a large space typically has many components and calls on me to spread a variety of ideas throughout a yard in service of a defining theme, I find that with smaller-scale projects, my planning must be much more deliberate and carefully considered. In other words, in small spaces, concepts and design elements have to be specific, because in smaller spaces, things that don't work or go together are that much more apparent.
The sorts of spaces I'm thinking about here are small patios, the areas surrounding spas and ponds, atriums and other confined places. To demonstrate what I think about when I encounter these spaces, let me use the area that property owners often refer to as their "side yards" by way of illustration.
Most houses I encounter in southern California have these spaces because they are placed relatively closely to one another, with about six feet of clearance between the home and a wall or some other property barrier. Often, these areas are used to house trash enclosures, storage sheds or dog runs – all excellent uses of narrow spaces. We do not, however, need to confine our design thinking to such drab, utilitarian purposes!
A narrow space of just six to ten feet, for example, can easily handle a hedge or some softer visual barrier against the adjacent property. When it fits the style, I've used bamboo, constructed decorative walls and fences, planted low-lying hedges and used vines trained on wires to cover overly plain barrier structures.
The possibilities here are indeed endless, my point being that this type of design often requires careful planning and consideration of all the parameters of the space, from views and planned uses to anticipated levels of traffic through the narrow available passageways.
A LITTLE LARGER
What happens when you're asked to design a space that may be a little wider than the usual side yard but that still functions as a throughway or is used, for example, to house pool equipment or air-conditioning condensers? It's simple: You just get more creative.
Once I was asked to look at a property where the homeowners wanted to rework the front yard but weren't quite ready to do anything in back because they couldn't figure out yet what they wanted. They front, they told me, was to be a natural landscape incorporating herbs, vegetables and other edible plants – mainly because they missed the kitchen garden they'd had back home in Australia.
The trouble with their vision was that the front yard didn't have enough area that caught full sun for a long enough time during the day to nurture an edible garden. Also, the range of larger plants they pictured out front wasn't conducive to edibles: Once those plants matured, they would create a canopy above the edibles and completely block the sun.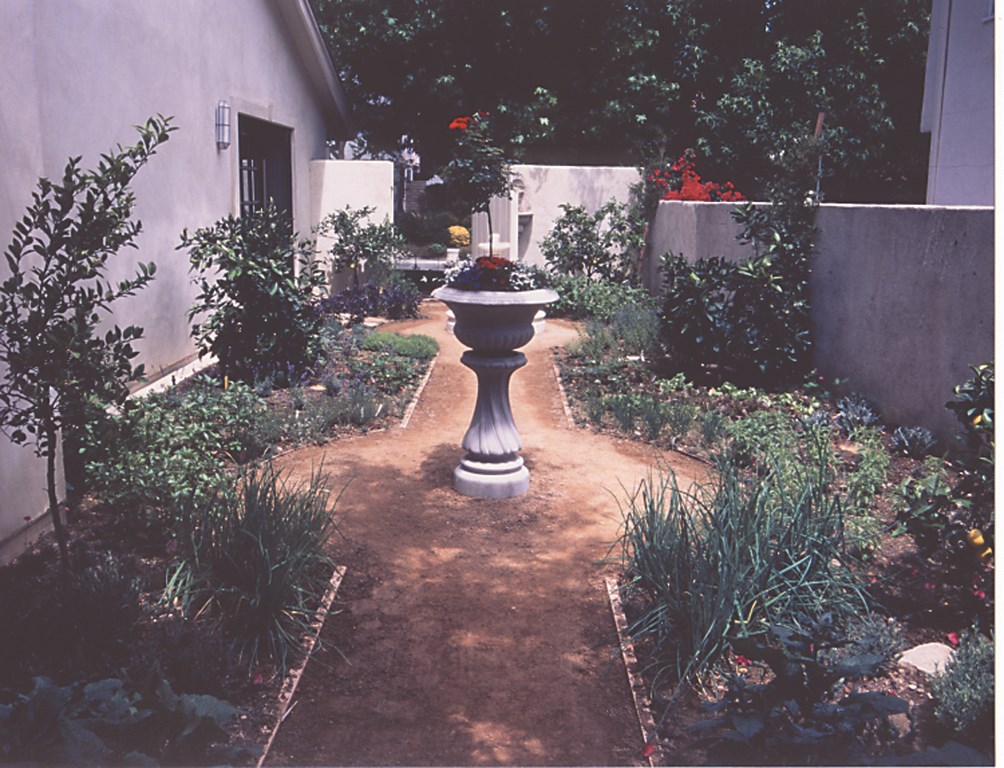 By the time we finished, a small, nondescript side yard had become a formal projection of the homeowners' dining room – and the kitchen garden they'd wanted to remind them of their lifestyle at home in Australia.
To meet their desires, I turned to the side yard, which at the time was being used as a dog run. The space, about 40 feet long and 13 feet wide, received full sun much of the day and seemed an ideal space for a kitchen garden. The one possible drawback was that the space was right outside the carpeted dining room, and they didn't want to encourage traffic to flow that way.
But I saw the proximity to the dining room as an opportunity to create a visually beautiful garden as well as a functional one. My suggestion was to create a formal space that would open up a beautiful view through both the living and dining rooms' windows – and that would most easily be accessed through the back yard and, specifically, through the kitchen door that led out to the backyard.
All the requirements and desires for this working garden pointed to a formal style. We also needed to create access from the gate to the front yard and from the pool area in the backyard, which led us to develop a pathway through the center of the space.
To that purpose, we started with a decomposed granite walkway down the center of the side yard, leaving about a five foot bed on either side of the walkway. This made everything in the space readily accessible. With the basic grid established, I began suggesting some key formal elements, including a formal fountain a formal planter.
The homeowners wanted it all. The side yard soon included a central pathway with two circles dividing the pathway into thirds. The circles would be large enough to hold the fountain and planter, respectively, with ample room for passage around them on either side. This fit right in with the dimensions of the proposed flanking planters and still gave us a three-foot-wide walkway.
GREAT SELECTIONS
With the form established, we then moved to the task of filling the garden with plants.
The main requirement was to fill the space completely with herbs, vegetables, fruits and any other kinds of edibles they might be inclined to use. The only ornamental plant we selected was dwarf mondo grass – Ophiopogon japonicus 'Dwarf Kyoto' – which divides the planter beds diagonally on either side of the walkway into 42 separate plots, each plot housing a different edible plant.
The plant palette included four types of basil, strawberries, chives, scallions, three types thyme, a variety of seasonal lettuces, three types of sage, borage, rosemary, seasonal herbs, carrots and radishes, among others. We were also able to fit in six dwarf citrus trees – two Satsuma tangerines (my personal favorite), one Mexican lime (a very small, thin-skinned fruit with lots of juice), two Meyer lemons and one kumquat.
The irrigation was designed to keep moisture away from the house as well as the decomposed granite path to the greatest extent possible.
The fountain was a particularly wonderful addition to the design, offering the gentle sound of water reflecting off the property line wall and flowing into the living and dining rooms when the windows are open. The raised, circular planter is filled with plants that now drape over the edge and are watered by a drip-irrigation system.
This small-scale design fulfilled this family's need for homegrown edibles and the flavors of the Down Under lifestyle they'd left behind. They invited me to dinner one night, and I was pleased to see that all the organic items served with the meal had been picked directly from their own kitchen garden.
Next time: Another "think small" project that turned an arid, unused side yard into a serene Japanese-garden-style retreat.
Stephanie Rose wrote her Natural Companions column for WaterShapes for eight years and also served as editor of LandShapes magazine. She may be reached at [email protected].