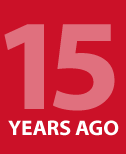 By David Tisherman
'It's great that more and more people in the watershaping business are interested in becoming custom designers. The way I see it,' wrote David Tisheman to start his May 2001 Details column, 'the future of the industry rests in the hands of those who strive for creativity and excellence in their work.'
'Unfortunately, however, there are those out there who are brash enough to declare themselves "designers" without any sort of credentials to back up the claim – that is, without having done what it truly takes to understand available options and create great designs. Setting your sights high is a wonderful thing, but it's only the very first step on the road to realizing your true potential. The hard part comes in doing the work it takes before you even get to try to attain your goals.' He continued:
***
'I went to school for more years than I care to remember and earned advanced degrees in drawing and design. I have immersed myself in the histories of industrial design, art and architecture. In the years since I left school behind, I have worked very hard to translate what I learned in other fields to become a watershape designer and builder. And I continue my education every single day by keeping my eyes open to the best of what's out there by way of architectural, interior and landscape design.'
***
'As a person who's spent years pursuing higher education, I'm bothered by people who pass a lower level of training off as something more than it really is. It's not that my feelings get hurt; instead, their inability to perform as promised hobbles those of us who've been taught to know better.'
***
'As designers, we need to have at our disposal all of the communication tools that help us lead our clients to visualize what we hope to accomplish for them. We need to know about balance, proportion, color, scale, lines of sight and a hundred other factors that go into good design. We need to know how to do detailed, three-dimensional renderings. We need to know architectural history and the principles of architectural design. We need to learn about resources and how to apply them.'
***
'As builders, we need to know how to read (and execute) complicated structural plans. We need to know about steel and concrete and finishes. We need to understand hydraulics. We need to embrace the importance of soils and geology in what we do and get away from the mentality that says understanding soil conditions is the homeowner's responsibility.'
***
'It's not that people in the pool industry are uninterested in true education: . . . it's that they've never been presented with higher education as an option. There's no certificate program in reading plans; there's no place to go to get a doctorate in aquatic design. Those avenues of higher learning are unavailable to this industry, and until that changes, we're always going to be a hand-me-down trade instead of a stand-up profession. The bottom line is that we need to close the gap between what we should know and what we do know.'
***
'Without formal training, there's no way that our industry can grow. Yes, the number of people working in it may expand or contract depending on the economy, but product limitations brought on by inadequate education will keep us from pleasing our clients as they should be pleased and will forever doom us to life on the fringes of the design community to which I think we should belong with architects, landscape architects and other top professionals.'
***
'Let's be bold: Why not shelve [most trade shows] and free up the resources that would be needed to set up a long-term investment in higher education? Making this happen will take courage – a brave manufacturer (or group of manufacturers) to step up and say, "Things must change." Even if manufacturers took just half of what they spend in chasing a dozen shows all across the map and pooled those resources to endow a watershaping program and curriculum at a single college or university, it would be a start.'
'And that start,' concluded David, 'is just what we need. It is a curriculum I would have pursued had it been available to me umpteen years ago, and it's one that many I know in the industry would pursue – even given the chance now that they're long past college age.'
Even 15 years later, does David's thought that things must change with respect to the education of watershapers still ring true to you? Or has the nature of education changed so much in the recent past that his assertions are no longer as valid as they once certainly were? Please share your thoughts on this key issue by commenting below!
David Tisherman is the principal in two design/construction firms: David Tisherman's Visuals of Manhattan Beach, Calif., and Liquid Design of Cherry Hill, N.J. He can be reached at This email address is being protected from spambots. You need JavaScript enabled to view it..