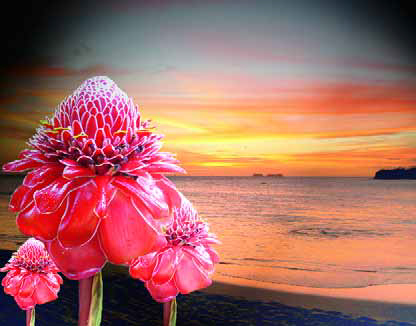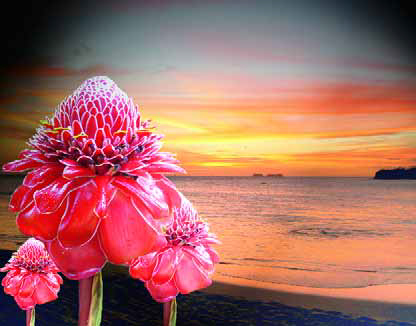 I recently had the pleasure of taking a brief trip to Costa Rica. Beyond a little sightseeing and some rest and relaxation, my purpose was to consult with watershaper Juan Roca to determine the feasibility of creating planting plans to complement his incredible watershapes.
I always do my homework when I travel to an unfamiliar area for business purposes, learning as much as I can ahead of time about local vegetation and climate. As a rule, I contact nurseries, check inventories, inquire about the possibilities of bringing in plants the nurseries may not already carry and in general try to figure out the plusses and minuses I might encounter in new and unfamiliar territory.
I prepared myself as usual in the weeks leading up to this trip, but distance and language barriers were definitely an issue: Once I arrived, I found that I'd actually amassed a good bit of misinformation about the state of the nursery trade in Guanacaste, the region in which Juan resides, and soon recognized several other factors I had not been able to anticipate.
Let me tell you more about my trip, which, by the time it ended, had me thinking differently about the approach I take to truly long-distance projects.
GATHERING INFORMATION
Before boarding the plane, I'd already heard multiple accounts of Costa Rica's near-legendary beauty as well as tales of bumpy dirt roads that make getting from place to place difficult.
Mostly, friends who'd traveled in the region told me about rainforests that can be viewed from the canopies of trees on high-wire "zip tours" and coastlines that leave everyone breathless. I heard about the wildlife – howler monkeys and their bellowing calls, bullfrogs the size of bowling balls, lizards as plentiful as squirrels and a whole host of other natural wonders that draw visitors from all over the world to this Central American paradise.
I was also privileged to witness a few of the most colorful and picturesque sunsets I've ever seen: Not only were they visually stunning, but they also signaled the end of very hot days in a place where the climate is definitely tropical. (The country is situated between eight and 11 degrees north latitude compared to Los Angeles at about the 33rd parallel.) Although there are a number of sub-climates, I'm told that in the area where Juan lives and works the average daily temperature varies year 'round by no more than five degrees – typically somewhere in the 90s.
As a landscape designer, what this means to me is that my plant palette will be limited to specimens that can survive 365 days of heat, wind, humidity and other factors that might kill more tender perennials or plants that require cooler temperatures at least part of the year. This alone narrows my choices and has fundamentally altered my thinking.
FIRST THINGS FIRST
When confronted by a situation as new as this one, there's no substitute for opening your eyes and looking around. Accordingly, I began my work by observing the trees and plants at Juan's home.
There are the typical palms, bougainvilleas and tropical plants one might expect to see in such a location, but upon further investigation and discussion with my hosts, I learned that many of the plant varieties I was looking at were not what they seemed: What I initially thought was a Bird of Paradise, for example, turned out to be a variety of Heliconia, a plant family encompassing a number of different and unusual specimens.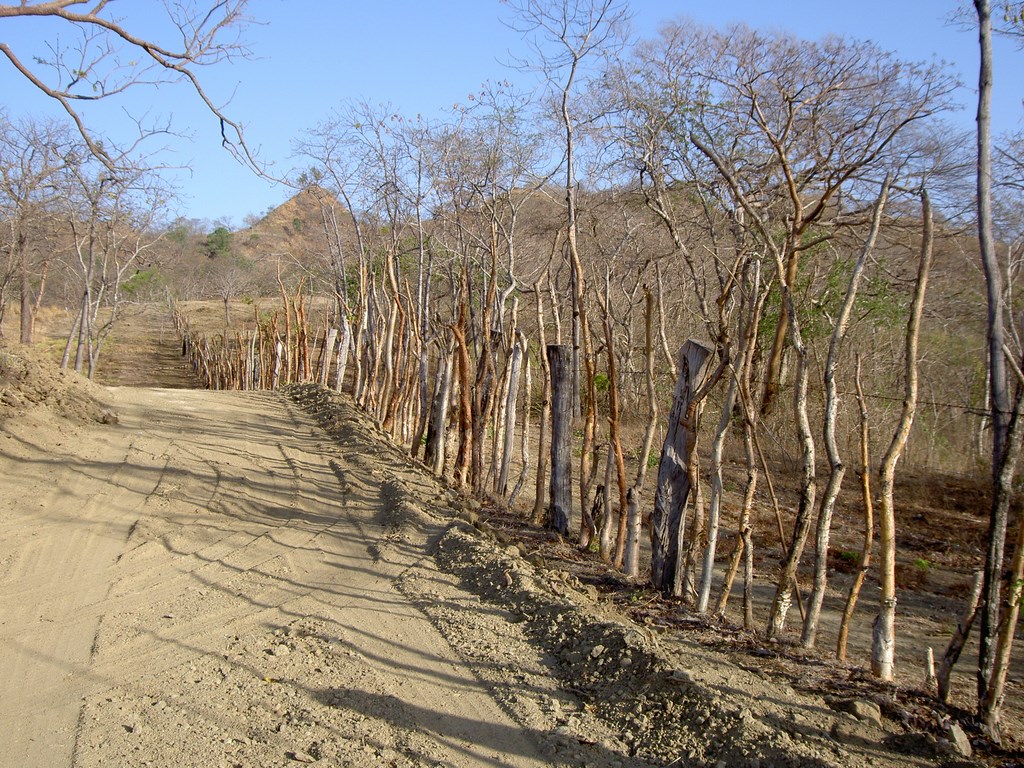 I was fascinated by the 'organic' approach to fencing, in which cuttings from Naked Indian trees are simply planted, take root and, strung together with barbed wore, grow into efficient fence systems.
What struck me more than anything else about the flora were the sizes and forms of the trees in the area. Sustained by the climate, sheltered on undeveloped land and helped immeasurably by the fact that the people seem to value and appreciate their existence, it's not uncommon to see stands of old-growth trees more than 50 feet tall with driplines equal to or exceeding that span in circumference.
I am convinced, however, that they can keep their huge Ficus trees: I saw some with root systems that rose more than three feet out of the ground and stretched more than 15 feet away from their trunks. I suppose if I had more room to work with in Los Angeles backyards, I wouldn't fear these giants so much: They are beautiful, but those roots are relentless!
I did find ways, however, in which tree roots were put to good use: On the first morning I was there, Juan and I went for a hike on his property, and he pointed out the interesting way the locals used the Naked Indian tree to develop fences made up of tree branches. He explained that in Costa Rica, property owners cut the branches of this tree, stick them firmly in the ground and string them together with barbed wire.
The tree is such a strong grower that it roots itself easily wherever it's placed and proceeds to grow into a full-fledged tree. During the growth process, Juan explained, the trees "eat" the barbed wire, completely enveloping it within their trunks. In this way, the trees create a visual, shaded break at the fence line, while the barbed wire delineates property boundaries and keeps livestock in, unwanted visitors out.
After he explained this to me, I began seeing these fences all over the countryside.
SIMPLY DIFFERENT
Armed with Juan's primer in local practicalities, I now began looking for how things were done differently in the landscapes I saw. Moving beyond the massive trees, I also began looking in particular at the way plants were arranged.
What I observed in most cases was little by way of "arrangement" at all: Although I saw visually gorgeous landscapes, there were few designs "organized" in ways that reminded me of typical North American plantings: Borders did not seem well defined; plants were frequently placed in large masses without specific connections to each other or to the overall environment; and they did not seem to be used to create visual barriers they way we use them here to block out our neighbors. It was all easy and more than a little random, but quite friendly.
Speaking of friendly, the people I met – particularly Juan, his wife Kattia and their two daughters, Nuria and Maite – made me feel right at home. They spoke English most of the time and made me feel quite comfortable, but what I recognized almost immediately is that if I spoke Spanish, I could have opened up my experience of the place in almost limitless ways.
I never took Spanish in school (opting for French instead), and the occasion of my trip to Costa Rica is not the first time I've felt at a disadvantage as far as my career development is concerned – particularly given the fact that this trip was intended to put me to work on some basis in a Spanish-speaking country.
The language barrier posed challenges not only on a general level, but it gave me very specific problems in communicating with nursery workers – an awkwardness compounded by my unexpected encounter with a whole new set of plant names.
Juan took me to a nursery where I was very pleasantly surprised (contrary to reports I'd received from my compadres in the United States) to find that the plants were as efficiently displayed and organized as they are back home and in most cases were tagged by yellow plant markers that included each plant's botanical and common names.
I also enjoyed the distraction of watching two howler monkeys disagree quite loudly up in the nursery's trees – and watched in horror as the apparent loser in the dispute plummeted about 15 feet to the ground with a grand thud before picking himself up and walking away, apparently none the worse for the misadventure. I was pleased to notice that I wasn't the only one mesmerized by the fray: I guess there are certain curiosities that transcend language!
LOOKING AHEAD
But back to the plants: I ran into a hitch in that the plant's botanical names in Costa Rica are completely different from those used in the United States. A Plectranthus here, for example, is called Llanten there, while our Hydrangea macrophylla is their Ortencia.
Our Justicia brandegeana is their Camarone Amarillo, but this is the closest case I found of the Spanish name having some resemblance to the English/Latin name: Camarone is the Spanish word for shrimp, and this particular variety of Justicia is known in the United States as Shrimp Plant.
I was relieved to find that, contrary to reports I'd heard, the nurseries we visited were not at all unlike those I visit back home: well-stocked, well-organized and ready to meet a variety of client needs.
What this exercise showed me is that I will face substantial translation issues not just with respect to communicating with the people, but also more specifically in communicating about their plants. If nothing else, the experience made me appreciate the access I have back home to garden guides and other organized information resources. Without something similar at my disposal for Costa Rica, it will be difficult (but not impossible) for me to determine planting plans with any great accuracy.
Through years of living and working in southern California, I've always told myself that someday I would learn Spanish if only to make it easier to work on site with largely Spanish-speaking crews. (Along with all the other things I've vowed to do "someday," I know that when that someday finally arrives I'm going to be very busy.)
In this case, if things work out and I end up developing planting plans for Juan's watershape environments, I have the sense that I will have no choice and finally will need to learn Spanish in a hurry.
Juan and I have been talking for quite some time about working together, he building pools and stunning hardscapes (as seen in the December 2005 and April 2006 issues of WaterShapes) and me developing planting plans to complement them. During my stay, we looked at a site with an incredible home and distant ocean views, and I walked away with camera full of "before" pictures (as I do for all my jobs) and an overall understanding of what Juan envisions for the site.
It's clear that I have my work cut out for me on this project. If I'm to perform to my usual standards, I'll be spending a lot of time in preparation and research and in seeking ways to overcome both the language and terminological barriers. But I do want to make it work: I was there for just six days, and even in that short visit I felt new pathways of creativity opening that I definitely want to pursue.
Stephanie Rose wrote her Natural Companions column for WaterShapes for eight years and also served as editor of LandShapes magazine. She may be reached at [email protected].