Caribbean Outpost — North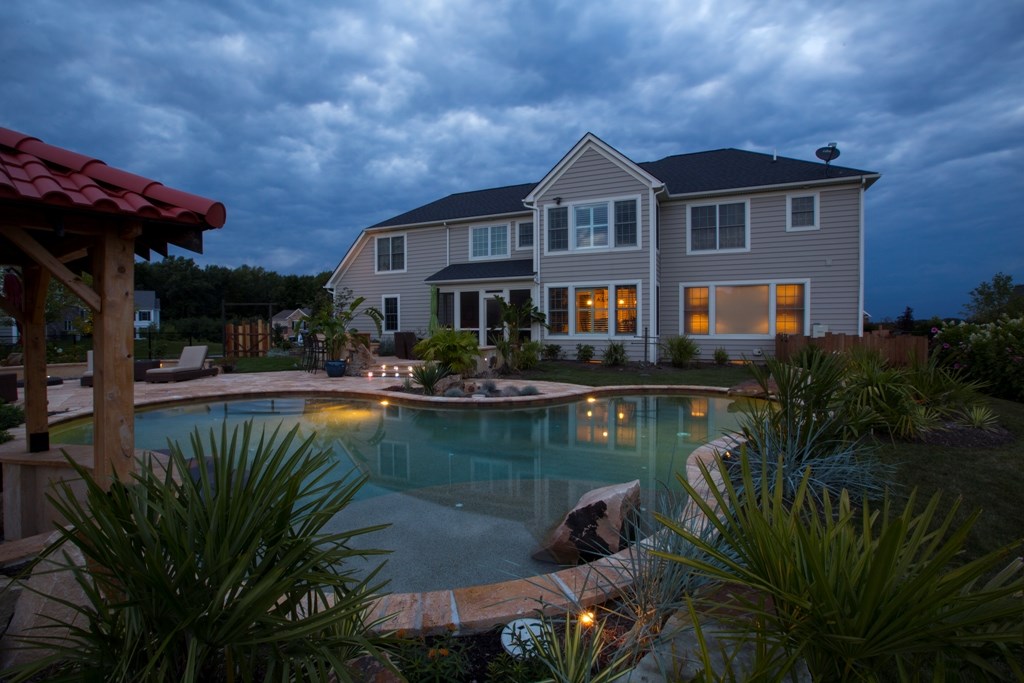 Since the very beginning, WaterShapes has been a strong advocate for the importance of working in context and making certain that what's done with a watershape, its landscape and various exterior amenities all align in fairly specific ways with the architecture of a home and the nature of its surroundings.
I'm all for that in principle and toe the line carefully in almost all of the projects I pursue. But it's only almost, because in select sets of circumstances, creating a mood and building a menu of meaningful possibilities for my clients becomes my primary goal.
In some of those cases, clients will enter a project with very specific ideas in mind, sometimes in the form of an unshakeable vision. For these folks, literal appropriateness is generally not the initial driver in the design process; all I can do is help them understand what they're proposing and inform them of some of the short- and long-term consequences of their choices. But there's little more we can do when they've fixed their minds on, say, bringing a dash of the tropics to the frozen north.
SETTING THE STAGE
In upstate New York, the closest we come to a Caribbean climate is when our rare 95-degree days pop up each summer. If residents of Rochester, N.Y., need a tropical fix, the usual solution is to jump on a plane and head off to one the islands dotting the warm waters of the Atlantic Ocean and Caribbean Sea.
I count myself among the snowbirds. When I lay on those beaches – staring at the aqua-blue water, surrounding myself with lush tropical foliage and baking in the warm sun – I am truly at peace, happy as a clam. Many of my clients think the same way, escaping the cold, overlong winters of central New York as frequently and for as long as they can.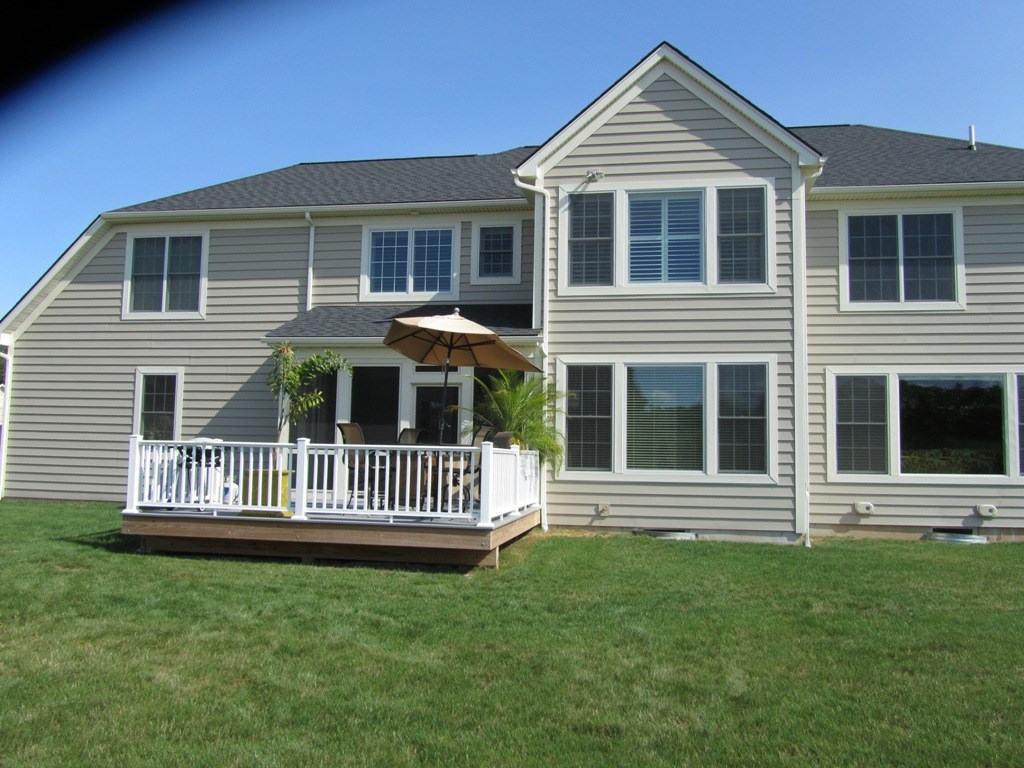 Before we began our work, the property had a distinctly non-tropical appearance that contrasted and even conflicted with the home's interior décor. Although we don't usually go along with clients who want a backyard look that is at odds with a home's exterior architecture and surroundings, we made an exception in this case – and delighted our clients in the process.
One couple I now know particularly well spends winter-vacation time on a small dot of land called Palm Island in the Grenadines. The first time I met them, I walked into their home – basically a large McMansion set on a relatively small lot – and immediately picked up a tropical vibe. Outside, the building was all New York; the interior, however, was a transported slice of tropical paradise.
From wall to wall, the home's interior was decorated in classic Caribbean motifs, with a wide-open floor plan, pastel colors and large tropical plants in large tropical-style containers both indoors and out. I remarked that it felt "very Caribbean in here," and it sparked a detailed conversation about their travels (and mine) to various Caribbean islands.
We spoke fondly of the laid-back, casual lifestyle. We talked about homes built with lots of access to the outdoors, blurred distinctions between indoors and out, open walls, outdoor cooking and relaxed outdoor dining and entertainment. They spoke of their future outdoor space as an extended "living room" – and about their future Caribbean-themed pool as well.
With sadness, they said they knew they couldn't actually reproduce a Caribbean environment in New York; they also indicated that their survey of local backyards and pools depressed them with their near-standard pavers, pool houses and plantings. In other words, they'd set themselves up for disappointment. For my part, I knew they wanted something different, and they inspired me to give it my very best effort.
CRAFTING A NARRATIVE
I spent some time studying their backyard and ultimately saw their Caribbean resort take shape. It would, as I envisioned it, have a tropical-style pool, rustic woodwork, stucco/mixed-media walls, stone tile-like paving, water- and fire features and subtle lighting.
I shared none of this with them at our first meeting: All I said was that I knew I could come up with a concept that would work for them, left a questionnaire for them to fill out and return to me and took some basic measurements. They handed over a design deposit, and I went on my way.
The plan I came back with quite literally knocked their socks off. While I'm not in the habit of "naming" my designs, as I was drawing the overall bird's-eye view of the site it began to remind me of the ripples on a pond in a light rain. As I worked, the pool, the paving, the walls – everything looked like raindrops, so I dubbed the design "Caribbean Raindrops," presented it to my clients and walked out of the presentation meeting with a contract in hand to create a tropical resort in upstate New York.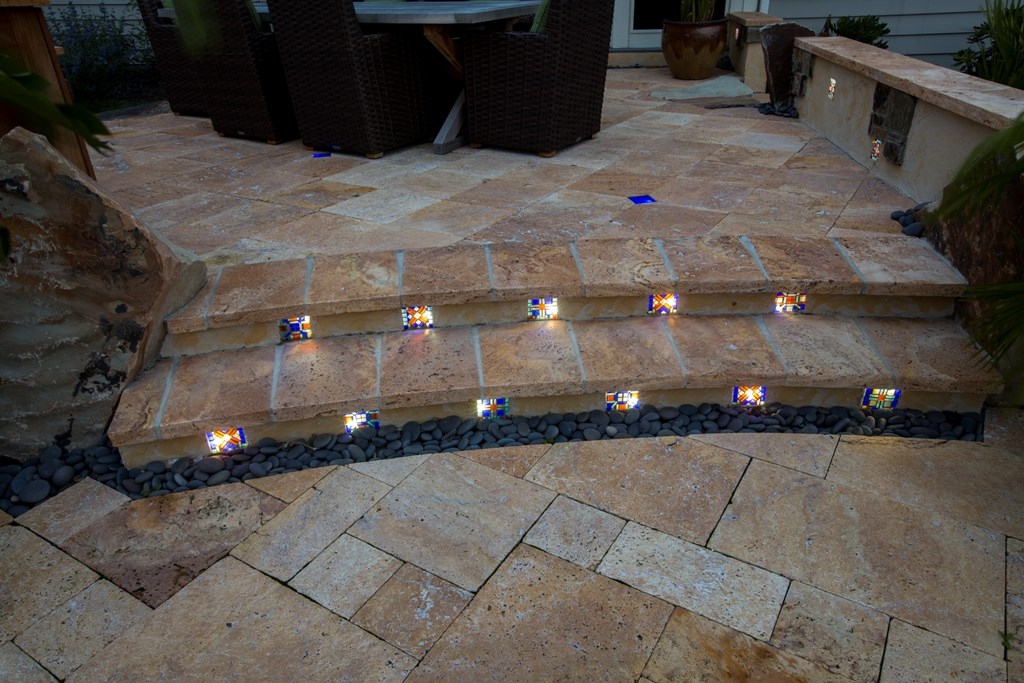 We couldn't use true terra cotta for the deck surfaces – it would never have made it through one of our winters – but we found a stone material that did a good job of suggesting terra cotta's colors and textures. We also followed a common Caribbean building practice by inserting odd patches of rock, tile and other building materials into our low stucco walls.
We tinkered a bit with the design as construction moved along (as almost always happens), but it's remarkable how close the finished product is to the original drawings. One key item that stayed around was the stucco walls spotted with other materials including stone and brick: You see this all over the Caribbean, where many walls are built with whatever's at hand, whether it's coral, brick, stone or concrete. The effect is a glorious mish-mash of miscellaneous elements – a fine complement to the water/fire feature we'd be building.
Of all the material decisions we needed to make, the one about paving was the most important. The homeowners clearly love the Caribbean islands, but they also love the architecture of the Mexican Caribbean, with its terra cotta tile floors, colorful ceramic tiles, terra cotta roofs and various other rustic elements.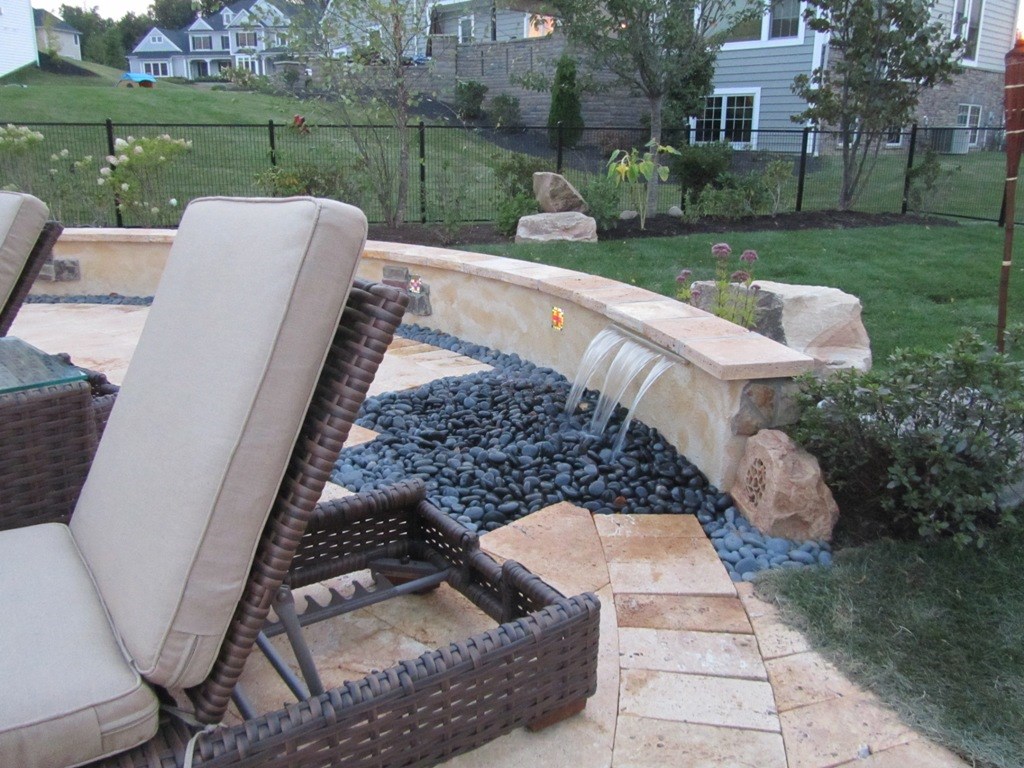 We used river pebbles liberally, both with the water- and fire features we inserted into the low stucco seating walls and also to fill gaps we needed for drainage and to separate vertical walls from horizontal hardscape features. We included glass-tile lighting fixtures in the vertical surfaces – an interpretation of a Mexican-style accent that also makes for safe passage around the decks after dark.
I couldn't use terra cotta tile in our climate, nor could I bring myself to specify any type of terra-cotta-like concrete paver – but I still wanted that terra cotta look. A search among my travertine suppliers turned up a paver from Gothicstone (King of Prussia, Pa.) called Apricot that looked as close to terra cotta as I thought I could get. (The material is quarried in Turkey and definitely broke my rule about sourcing materials from within 300 miles, but this was a special case.)
With the supplier's help, we were able to use this stone for all of the countertops, the pool coping, the stair treads, the wall caps and all patio surfaces. We interspersed the decking with randomly placed cobalt-blue glass squares that we lit from below on the patio and the upper terrace. The blue glass is offset from the pavers on forty-five degree angles, mimicking the tile inlays seen quite often in the terra cotta floors of Mexico.
DISTINCTIVE TOUCHES
For the walls, we stacked concrete masonry units atop footings set 42 inches into the ground to reach below our definitely-not-tropical frost line. We then veneered the walls with stone and brick in various locations before applying stucco to finish them and achieve the look we were after of making the wall seem as though it had been compiled using random available materials.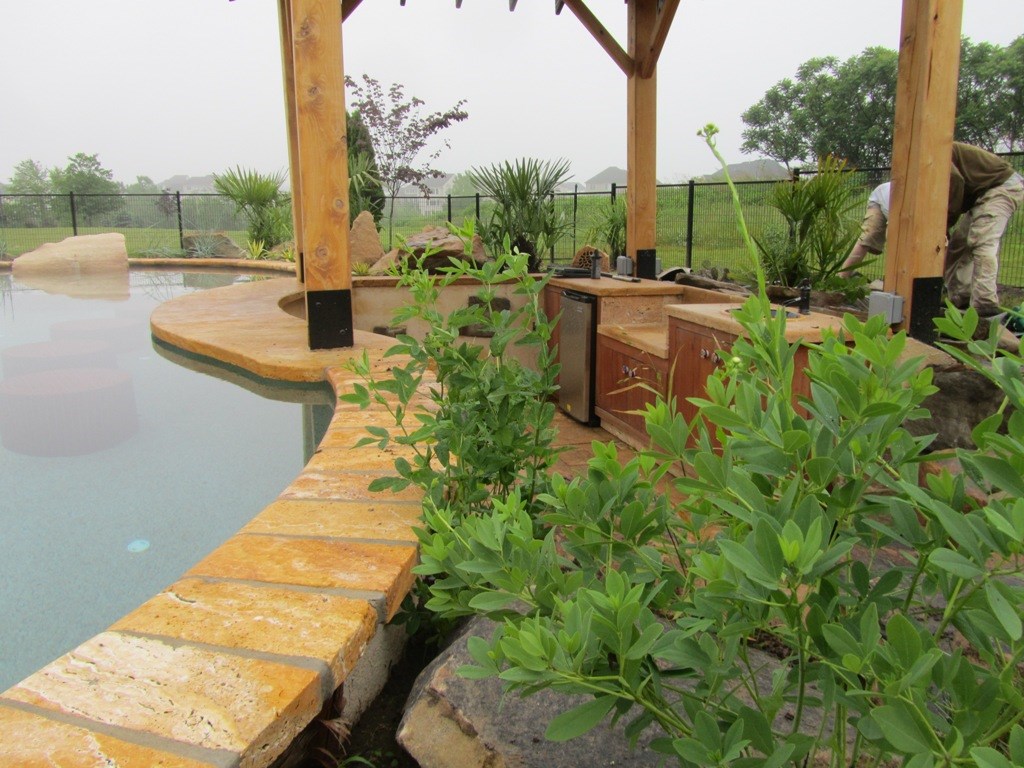 The swim-up bar our clients wanted led us to create a sunken bar to ease transactions across the pool's edge. A thatched roof for this structure would have been perfect, but we made a concession to geography and went with a faux-terra-cotta roofing tile instead.
I also had Sharon Coates, my partner and a glass artist, make up 36 glass "tiles" that I used in devising light fixtures for the walls and steps. These sorts of colorful insertions are common in Mexican architecture, but as ceramic tiles rather than pieces of glass. We took the classic idea, warped it a bit and made the panels serve a necessary lighting function by cutting into the walls and risers and inserting electrical boxes we wired for low-voltage LED lamps. The resulting fixtures not only allow for safe step access, but also lend a dramatic visual touch as well.
All of the walls were capped with custom travertine caps. On one small seat wall, we broke that pattern with a four-foot-long fire feature at one end (complete with a custom, Mexican-style black iron weather cover) and a two-foot-wide waterfall feature on the other end. The water sheets out from under the lip of the wall and drops out of sight though a nest of Mexican beach pebbles. (We also used strips of these pebbles to hide the French drains we needed to install between the walls and the pool and patio.
One of the details the homeowners had fixed in their agenda was a swim-up bar. The site is fairly level, so we needed to excavate a large hole alongside the pool to place the "bartender" at a comfortable level. Originally, we'd planned to top this feature with a Tiki hut, but given the toll the local climate would have taken on that natural-fiber cover, we opted instead for a faux terra cotta roof.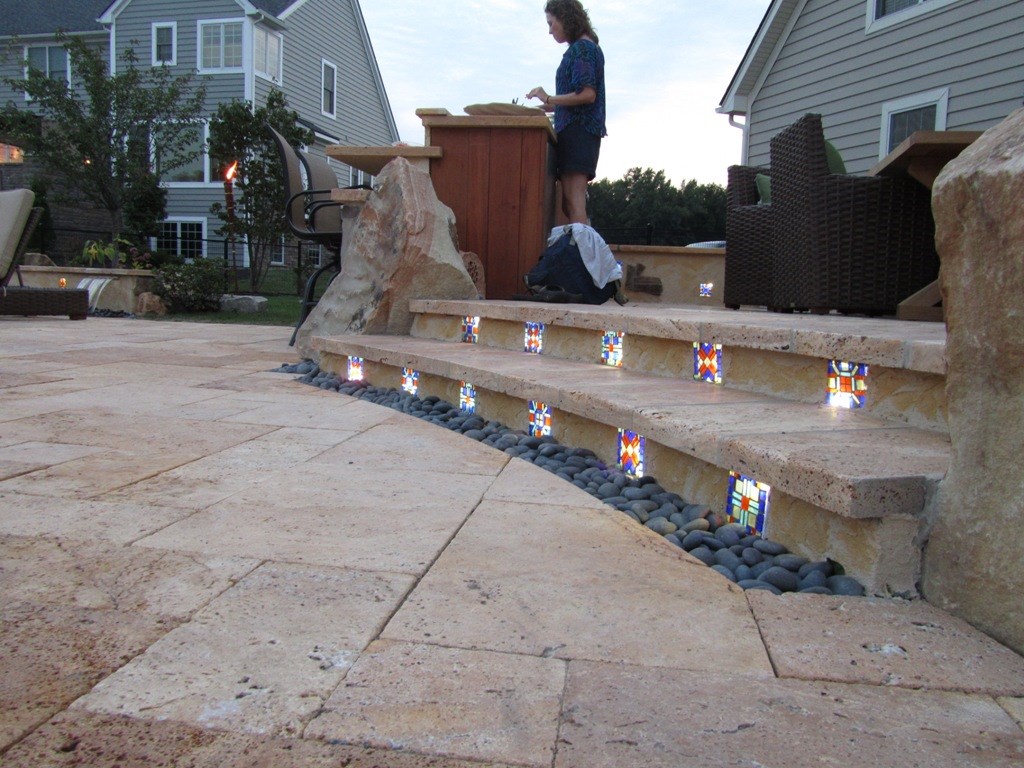 We set up the kitchen and outdoor dining areas away from the sunken bar to make them more convenient to the house and its resources. This raised area mediates between the home's tropically themed interior décor and the Caribbean-style poolscape – just what the clients ordered.
Here and elsewhere, the intention was to produce rustic, Caribbean-style structures that nevertheless were brand new. In this case, we were aided by another client who, many years previously, had decided we should (against our better judgment) remove a large, multi-stemmed Eastern Cedar. The three trunks were about 12 inches in diameter, so I had my arborist leave those sections as long as he could.
Later, I took the trunks to a mill and had them cut as beams; these were what we used as the uprights for our current clients' bar cover. As I see it, this bit of project-to-project recycling in some way balances out the fact that I exceeded my 300-mile sourcing rule to get the stone we needed for this project.
CUSTOM CABINETRY
In the original concept plan, there was an area on the upper terrace set aside for a grill cabinet of some sort. Our thinking had been pretty vague as work commenced: We'd discussed carrying the stone-and-brick-studded stucco walls around as the front of the cabinets; we'd also considered using freestanding stainless steel units. Nothing really came together.
It was only when the low walls were completed that I began developing a clear sense of direction. On a whim, I went on Craig's List and searched under "building products." As luck would have it, I found someone who had reclaimed hundreds of boards from an old gymnasium's bleachers – beautiful stuff, most of it Douglas fir.
We picked up a load, brought it to our wood shop and ran the planks through our planer – and found wood that had glorious grain patterns. This, I decided, would be perfect for our rustic cabinets and doors – and everyone liked it so much that we used it in making doors for the swim-up bar's cabinets and a screen around the pool equipment. As a finishing touch after applying lots of coats of sealer, we added multi-colored cabinet knobs I'd found on the Internet.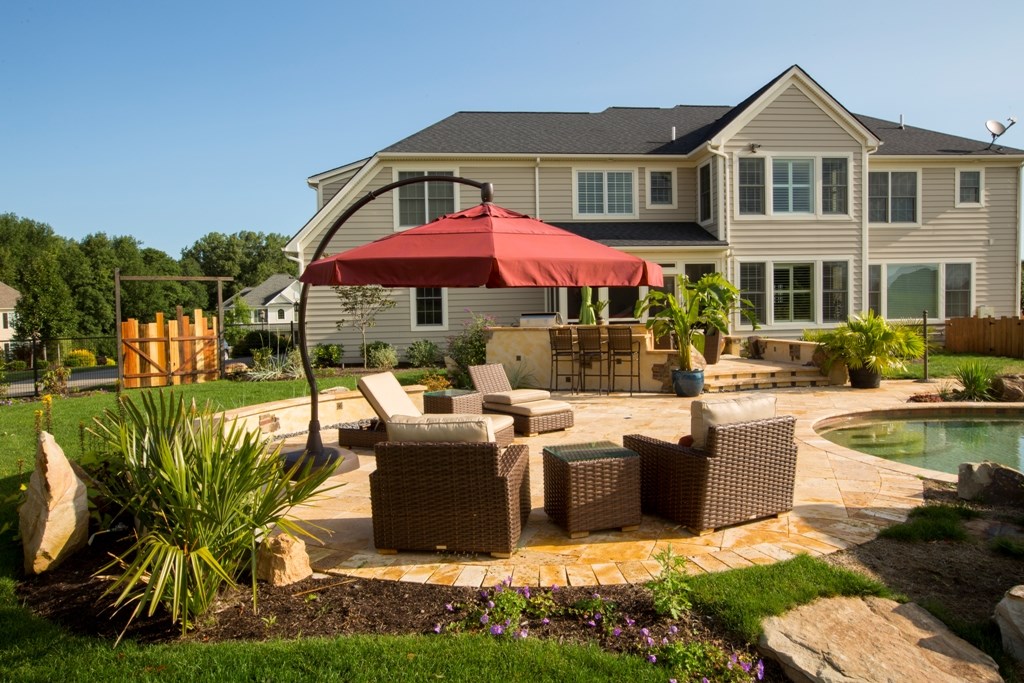 We took most of the photographs accompanying this article about a year after we'd completed the planting and wrapped up construction. We have no doubt that, once the greenery thickens and matures, the suggestion of a tropical setting will be even more compelling and complete and that the homeowners will be even happier with their 'Caribbean Raindrops.'
All of the cabinets were capped using the same travertine as the decking. We custom-made all of the countertops; the material was tough enough that we were able to cantilever one large piece out 18 inches without any visible support. The countertop in the swim-up bar is cantilevered as well (although less dramatically) and flows seamlessly into the pool coping that abuts it on both sides.
A NECESSARY DETOUR
We probably should have waited a couple more years to run this story, because the plantings will take a good while to catch up with the tropical theme. Even without much greenery, however, the clients are thrilled with the results and have told us again and again how far we exceeded their expectations.
More important, they've repeatedly told us how much the space puts them in mind of their favorite Caribbean resorts – just what all of us were after.
Although I know this project violates some basic design rules with which we all should be familiar, there are times when bending those rules to meet special clients' specific desires makes the most sense. Ultimately, they know they're still in New York, but for them the illusion is so strong that they also know they have their own dash of the Grenadines right here in their own backyard.
Bruce Zaretsky is president of Zaretsky and Associates, a landscape design/construction/consultation company in Rochester, N.Y. Nationally recognized for creative and inspiring residential landscapes, he also works with healthcare facilities, nursing homes and local municipalities in conceiving and installing healing and meditation gardens. You can reach him at [email protected].