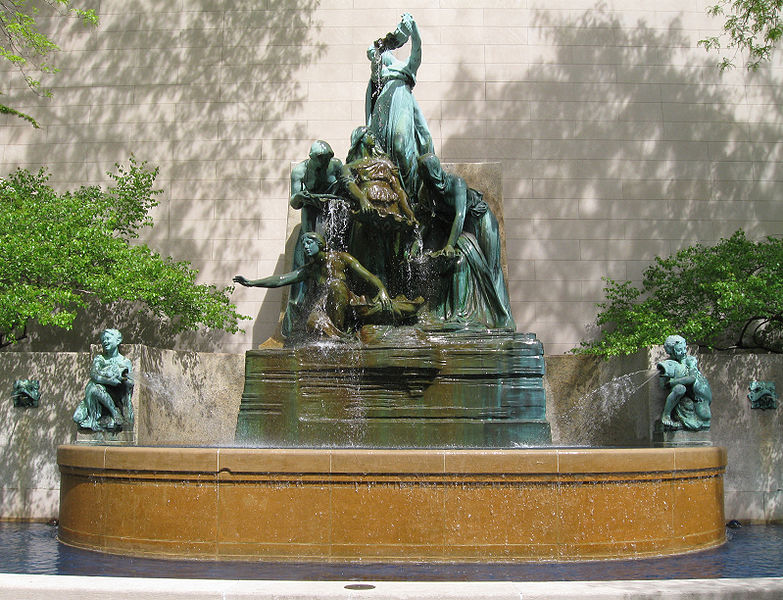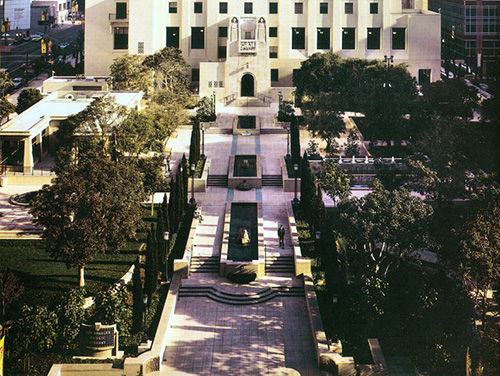 One of my favorite destinations in downtown Los Angeles is the Central Library. Not only is it an amazing resource with the books and recordings it circulates to citizens and scholars, but it also houses wonderful display spaces where all sorts of thoughtfully curated exhibitions await visitors. I've stopped in many times since the 1960s and count it among southern California's great cultural landmarks.
It's also an architectural delight, with its great and imposing main building in the Egyptian Revival style that was popular when it was built in the 1920s. Originally, the core structure was flanked to the west by a long, terraced, Islamic-style entryway, but at some point later on that valuable real estate became a parking lot.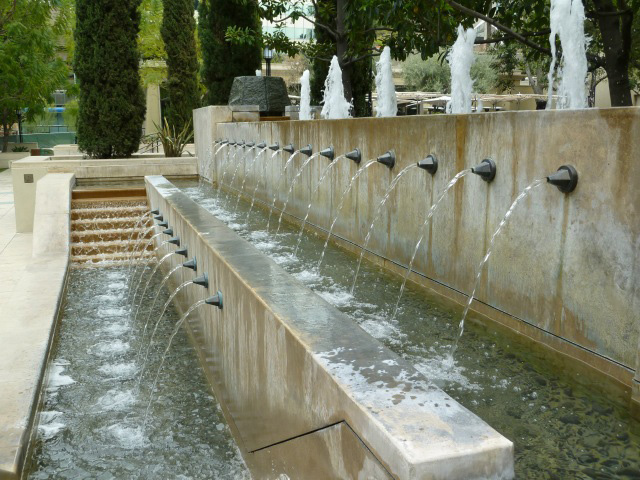 Happily, this awkwardness has since been remedied: The open space's modern history began in the mid-1980s, when landscape architect Lawrence Halprin was brought in (along with associates Douglas and Regula Campbell) to transform the blacktop into a park complete with fountains, dining and seating areas, lawns and sculptures.
With his usual skill, Halprin managed what could have been a jarring transition from the building's ornate interior to the essentially Post-Modern style of the new Maguire Gardens, simply by reviving the terrace concept and using stepped fountain basins to recapture a sense of the original east-west entryway. There's also another look to the past (seen just above at left) on a north-south axis in the form of a multi-spouted fountain wall reminiscent of one in Italy's glorious Villa d'Este.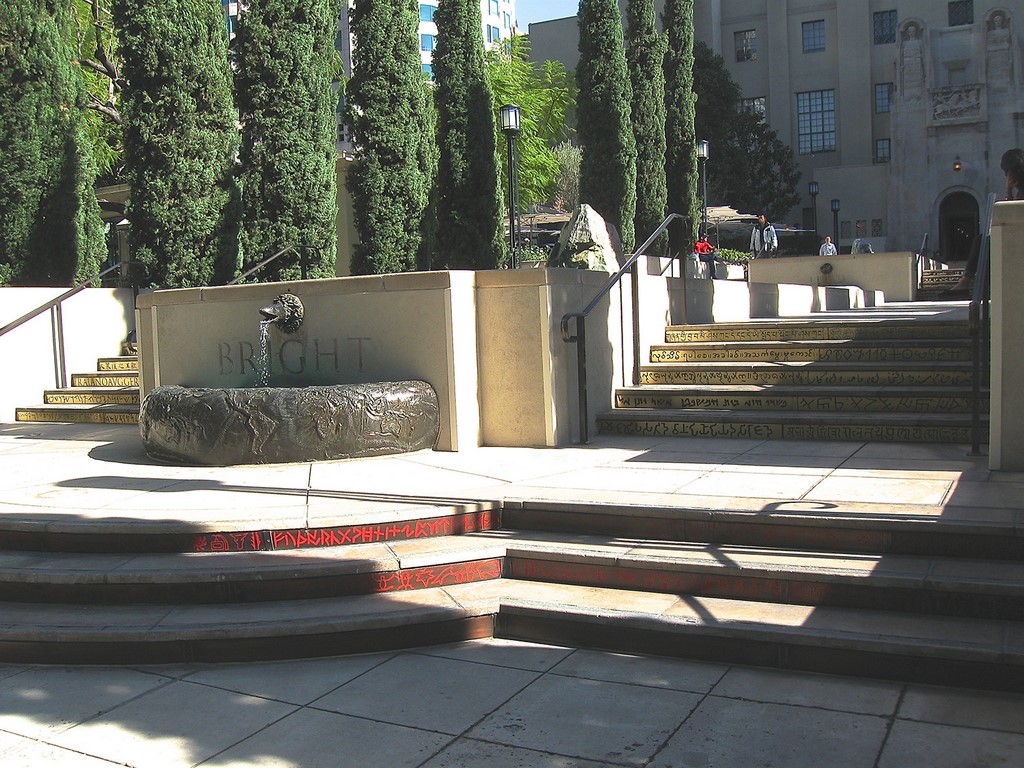 It takes some walking, but with very little effort the site's more contemporary references emerge and give you a sense of its forthright modernity. Indeed, all you really have to do to appreciate the new elements is to turn around once you get to the bottom of the east-west steps and walk back up: The west-facing end caps and step risers around each of the three basins make up a compact, detailed composition by Jud Fine (collectively called "Spine" and seen at right) that rewards your attention – and maybe even startles you, given the contrast and level of detail – as you move back up toward the library.
With all of the odd components and combinations of distinct stylistic and temporal references, this is unlike any other Halprin design I've ever seen – a uniqueness that makes Maguire Gardens worth seeing.
Throughout the park, there's an enabling Post-Modern playfulness in how the spaces are arranged and interact that does a better-than reasonable job of turning potential clashes into unusual harmonies. How else than with a smile can you deal with "The Font," seen at left: Designed by Laddie John Dill and Mineo Mizuno, this compact fountain rings with a strongly modern tone – but it's set off in such a way that it feels just right in its context.
The one issue I had when I last visited in April 2018 is not uncommon in Los Angeles these days: The fountains weren't functioning while I was there. They don't seem to have been turned off for the drought; perhaps it was the massive amount of local construction that surrounded the space and overwhelmed its serenity? Whatever the reason, I have to say it's frustrating to make a pilgrimage to see moving water when all you end up seeing is partially-filled pools!
Happily, the library proved its value, giving me permission to use images that show Maguire Gardens' waterfeatures in full operation. It's a cool place, and I look forward to visiting when the water flows freely again!