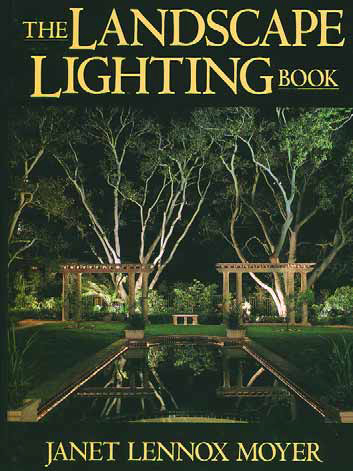 Janet Lennox Moyer's The Landscape Lighting Book (John Wiley & Sons, 1992) is quite simply one of the finest textbooks I've ever read. Indeed, when it comes to resources on the often-elusive topic of landscape lighting, it's hard to imagine a more comprehensive resource.
Moyer is a lighting designer and instructor who has made a career of lighting the night with a flair that has earned her a tremendous reputation in the United Sates and abroad. (Her first contribution to WaterShapes, coincidentally, appears in this issue – click here.) In reading her 282-page, richly illustrated book, it's easy to see why she's become so successful: There is so much detail about design and such a wealth of specific technical information included in her treatment of landscape lighting that one could re-read the information several times without absorbing it all.
As is true of many watershapers – and especially those from the pool and spa industry – I have been slow to latch onto lighting as a major element of my design work. This is despite the fact, as Moyer justly observes, that a great many people experience their watershapes and outdoor spaces mainly at night. Thus, she argues, it only makes sense to consider the full and vast array of possibilities for lighting with almost any project.
Even if, like me, you have tended to make lighting an afterthought (if we've thought about it at all!), it is possible through this book to elevate our lighting designs to a far more sophisticated level. Moyer ensures this by systematically breaking down the topic and providing strong guidelines for making the most out of any lighting plan.
The text is organized in four main sections, beginning with an extended set of chapters on project development that goes into great depth about working with clients, assessing the needs of a space and developing a lighting concept. There's wonderful information here about optical science and how our eyes perceive light – all balanced by tremendously practical information on installation, adjustment and documentation.
The second section covers materials and technology. Although her information is somewhat dated by the fact that things have come a long way in the past dozen years, her approach is still comprehensive in its treatment of types of light sources, fixtures, control systems and wiring requirements. I can only hope that an updated edition of her book will someday appear.
The third section deals with specific applications in public and residential settings, while the final section, which tackles the elements of lighting design, goes into great detail about the lighting of plant material, sculptural and architectural features, walkways and stairs, façades and, finally, waterfeatures.
As I was reading Moyer's wonderful work, it struck me that this is information you simply will not find at trade-show seminars or even through manufacturer-sponsored lighting classes. I can say without reservation that if the watershaping trades were blessed with this level of information on other topics, we would be a far better off as an industry.
Mike Farley is a landscape designer with more than 20 years of experience and is currently a designer/project manager for Claffey Pools in Southlake, Texas. A graduate of Genesis 3's Level I Design School, he holds a degree in landscape architecture from Texas Tech University and has worked as a watershaper in both California and Texas.