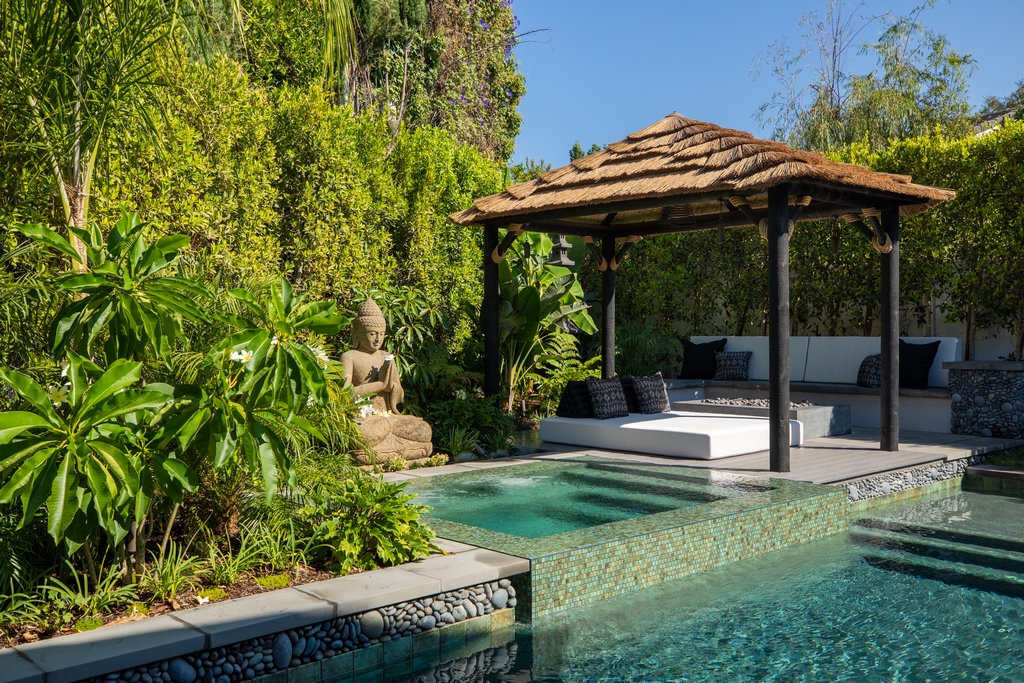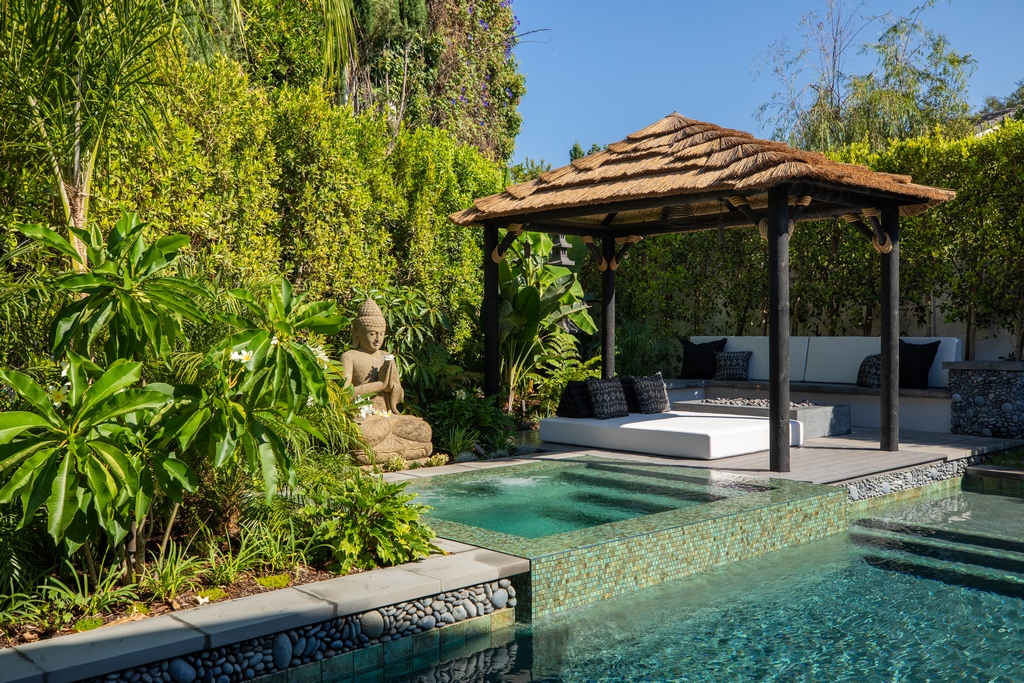 Effectively collaborating with clients usually requires finding some kind of connection, be it personal, intellectual or experiential. Sometimes you really have to dig to find that common ground, but there are those situations where it's immediately obvious.
The latter is exactly what happened on this blissful project located in an upscale neighborhood in Westlake, Calif. I met with the clients and, as usual, we went through my questionnaire, which I use as a prompt to get them to express what they really want in their backyards. At one point they explained, "It's hard to describe, but what we really want is to recreate the feeling that we had when we went to Bali."
That was all I needed to hear. I said, "Ubud is a mood." They lit up recognizing the phrase you hear when you visit Bali. It refers to the town of Ubud and surrounding area, a region considered Bali's cultural heartland. (The locals are fond of saying that Ubud is as much a state of mind as it is a specific place.)
"You've been to Bali?" they asked with obvious enthusiasm.
"Yes, I have," I said, "and I think I know exactly what you're looking for."
OFF TO THE ISLAND
The deal was clinched from that moment on and we immediately moved forward based on our shared experiences in a place that truly qualifies as paradise. Before I get into the project specifics, it's important to point out that this situation is a classic example of how powerful travel can be from both a business and a design standpoint.
Most watershapers know that homeowners, especially those who can afford high-end custom pools, are inspired by things they've encountered on vacation. They often have specific ideas based on what they've experienced during their travels; and, in some cases like this one, can be extremely passionate about recreating those experiences. It also bears mentioning that in today's unprecedented sales climate, vacationing at home has become almost a necessity for people as they grapple with the current state of forced isolation.
Capturing Bali's incredible ambiance while also providing a range of luxurious experiences – the spa, palapa and the shallow lounging area – meant deftly balancing form and function to make the most out of every available square foot.Photos by Irving Pacheco, Pacheco Productions, Huntington Beach, Calif.
From the watershaper's point of view, having a well-rounded background that includes travel not only gives you a point of shared experience with the client, it also yields you a set of ideas you can draw upon in the process of fleshing out the design. It helps you identify a specific set of features and an overall design tone. If you don't have those kinds of hooks, sometimes the design process can wander as you search for a direction.
In this case, the fact that my wife and I shared the same kind of Balinese adventure, as the clients had enjoyed, meant that we could get very specific about the design very quickly. I knew immediately where we were going.
And what a destination it was. For those who haven't been to Bali, I do highly recommend it. There's a rich culture there that is unlike anything you will experience anywhere here in the Western Hemisphere. The people are extremely hospitable and the tropical forest landscape is like something out of a dream. Once you get there it's very affordable and it's the kind of place that makes you want to linger and never leave.
We stayed in Ubud, which absolutely lives up to its reputation for laid-back attitude and cultural charm. There are beautiful streams and waterfalls embroidering the tropic forest and most of the hotels are set up like villas with all sorts of indoor/outdoor living spaces and traditional Asian architecture. Our "room" in Ubud was beautifully appointed with its own vanishing-edge pool and private deck area, a beautiful outdoor shower area, which was completely luxurious and private, except for the birds and the monkeys, which are everywhere. It was amazing.
It was exactly that hypnotic atmosphere these clients wanted in their home.
THE BLISS LIST
The design amounts to a beautiful aggregation of specific elements that support the feeling that you've stepped into a different time and space — all of which we had to create in a relatively small yard.
• One of the most important aspects of recreating Bali was to include large stands of lush plantings to capture the feeling of the tropical forest. That meant devoting a large percentage of the backyard to planting areas, despite the limited space.
We worked from some of the clients' photos to design the planting plan. Most of the species were easily adapted to the Southern California climate and are locally available. We were able to replicate it very closely using the exact same plants or by substituting some with similar looking species that do well in this climate.
The lush, jungle-like plantings and Asian/tropic-inspired design elements conspire to create an intimate environment that transports you to a place of repose and meditative relaxation.
The cast of characters includes plumeria, palms, agapanthus and various other bit players. The plantings are dense, lush and do give the yard a very jungle-like atmosphere.
• The design is dominated by an authentic Balinese palapa structure in the far-right corner, where it rises above the plantings like an exotic jungle hideaway. The palapa has a number of luxurious appointments including a fire feature, which was poured monolithically and has a smooth-cast finish, rather than some type of stone or tile veneer. It has a very minimalist, sculptural feel, which harmonizes nicely with Balinese décor.
The palapa is with furnished beautiful Asian outdoor seats and a wide lounger, along with an authentic lava stone pagoda tower tucked away in the far corner. The area is very romantic, lit with LED lighting, and it has a misting system that helps the clients recall the often-steamy Balinese tropical air.
• The 8-by-10-foot spa, located directly adjacent to the palapa, functions as the heart of the design, visually and functionally. It has a rim-flow edge treatment with an all-ceramic tile finish from Fujiwa. It's a rich palette of greens and grays using a handmade glaze, a perfect fit for the color scheme and character of the setting. The spa interior features three broad steps that descend into the water as you enter from the Palapa.
The water flowing over the spa edges creates a beautiful sound that further adds to the sense of tranquility.
• The pool has a welcoming design with its own broad steps and large lounging area. The entire pool is shallow, meant mostly for lounging and wading, rather than swimming per se. The interior finish is a Pebblesheen color called Turtle Bay, which gives the water a rich, dark appearance.
• One of my favorite details is the smooth, rock mosaic work on the raised bond beam. It's a subtle touch, but one that truly echoes Balinese architecture. It's a surface treatment you frequently see throughout the island. The clients were trying to describe it and when I showed them a picture of our outdoor shower in Ubud they said that's it exactly.
The value of travel is evident in every detail as we drew heavily from our own Balinese scrapbook to recreate the stonework, architecture and plantings. We did not import any monkeys.
• The clients already had the large, hand-carved stone Buddha, which they found on their trip to Bali. It was tucked in the corner of the yard; but they're very proud of it, and it is a beautiful piece, so we decided to locate it prominently presiding over the entire space. He sits meditatively amongst the lush greenery.
• On the far end of the yard, we located a wall as a way to visually bookend the area and balance the visual weight of the palapa on the opposite end of the yard. It also gave us a hidden place to locate the equipment pad.
Again, the clients love of travel and habit of collecting art came in handy. We mounted a beautiful hand-carved wood applique on the wall.
We painted it off white and back lit it with LEDs, creating a beautiful axial focal point looking down the length of the yard.
THE FINE LINE
In designs where you're working from familiar points of cultural reference, there's a risk of it seeming contrived, cheesy some might say. That's especially true of some types of garden ornamentation. Buddhas and pagodas can sometimes be seen in the same category as garden gnomes or pink flamingos.
When working with those types of design tropes, the difference between fake and authentic usually comes down to the materials and the quality of the pieces. Here we were working with a hand-carved stone Buddha that weighs two tons. It was made from indigenous stone and imported from Bali. It's beautifully crafted and by any definition qualifies as a work of art.
The pagoda tower is similarly well-crafted, made of hand-carved lava rock and beautifully detailed. We tucked it away in a corner where we up lit it with landscape lighting, creating a beautiful vignette.
The combination of authentic materials, and the dignified treatment of the "thematic" elements, spell the difference between elegance and something that can feel a little tacky.
The most powerful and authentic design element of all, however, was the experience-based design vision. When both you and the clients share a love of a particular place, it's much easier to create a setting that transports you there, much more than trying to do it from picture in a book on a website.
When it comes to authenticity, there's no substitute for being there.
Watch the Green Scene's project video here.
Scott Cohen is a "garden artisan" and president of Green Scene Landscaping & Pools, a watershape design and construction firm based in Chatsworth, Calif. A widely published author and popular speaker, Cohen is known for his gardens that combine outdoor living with inspired artistic details.