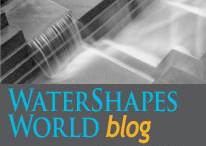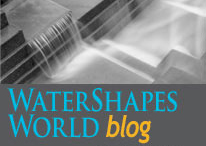 This edition of WaterShapes EXTRA carries a link to one of my all-time favorite WaterShapes articles: "Living Art" by Philip di Giacomo and Mark Holden.
I remember how pleased Eric Herman was to land this particular story for our October 2004 issue. He'd been after di Giacomo periodically for years, and we both looked on Phil's willingness to develop an article as a sign that WaterShapes had finally "arrived." (Eric's great working relationship with Mark Holden certainly helped, as Mark was always an advocate for WaterShapes and was at that time working closely with Phil on a number of professional levels.)
But even with a good "in" to go with our growing reputation as a forum for watershapers, Mr. di Giacomo was not entirely bowled over by the likes of our upstart magazine and wasn't willing to make things easy for Eric.
And it was indeed a bumpy ride. I recall Eric's coming back from a meeting with the great man at a trade show, looking a bit daunted but also laughing because of Phil's initial barrage of questions: "Do you publish pornography? Are you stupid? Why would anyone publish a magazine that isn't pornography? Don't you want to make money?"
He was clearly a man with edges and a mudworker's sense of humor to go along with a larger-than-life personality and a poet's philosophical soul. More important, to that time he had also produced the most tantalizing body of conceptual concrete art I'd ever seen: Project after project, he had for years been producing flat-out gorgeous landscapes characterized by limitless imagination and backed up by unparalleled skill, talent, artistry and energy.
What I liked most (and still like most) about the projects covered in "Living Art" is that fact that, while they are certainly naturalistic in just about every respect, I've always had the sense Mother Nature was actually a well-considered point of departure for compositions I can only call beautifully sculpted, fantastically finished, truly concrete works of art. They embody a form of hyper-realism you usually only see on painted canvas and literally crackle with tension as you consider where nature stops and Phil takes over.
You don't encounter that sort of creative energy every day, and I have always been proud that, notwithstanding our idiotic lack of pornographic profiteering, we published a magazine worthy of Mr. di Giacomo's participation.
***
This newsletter also links you to "National Wonders," Rick Driemeyer's whirlwind tour of four great American parks: Yosemite, Zion, Bryce Canyon and the Grand Canyon.
This feature was a departure for WaterShapes, as our ordinary focus was and still is on man-made works of watershaping art. But Rick argued effectively that these parks (and others) are living laboratories for anyone who wants to convey an authentic sense of naturalism in their projects, so Eric agreed to run the story.
There have been occasions when I've had regrets about stepping so far off the beaten path and doing unusual things with our precious pages, but this wasn't one of them. Rick had a great story and some wonderful photography to share, and the inspiration is there for all to find.