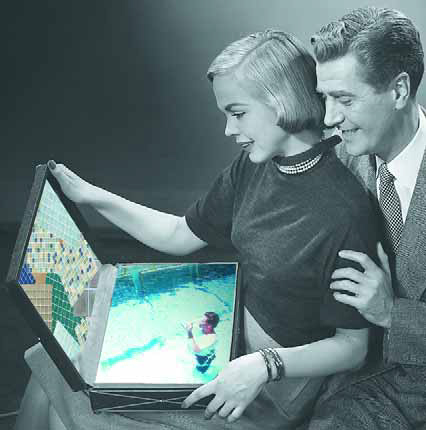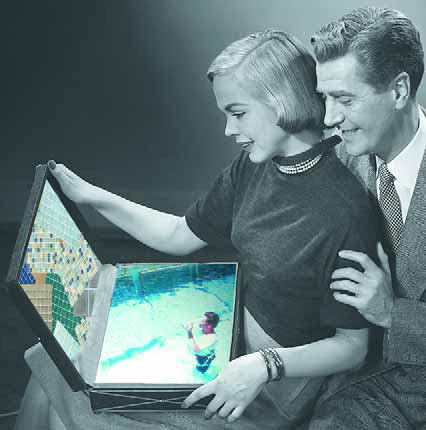 Recently, I've been involved in the early stages of a project that has lent new meaning to the phrase, "seeing is believing." It came up as a result of a call from an agent for a well-heeled client who was interested in having me design and build a residential swimming pool in the Dallas/Fort Worth area.
When I arrived in Texas, I was met by the owner's agent, David, and by Marcus Bowen, a landscape architect who was part of the large project team, which, I would learn, included architects, a landscape architect, an interior designer, a lighting designer, various engineers, numerous general contractors and subcontractors, a host of project managers and several other creative and practical sorts who were on board to help the client.
As David drove us to the site, the three of us had a chance to talk about the project, and I was immediately impressed by their passion and interest in the finest details.
EXPANSIVE SIGHT
As we walked the property, Bowen ran through the basic plan and let me know that they wanted me to come aboard to take existing concepts for the pool area and make everything more interesting.
What they had was a program that included lap swimming, volleyball, a slide, a diving board and a large spa to be serviced by what everyone thought was a generous, 400-square-foot-plus equipment room. Everything had been designed and laid out with no clear understanding of how it would all work – great in concept but devoid of materials selections and utterly lacking in detail.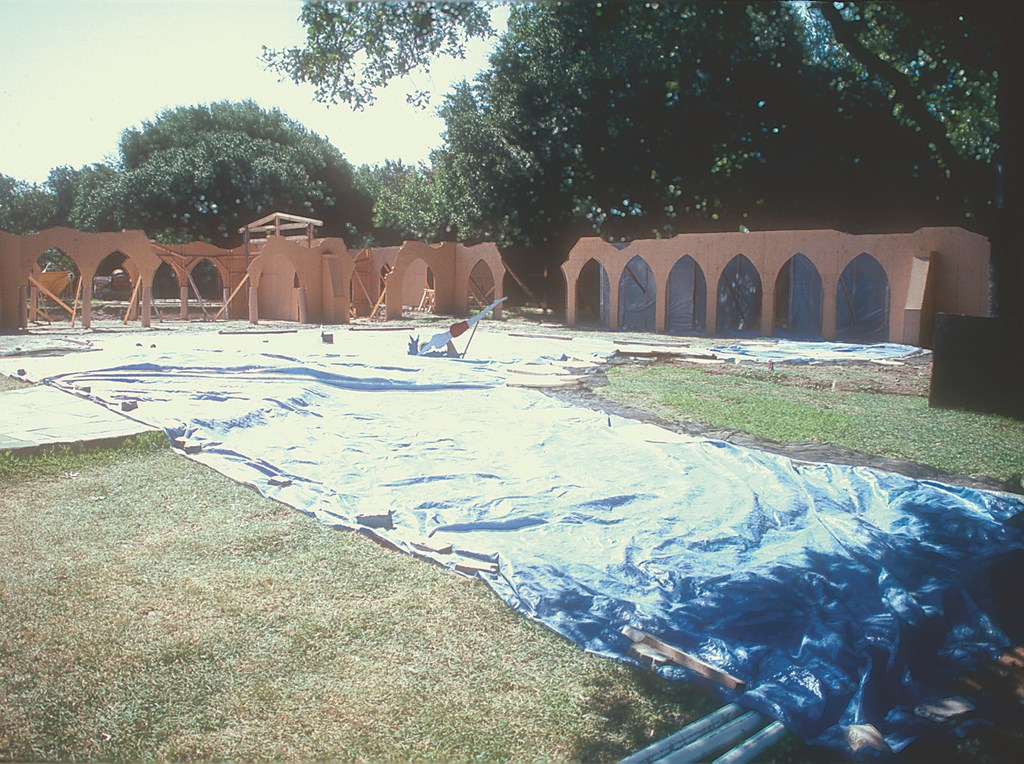 This is a project in which every single possibility is evaluated carefully. In this case, mock-ups of the ruins and the changing rooms have been built to explore the relationships of these structures to the pool area, and vice versa.
With my help, they had their program and more before long, including a vanishing edge, an expanded reflecting area, a diving rock (rather than a diving board) and numerous waterfeatures – so much complexity that the original equipment room is now being revised and enlarged to contain more than a dozen standard pumps, numerous variable-speed pumps, a half dozen heaters, a complex of filters, air compressors, control systems and computers that will drive elaborately programmed fountains and jets.
The unique thing about the approach they took to the now-4,000-square-foot pool is that no area does double duty: Where most backyard pools – even really large ones – have, say, lap lanes cutting across areas designed for diving or child's play or volleyball, this pool has been organized so each function has its own, dedicated space.
One special element of the pool is an expanse designed solely to reflect a juxtaposition of ancient and modern architecture – a set of gleaming, modern, steel-and-glass changing rooms that butt up visually against an ancient, crumbling "ruin," both placed right next to the water.
In short, the pool program has indeed become more interesting, and I saw many opportunities to add the sort of touches and details that would make it truly unique and special – something befitting the ambitions of the client and the whole project team. And I must say that I've never been on a project where so many good people have worked so effectively together without any apparent flexing of egos.
I didn't meet the client until the second meeting, where we were joined by the full team: the architects, the interior designer, lighting designer, an engineer, the project manager and the project coordinators representing the homeowner. We talked about things in great detail, including, for instance, the places where the volleyball net was to attach to the pool and the tiniest details of finishes, colors, stone veneers and more.
BLENDED TO SOLID
We beat things up over and over again until I realized that the homeowner needed to see some things with his own eyes to help him sort out the mélange of ideas and details we were discussing. I was heading back to California and he was headed west on business, so I suggested that we get together and tour some pools.
Done deal: A few days later, I picked him, his wife and a friend up at a small, local airport for a tour that encompassed a number of my projects (several of which have been profiled in the pages of WaterShapes). We walked and looked and discussed everything from my stone drain heads and spillways to special colors and materials. We visited pools with glass tile, plaster and pebble finishes to define how these materials look in real-world settings.
One of the places we visited was the all-glass-tile courtyard swimming pool profiled in the June 2003 issue – the one with the wavy edge, laminar jets and checkerboard stone/grass deck. When we arrived, the green-hued pool was partly in shade, partly in sunlight. The client took one look at part of the pool that was in the sun and said, "That's the color I want!"
Sample Sagas
I don't know how many times I've run into people who've been sold critical finish materials such as tile based upon a four-by-four-inch sample or, worse yet, a printed catalog. Neither gives more than a suggestion of what the material looks like in place, and even the catalogs have bold disclaimers about their ability to convey accurate colors.
As a rule, I work with tile samples at a minimum dimension of 12 by 12 inches. I won't say that's entirely adequate for all occasions – such as the one described in the accompanying text, where the samples grew to five by five feet – but it does give a fuller impression of a field of color and, more important, shows how the product looks with grout lines in place.
— D.T.
This certainly should have made things easier, but it didn't, mainly because he went on to explain that he didn't like the blended-tile approach because it made individual tiles stand out visibly. Instead, he explained, he wanted the same color impression to be achieved with a monochrome tile finish. He also didn't like the way the color looked in the shade.
At that point, I knew we were in something of a bind because he wanted tile of one color to replicate an impression created by three – and it had to work in sun and shade.
Two weeks later, color came up during another team meeting, and we soon agreed that we needed more than printed tile guides or small samples to narrow our choices. I then observed that small, dry samples don't give a sense of how the color will appear submerged in water, nor do they offer the slightest clue about how a color will come across at various depths.
I explained the problem to the homeowner using the example of a pool I'd done several years earlier in white plaster with pink-tiled steps. The photographs I had with me showed the pink clearly deepening to a warm shade of lavender as the water deepened because of refraction and reflection. Continuing, I mentioned that in the project at hand, depth was to range from three to eight feet and that a similar color shift would occur.
We all decided that the only way to resolve the issue was to get large samples and place them in water – and we had just a week to make it happen.
FIRE DRILL
At this point, Marcus Bowen took the lead with the brilliant idea of building a temporary swimming pool strictly for the purpose of trying out tile samples as well as stone pieces that might possibly be used on some vertical surfaces inside the pool.
He coordinated construction of a large aboveground pool – basically a reinforced plywood frame similar to the forms for a poured-in-place concrete wall. The pool ranged in depth from three to six feet and was equipped with a pump, filter and two return lines. Bowen also set up a small viewing platform to overlook the pool.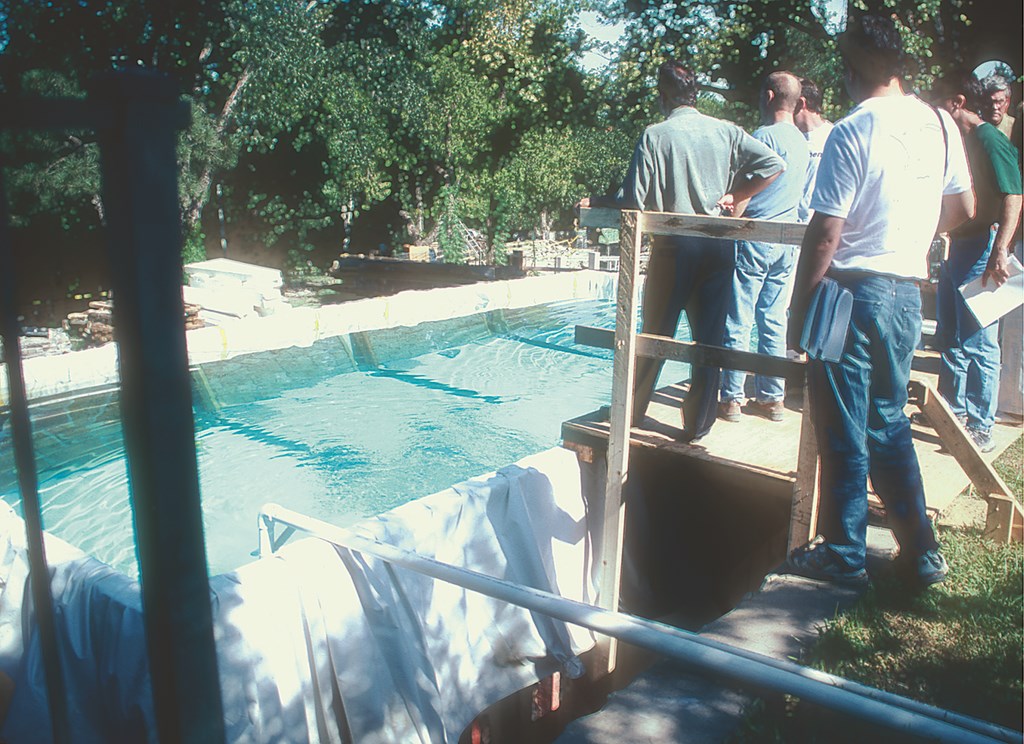 The demonstration pool made it much easier for everyone not just to visualize, but actually to see with their own eyes how different surface treatments (both tile and stone) look when submerged in up to six feet of water.
One hitch: He couldn't find the pure-white liner we needed as a neutral backdrop for the samples. Pool builder Michael Nantz of Elite Concepts (Denton, Texas), who was at the meeting because he possibly will act as my contractor for the pool-construction project, stepped in at that point and located the liner we needed.
With the liner installed, Bowen filled the pool for the tests. It was important to have a circulation system in place, basically because we wanted to simulate the sorts of surface turbulence that affects the way a tile finish looks under water. This was a key point, because when the water moves, it creates hot spots (or what I call "stars") that lend texture to the tile surface and go a long way toward concealing grout lines.
In the meantime, he tiled several five-by-five-foot panels with a variety of teal colors – some blends, others with uniform colors. The tile comes from four suppliers: Oceanside Glasstile of Carlsbad, Calif.; Villi-Glas and Studio Line Glass Tile, both distributed by Euro-Tile of Fort Myers, Fla.; and a South African glass tile imported by Walker Zanger of Sun Valley, Calif. He also assembled stone panels, also five-by-fives, to see how submerged grout lines would look with stone types selected for use around the property.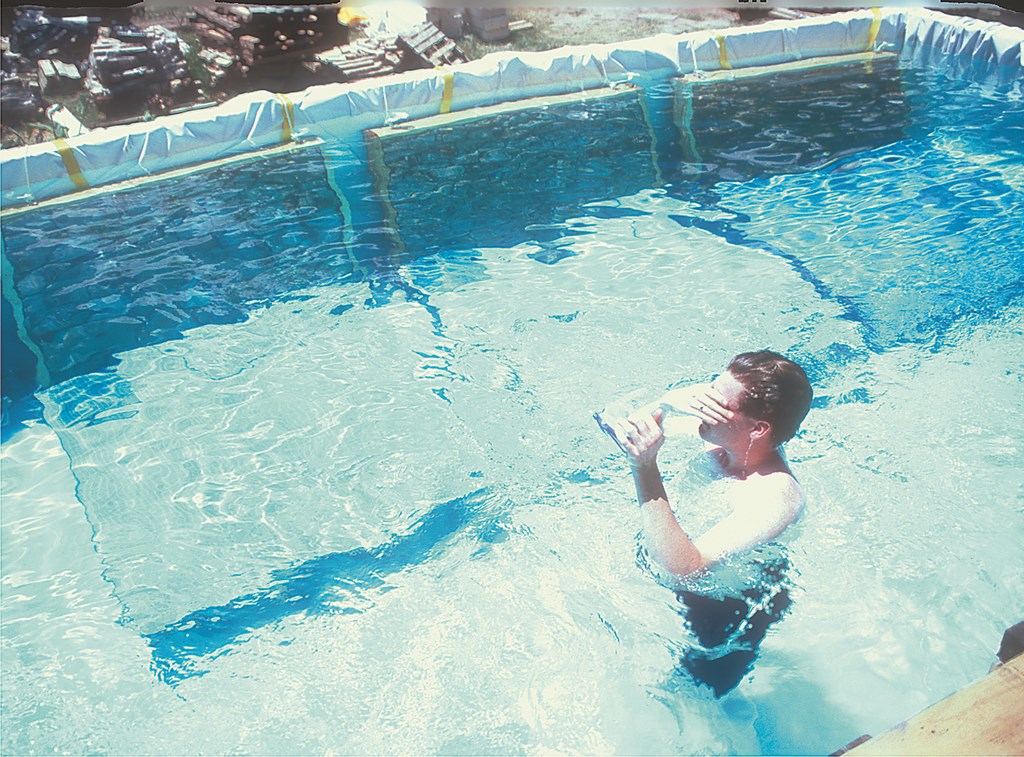 Marcus Bowen's son spent plenty of time in the demonstration pool helping to jockey sample panels that weighed up to a ton into position along the walls and floor of the pool. It's a lot of work, but it will lend an unusual degree of certainty to the final choices.
Each sample was set up with thinset on concrete board rather than plywood (to keep them from floating). The resulting panels weighed as much as a ton, which meant jockeying them into position using either a Bobcat or a crane.
Marcus Bowen's son, also called Marcus, was our in-pool sample wrangler. Four samples could be placed in the water at any one time, and it was his job to guide the panels into place as they were lowered into the pool. Finally, once everything was ready, the entire project team gathered at poolside along with the client.
When he arrived, the pool was half in sun and half in shade, the water was still and he expressed complete dissatisfaction with what he saw. Then I turned on the pump, the water started moving just a bit and the tile began to shimmer and reflect light in infinitely more interesting ways. His response improved dramatically – a 180-degree turn of mood, in fact – and we spent a long while studying the various samples and began, one by one, to eliminate tiles that didn't make the grade.
NARROWING CHOICES
At this writing, the temporary pool is empty but still in place, awaiting the arrival of more samples. We still haven't reached a final decision about color, but what we do know is that the client is enjoying the process immensely and certainly seems to appreciate the energy and effort that's gone into helping with the decision. We also know that, when the call is made on the tile-and-stone combination, there won't be any guesswork involved.
At this point, thoughts are leaning toward an all-glass-tile floor with cut-stone walls or perhaps ancient Chinese building blocks – but who knows? Things keep changing day to day.
Thank goodness for Marcus Bowen and the rest of the team I joined: Their passion, professionalism and abiding patience are something to behold, and it's a pleasure just working with people who see problems so clearly that solutions invariably and quickly present themselves – all in the name of getting the job done right!
David Tisherman is the principal in two design/construction firms: David Tisherman's Visuals of Manhattan Beach, Calif., and Liquid Design of Cherry Hill, N.J. He can be reached at [email protected]. He is also an instructor for Artistic Resources & Training (ART); for information on ART's classes, visit www.theartofwater.com.