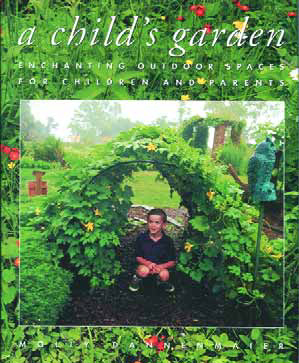 When clients call me in to design their backyards, one of the main things many of them want is a safe environment for their children. I've always thought of myself as a big kid at heart and also look at things as a father, so I've always felt confident and fully prepared meet my clients' desires while creating spaces that really work for kids.
How little we sometimes know!
After reading A Child's Garden: Enchanting Outdoor Spaces for Children and Parents by Molly Dannenmnaier (Simon & Schuster, 1998), it's now clear to me just how much more can be done in watershape and garden spaces to engage children of all ages. Indeed, this book showed me that there's much, much more to designing for children than setting up the occasional slide, thermal ledge or diving rock.
Dannenmaier spent time as editor at three magazines – Garden Design, Landscape Architecture and Parent & Child – and came away from the experience with a cross-disciplinary perspective that's truly valuable to designers. Throughout the book's beautifully illustrated 190 pages, she demonstrates an understanding of her topic that goes well beyond a survey of the usual interactive garden features designed for children.
Instead, she writes from a more psychological standpoint, breaking down into categories the things that children look for in a place to play. She argues convincingly that kids should be given stimulating environments that engage them in ways that invite creativity, ingenuity and imagination – places where kids themselves can conjure activities based upon certain features they find within the garden or yard.
Number one on her list of features children need to have this rich experience is water, and Dannenmaier comes out fully in favor not just of swimming pools, but also streams, ponds and fountains – all of which, she says, have the ability to capture the interest of children. She astutely addresses safety concerns, but points out that even a tiny waterfeature, thoughtfully designed, can benefit even the smallest of children – not to mention how great any watershape can be for older kids.
Second on her list are creatures, and she goes into great detail in suggesting that garden spaces should attract desirable insects, such as butterflies and moths, in addition to birds or even worms. It gives kids a chance to observe nature at close quarters, she says, and adds to the fun of the entire garden experience.
She also discusses children's near-universal desire for refuge in the form of hiding places and recognizes the value of outfitting those places with windows or look-out points. She urges designers to think in term of providing safe means for kids to play with raw materials, including sand, soil, rocks and plant material, and advises designers to consider heights and the value of scaling garden features to small users. And she embraces the old standards, such as swings and other play amenities.
In each area, she offers numerous examples of specific design features that fill the bill. In most cases, not only are the resulting spaces highly functional on all counts, but they're also attractive, engaging and anything but sterile or forced.
This wonderful book is must reading for anyone who takes seriously the art of child's play and has inspired me to think about designing for kids in a whole new way. Rather than relying solely on the tried-and-true features we normally associate with child's play, I see a broad array of new ideas I can use to make children (and their parents) even more happy.
Mike Farley is a landscape designer with more than 20 years of experience and is currently a designer/project manager for Claffey Pools in Southlake, Texas. A graduate of Genesis 3's Level I Design School, he holds a degree in landscape architecture from Texas Tech University and has worked as a watershaper in both California and Texas.