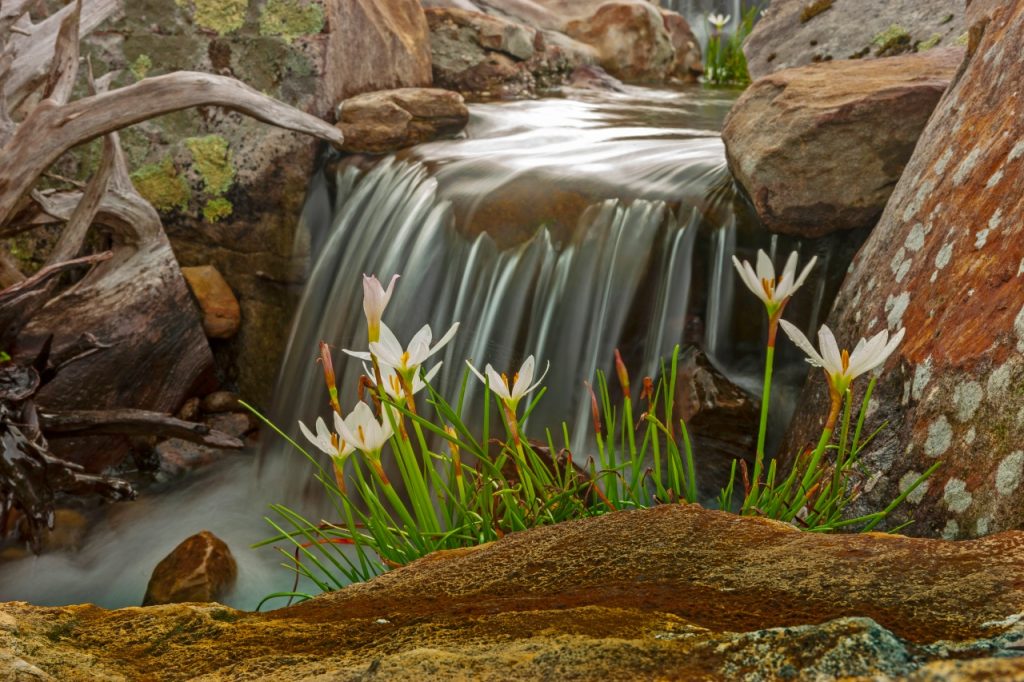 The presence of water in the landscape can stir deep emotions, and sometimes even help soothe the pain of a lost loved one. That was case in the project described here, where a beautiful stream and waterfall installation serves as a centerpiece of a property that is devoted to love, remembrance and grieving.
By Laura Underhile
When you need a watershape to serve as the centerpiece to a stunning, one-of-a-kind tribute to lost loved ones, there could be no better, or more meaningful, choice than a talented designer who, for years, has been channeling his own grief into works of art.
That partnership was established when Cremation by Grandview of Maryville, TN, turned to John G. Adams of Modern Design Aquascaping of Friendsville, TN, to create the water feature for their recently designed Grandview Legacy Trail & Pavilion.
A LEGACY TRAIL
Cremation by Grandview, located on the campus of Grandview Cemetery, was founded in 2012 as a response to the community's growing interest in cremation. The company's goal is to provide simple, respectful, and affordable cremation services. In 2019, Cremation by Grandview created the Grandview Legacy Trail, a serene outdoor space filled with tools for healing.
"The big idea we want to communicate to our community is that cemeteries are not only sacred places where the deceased are remembered, but also where people can regularly engage in healing and meaningful experiences," said Dr. Lynn Gibson, a managing partner of Smith Life & Legacy.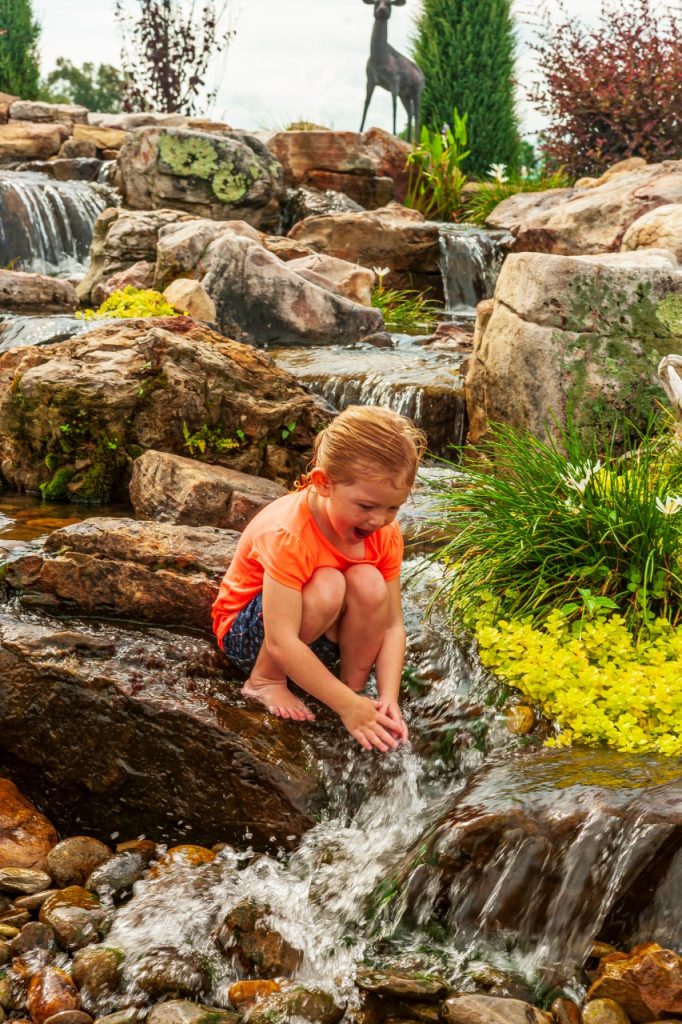 "The whole Legacy Trail is based upon a theology of place—recognizing the need for sacred spaces where truth, beauty, and goodness can be encountered," Gibson said. "The amazing feature that Modern Design Aquascaping provided for us is a testament to the hospitality we wish to extend to our community."
The Grandview Legacy Trail includes both above-ground and in-ground niches in which families can permanently store cremated remains. Families can also inter their loved ones in a Cremation Ossuary, an underground community vault of cremains. The names of the loved ones are then added to a nearby Memory Wall. The nearby Grandview Pavilion is perfect for all types of celebration of life.
The Grandview Legacy Trail also features extensive seating; a Reflection Booth that encourages visitors to pray, meditate, or perhaps journal; and the Healing Path, a self-guided loop that helps visitors engage in six aspects of grief. Lights enable the Healing Path to be enjoyed at night.
A PERFECT CHOICE
The team at Grandview reached out to Adams to design a water feature for the Grandview Legacy Trail that could be reached through a stunning moon gate. "We knew we wanted a water feature centerpiece for the trail and trusted John Adams and his team to design us something fabulous," said Dr. Gibson.
Adams is a Master Certified Aquascape Contractor, and Modern Design Aquascaping has been building water features since 2002. In 2013, his company was named Aquascape Artist of the Year. Adams and his team, including sons Tristan and Nick, have been involved with projects in 11 states as well as three additional countries, including high-profile locations such as Chicago's Shedd Aquarium and Lincoln Park Zoo. They have also worked with the Aquascape Foundation on rainwater harvesting projects in Uganda and Ghana to bring fresh-clean drinking water to those in need.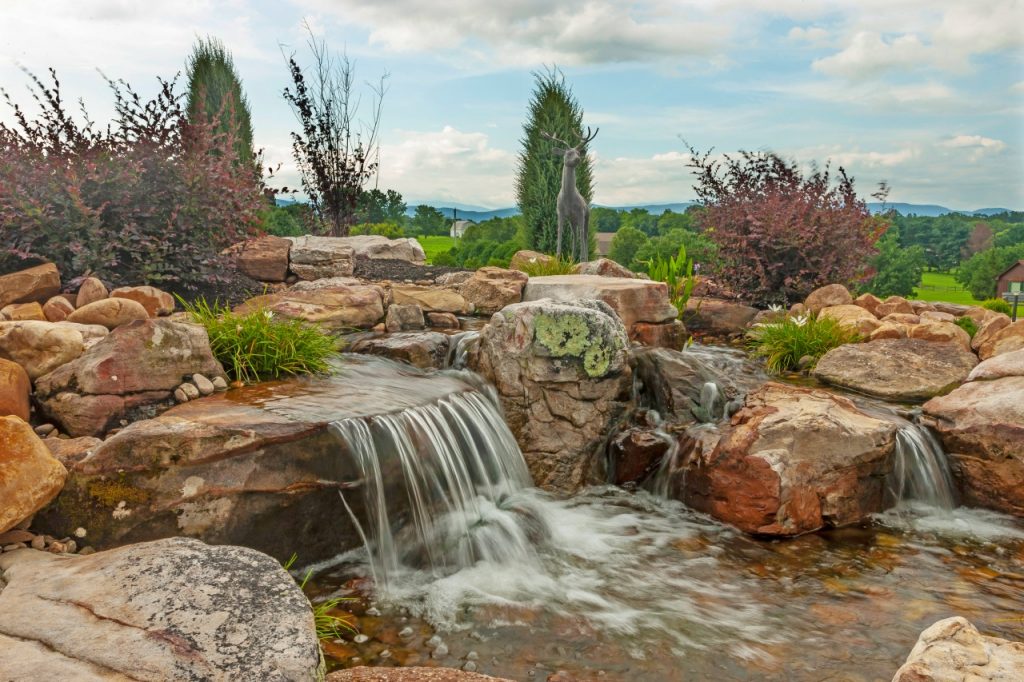 Qualifications aside, Adam's personal experiences helped him understand the significance of the project perhaps more than most. In April of 2013, he tragically lost his one-and-a-half-year-old grandson, Sawyer Mason Adams. He saw his team's involvement in the Grandview Legacy Trail as a way to honor the little boy.
"I knew it was my memorial, and my boys' memorial, to my grandson. This whole place is about peace. It's about dealing with grief in your own way, and on your own time. That's what is special about this place. This is a place meant for people to come, to sit, to reflect, to contemplate, and to find peace. Our waterfall is the center of that search for peace. That's why this water feature is so special to my heart, and I knew that we were doing it for my grandson, so we went the extra mile. I can't tell you how much love we put into this thing," John said.
The water feature Adams created provides a place for people to sit and enjoy the beauty and sounds of a cascading waterfall with picturesque views of the foothills of the Great Smoky Mountain National Park in the background. Since its completion, the feature has grown even more beautiful as plants flourished around its perimeter.
"It was so magical, even before we put the water feature in there," Adams said. "The vista behind is a wide-open view of the Smoky Mountains. The landscaping of the waterfall is vast beauty that seems to go on forever, and we took that into account. We asked ourselves, 'How do we frame this in, draw people out to the trail from the pavilion, and make sure it is visible through the moon gate?'"
According to Dr. Gibson, "When I think about the value the water feature adds to our Legacy Trail, I'm reminded of the words of Henri Nouwen regarding hospitality: 'Hospitality means primarily the creation of a free space where the stranger can enter and become a friend. Hospitality is not to change people but to offer them space where change can take place."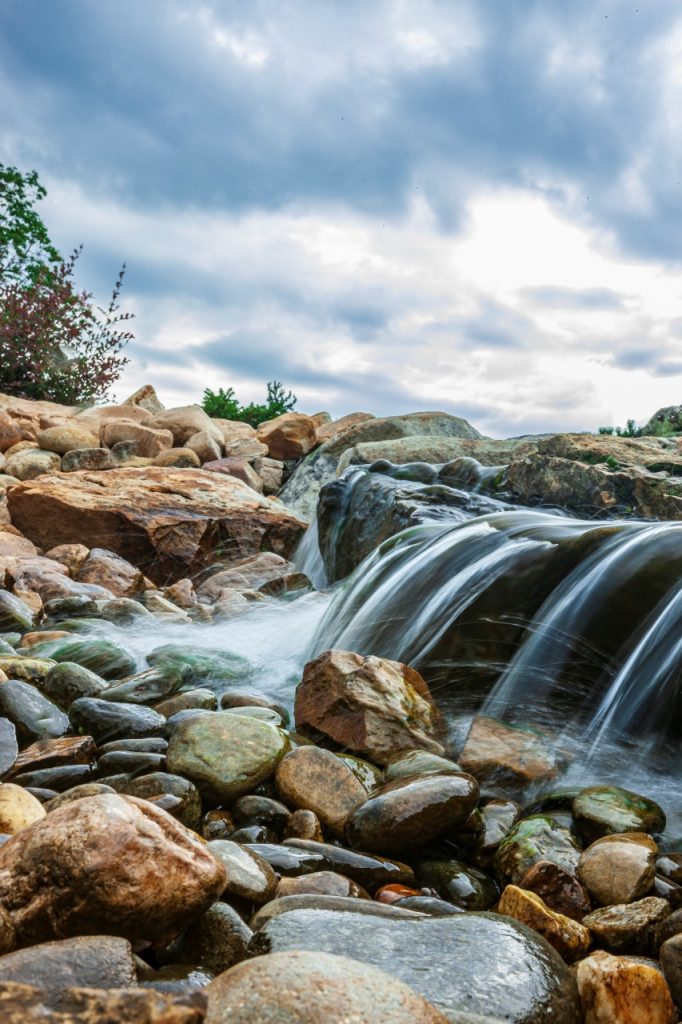 Dr. Gibson added that the water feature has received tremendous support from the community, including staff and community members who visit it daily.
Symbolism and beauty are on display in every corner of the Grandview Legacy Trail, but it would be difficult to identify anything more poignant than the beautiful Angel of Hope statue dedicated to lost children. Those children's names appear on plaques on the back of the statue. The very first name listed? Sawyer Mason Adams.
You can learn more about this project by viewing Modern Design Aquascaping's YouTube video.
A NEW FOUNDATION
After Sawyer passed away in 2013, some of Adam's "pond friends" encouraged him to try to create something positive out of his grief. The result was the Sawyer Mason Foundation, a 501(c)3 nonprofit organization dedicated to "Inspiring the Love of Nature." Through the foundation, Adams seeks to create water features for recipients who have experienced trauma in the service of humanity.
"I have this power with what I can build," he said. "What if I took that and we used it to create these healing spaces for people who deserve them?"
The first Sawyer Mason Foundation honoree served in the military and worked in civilian emergency rooms as well. Unfortunately, she was injured in a car crash on her way home from working in the emergency room and sustained a traumatic brain injury that required her to retire. Since her injury, she has enjoyed traveling to the mountains to enjoy the soothing sounds of nature. Adams built a fountainscape for her that allows her to experience similar serenity at home.
"She is anservant of humanity in a multitude of ways," Adams said. "I felt like I was in the right place at the right time."
He is excited about the foundation's potential reach and impact. "I want to take this on a global scale," Adams said.
Learn more here.
Laura Underhile is a writer and editor living in the Chicago area with her husband and young son. When she isn't writing, she enjoys reading what other people have written.