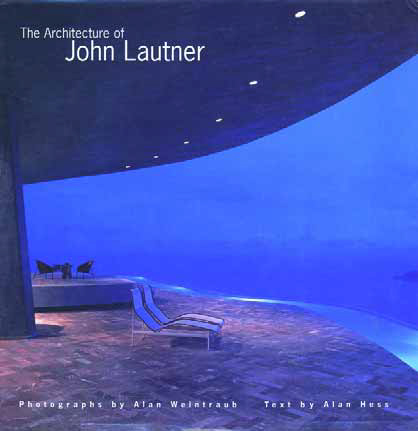 Looking for inspiration can be like mining for gold. You sift and pan through mountains of muck before unearthing a nugget of real value. And when you do come upon a resource that teaches and inspires you to reach for greater heights of creativity in your designs, the payback is a hundred-fold.
Knowing where to look helps, and that's what this new column is all about.
The first book I'll discuss is an unexpected treasure of incalculable value. Before I read The Architecture of John Lautner (text by Alan Hess, photographs by Alan Weintraub, published by Rizzoli, New York), I couldn't imagine what a watershaper in Dallas, Texas, would learn from a progressive modern architect from California.
As it turns out, the works of this student of Frank Lloyd Wright have in many respects changed the way I view water, especially as it relates to architecture and working with a project's setting.
The book follows Lautner's nearly 60-year career with concise text and stunning illustrations. In his earlier works, we see a budding artist whose designs closely resembled those of Wright and his mentor's residential architecture. As his career progressed, however, Lautner expanded magnificently upon the philosophy of organic architecture as he learned it at Taliesin and made it the basis for wildly creative designs, many of which now stand as true American masterpieces of the 20th Century.
Lautner's use of water serves as an interesting and important subtext mirroring the trajectory of his career. In his earlier works, we see swimming pools and waterfeatures that are fairly mundane and unimaginative compared to those he designed later. In his middle years and in his most recent works, however, the presence of water becomes completely integral to the overall design and far more creative in execution.
His use of water to connect interior and exterior spaces, for example, or to lead the eye to distant views or to echo shapes and geometry – truly mind-expanding stuff. Featured projects including "The Pacific Coast House," "The Elrod House," "The Arango House" and "Silvertop" have become icons of modern residential design, and they stand as testaments to the power and flexibility of watershapes to enhance residential settings.
Throughout his career, Lautner worked tirelessly to create something original in each design. His work became so creative that at points in his career, building departments were forced to adopt new codes to accommodate his designs. He is widely credited with creating the first American vanishing-edge pool (at Silvertop in Los Angeles in the late 1950s), and his use of basic materials including concrete, wood and glass has been echoed in countless designs by contemporary architects and watershapers the world over.
The material in this incredible book is a tapestry of detailed information interwoven with discussions of philosophy and is absolutely full of design concepts that will humble the best of us and inspire all of us. You might not expect to find so much relevant watershaping information in a book by an architect – but as with mining for gold, sometimes you need to look in unexpected places to find the treasure you seek.
Mike Farley is a landscape designer with more than 20 years of experience and is currently a designer/project manager for Claffey Pools in Southlake, Texas. A graduate of Genesis 3's Level I Design School, he holds a degree in landscape architecture from Texas Tech University and has worked as a watershaper in both California and Texas.