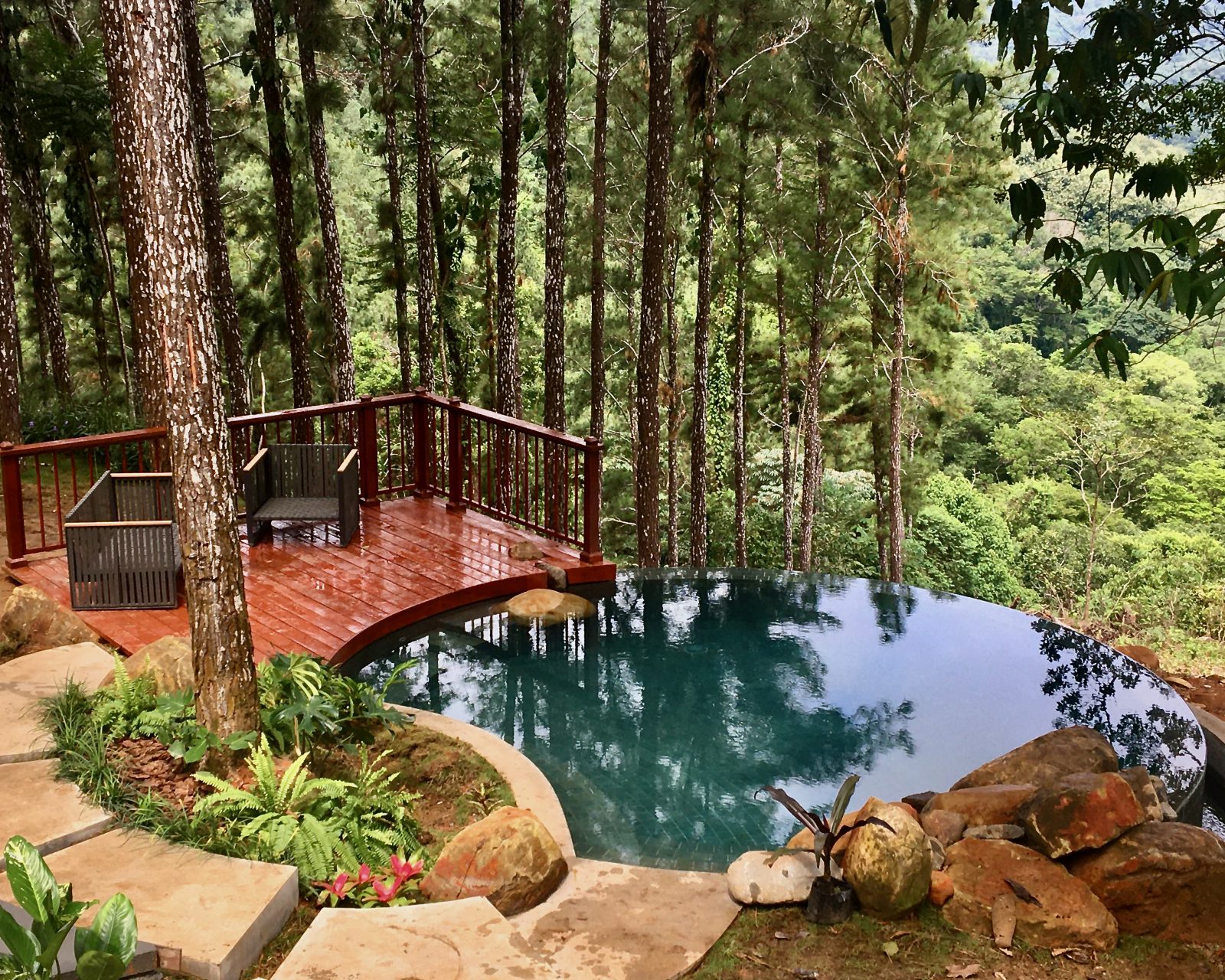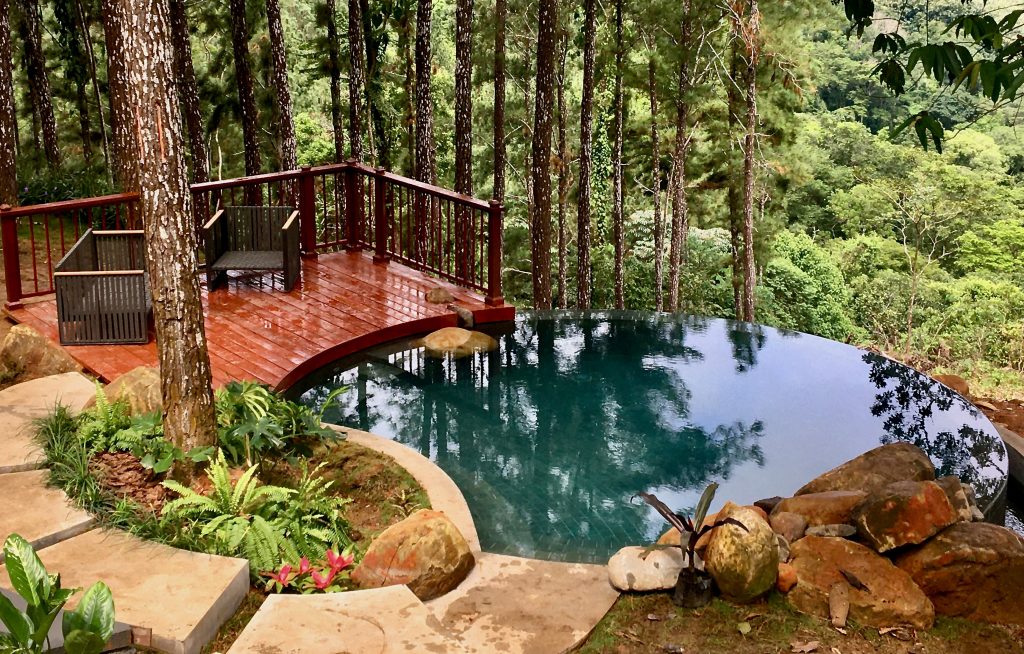 Joan Roca has designed and built pools in some of the most beautiful locations in the Western Hemisphere, each conceived to harmonize and enhance their surroundings. For all of his years of watershaping mastery, there's something about this subtle pool on a wooded hillside in Panama that stands out.
By Joan Roca
This beautiful little project is located in a rural area just outside of Panama City, Panama. It's on a deeply wooded hillside property with spectacular views of the lush landscape as far as the eye can see. It's the kind of setting watershapers dream about.
I've had the pleasure of designing and building many beautiful pools in equally beautiful locations, and many are very special to me. This one, however, might be my favorite ever. It is an exercise in simplicity that is a perfect complement to its exquisite surroundings.
I believe watershaping design is best when the body of water captures and expresses the true spirit of the setting. This simple circular pool does just that. It reflects and amplifies the surroundings in a vibrant yet subtle way; and, it provides an inviting destination within the landscape, drawing your eyes and your body toward the sweeping vistas.
If this pool was located in a more architectural setting, it would probably look out of place and even awkward but, in this place, it's like a shimmering jewel nestled in the forest.
TO THE ISMUS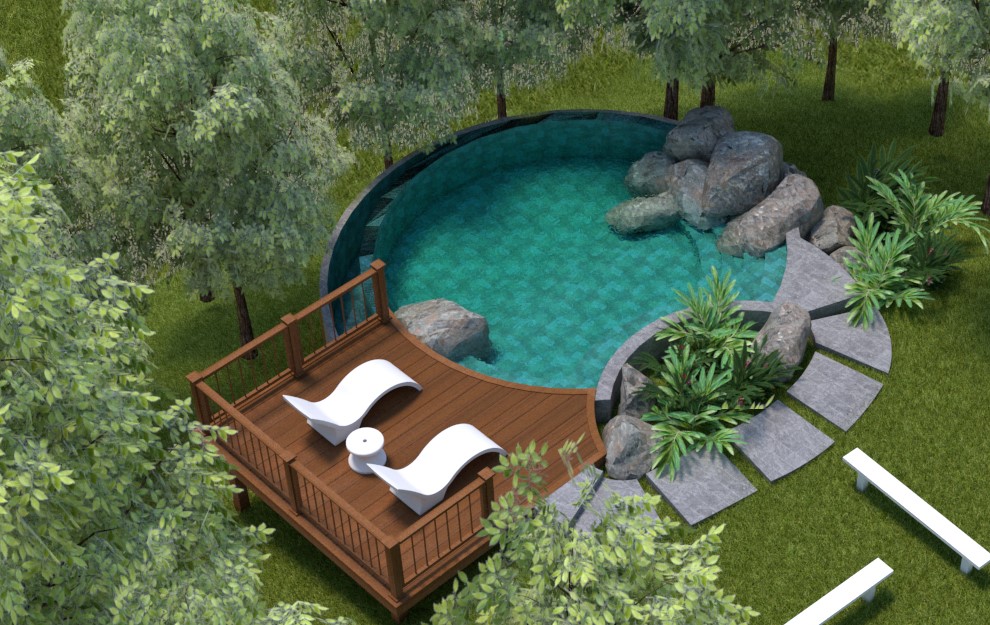 I moved to Panama in 2014 as a result of the global financial crisis that had started in 2008. My long-time home, Costa Rica, was suffering economically and there were serious problems in the construction industry especially.
By contrast, Panama is a rich country, largely because of the canal, and the nation did not suffer nearly as much as other countries in Central America and elsewhere.
It was a good move. I quickly began working for a number of affluent clients, and my reputation rapidly spread as a designer and builder of quality, high-end pools. There was strong demand for pools and beautiful landscapes on a wide range of exclusive properties and I've been happy to fill that void.
In Panama, property developers are among the wealthiest and most influential people. I was contacted by a family that owns one of the very biggest developers in the country who wanted me to build their personal pool. They had seen examples of my previous work, both in Costa Rica and more recently in Panama, and felt that I was the one for the project. It was a thrill to work for such prominent people and I was humbled that they entrusted me to create a pool that would be a perfect fit for their property.
The owner is a gentleman in his 90s and his wife. They have a big family and own a large property in the hills with a beautiful vacation cabana. There's no electricity, everything is run on a generator; but, the location is one of the most beautiful you would find anywhere in the world.
IN THE ROUND
When I first visited the property, I knew it would have to be something very special. Everything about it was beautiful, the trees, the view, the sunshine, the fresh air, even the sound of the birds. I immediately started visualizing where the pool should be located, how the design would capture the ambiance and how I could use reflections to capture the view.
I worked mainly with the wife, a lovely woman with wonderful taste. She envisioned something "natural" that would harmonize with the peaceful surroundings. I showed her a number of my projects that were in similarly verdant locations, including my own personal pool at my home in Costa Rica, which she really admired. I could tell right away that we were on the right track.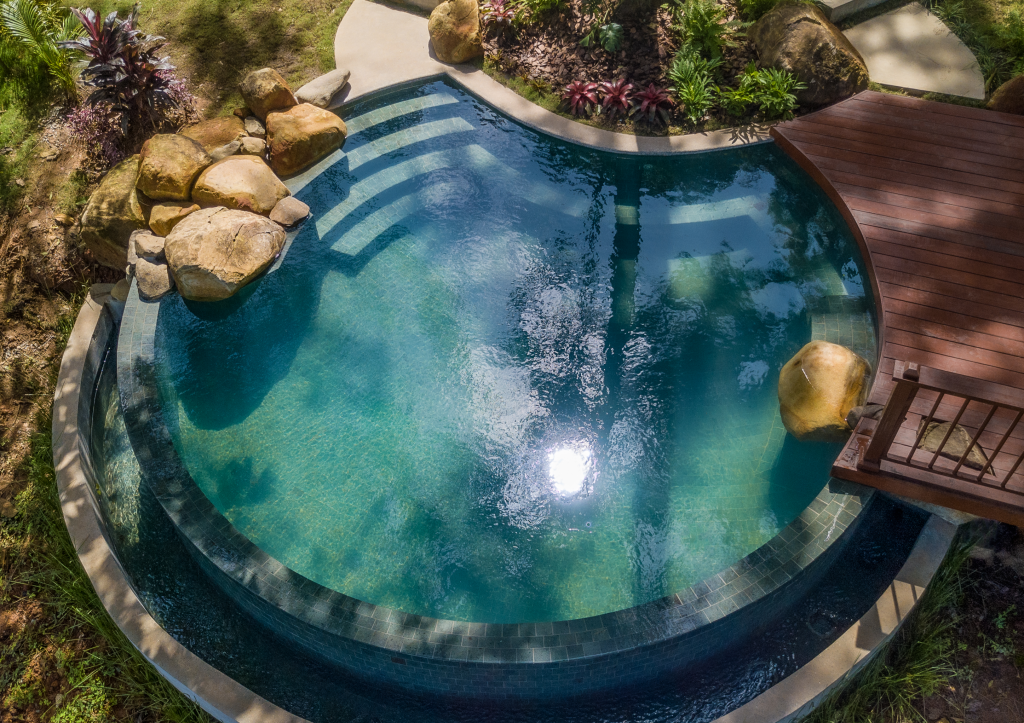 Interestingly, even though these clients are extremely wealthy, they did not want to spend lavishly on the pool. They wanted something relatively simple, minus bells and whistles, that could be run affordably on a generator and would be relatively easy to maintain. They did not want a resort pool, but a watershape that felt far more personal and even intimate.
That was when I began thinking about a design with a simple shape. Because of the view, I did want to use a vanishing edge, but nothing too long, it had to be different than what we usually see in this type of design.
Finally, I thought about using a circle as the basis for the design. When I did a simple sketch on my drafting table, that was when I knew, this would be beautiful. For all the thought and creativity that can go into design work, I find that when I "see it," I just know.
SOOTHING TOUCHES
While the decision to go with circular geometry was an intuitive decision that made perfect sense, at the same time, I did not want to make it a complete or perfect circle, which would be kind of obvious, like a water tank.
Instead, I broke it up with a convex section on the uphill side next to where the steps would be. I placed a deck on the left side and local fieldstone boulders on the right, with the vanishing edge taking up about half of the circumference facing the view. The convex contour accommodates an existing tree and planter, further integrating the water with the landscape. (The clients didn't want to cut down any trees to make room for the pool.)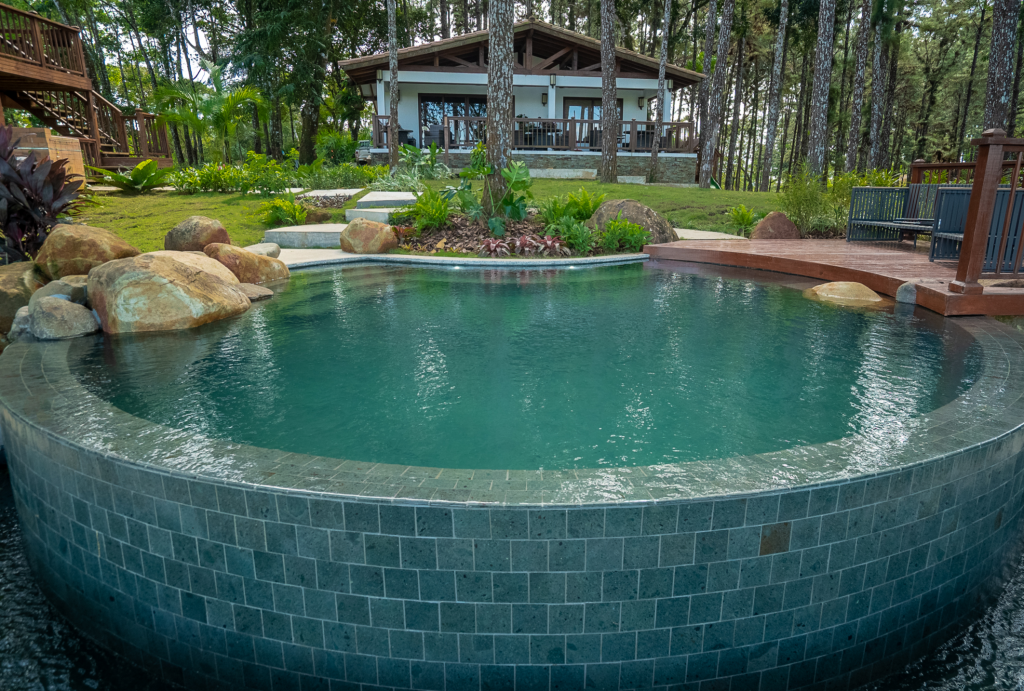 One of the most important design elementswere beautiful cut stone tile, that we used for the interior finish, known as Green Sukabumi Stone. It's a type of quartzite that is only found in Indonesia. I fell in love the material when I visited there several years ago and have been using it ever since. It's well-suited for use in pools because it's resistant to the effects of treated water, and suppliers claim that it has natural water quality benefits because it contains zeolite.
Mostly, I use it because of its amazing soft green color. It's rich, subtle, and gives the water a wonderful inviting, soothing appearance. In this type of setting where the surface of the water is reflecting the surrounding greenery and the blue sky, I believe it's the most beautiful surface material available.
Between the circular shape, the arcing vanishing edge and the Sukabumi, I was certain that we had a design that would work perfectly in the landscape.
POURED TO PERFECTION
The construction process was very straightforward, which was helpful working in a remote location. The pool shell is made with poured-in-place concrete, which I like because of the precise control you have over the installation process compared to shotcrete. When you do it correctly, you can create extremely precise shapes and smooth planes, a huge advantage when installing all-tile pools that require exact dimensions.
The pool has a diameter of 18 feet, giving it a circumference of 56 ½ feet, with 28 feet of vanishing edge. The two-foot-wide catch basin accommodates the surge capacity. The pool has a volume of only 5,000 gallons. It has a depth of 3 ½ by the steps, to 4 ½ feet by the vanishing edge. The rocks sit on a shelf that is basically a widened section of the bond beam. Opposite the boulders, the deck is slightly cantilevered over the edge.
Because the pool is run on a generator, we designed the circulation system with only one Pentair Intelliflo variable speed pump. The equipment pad is located under the deck. At night, the pool is lit by a series of small LED lights, giving it an alluring glow in the midst of the dark forest.
SIMPLE AS THAT
Yes, there are far more elaborate pools built almost everywhere, but this is one that I'm proud to say qualifies as a work of art. The clients are thrilled with it and have enjoyed spending time there with their family and friends.
Of all the thousand-plus pools I've designed and built, I would have to say that is little gem in the forest is my favorite.
Joan Roca, a valued member of the International Watershape Institute, has been in the swimming pool industry since 1975, beginning is career in Costa Rica, where he would live and work until 2014. He earned his Industrial Engineering degree in 1984. Member of PTHA (former APSP and NSPI) since 1982. Certified Pool Operator by NSPF in 1986 and Certified Pool Instructor in 1988. In the ensuing years, he continued his education through more than 200 industry seminars and educational programs. He is now based in Jacksonville, Fla., working under his signature Joan Roca Master Pool Designer.