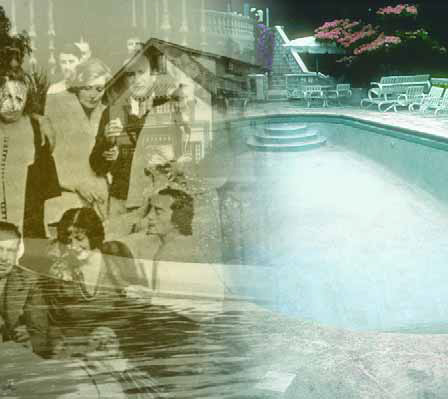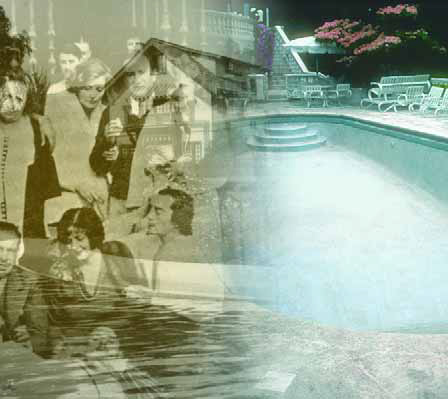 Take it from someone who has ripped out and replaced more than his share of old and failed swimming pools through the years: Some things are worth keeping!
That's why it's so wonderful to find an old pool – a product of the industry's infancy – that has stood the test of time and has won the right to be left in place. This is the first in a series of columns on one such pool. It's also the start of a story about clients who appreciate art and style and have surrounded themselves with objects and spaces of true value and beauty.
I knew right away that these people were way ahead of the game when they called me about renovating an old pool and adding a spa to complete their backyard. The house, located on a private street in the grand old Los Feliz neighborhood of Los Angeles, had been built in 1923, with the pool added seven years later.
The house is a stunner, an artifact of the Jazz Age straight out of an F. Scott Fitzgerald novel. (Since my first visit, I've been calling it the Gatsby House.) It's basically a Spanish Colonial mansion, but it was outfitted with all sorts of great Victorian touches. Vaulted ceilings, beautiful marble stairways, soaring arches and eclectic details abound, and everything has been carefully restored with period materials, from the kitchen to the detailed, elegant floors.
CONNECTIONS
The couple found me through The Franklin Report, a directory of quality designers, contractors and suppliers targeting high-end consumers. By then, they'd already talked with lots of people and were familiar with several top-flight, high-end contractors, including Paul Benedetti from northern California and my Genesis 3 partner Skip Phillips from southern California. They'd even managed to get their hands on some copies of WaterShapes.
I walked into a space that very easily could have hosted Errol Flynn and Mary Pickford – there was a definite air of Hollywood elegance to the place. I encountered the sort of backyard environment that forces you to think of late-afternoon martinis and strolls around the grounds – lush vegetation highlighted by soaring palm trees and beautiful patios tucked among the plantings. There were multiple fountains, grand fish tanks, a variety of intimate spaces and numerous spots with spectacular views.
It's just the sort of place that would be perfect for a gorgeous limestone deck, which is exactly what these clients had installed about three years ago. It was unfortunate, however, that for all their care in restoring, decorating and maintaining their beautiful home, at some point they had received some truly dreadful advice with respect to the backyard area and those decks.
The problem: By installing the exquisite Beaumanniere limestone decking, the clients had made the task of subsequently restoring the pool and adding a spa (their main motivation in addressing the needs of the pool) a virtual impossibility. They had obviously spent tens of thousand of dollars on the incredibly detailed and beautiful deck – a work of art in every respect – and there was just no way that this work should be pulled up or otherwise disrupted.
I do enjoy a good challenge, but even I was somewhat daunted by the notion of tackling a major watershape renovation that would involve working around an existing (and highly valuable) deck. The upshot would be an immensely complicated project with almost no access at all.
REALITY CHECK
In most cases, working around this sort of obstacle, and particularly the costs associated with executing such a project, puts things out of reach. But these clients are exceptional and have been involved in a highly detailed way with every conceivable aspect of their home.
There was no letting up here: We spent many an hour talking through every aspect of the challenge ahead of time so they could fully appreciate and comprehend the situation, all with a goal of determining what could and should be done. It was a classic example of "lish thinking" – that is, thinking well outside the box – that was so much a part of the Malibu Colony project covered in this column earlier this year.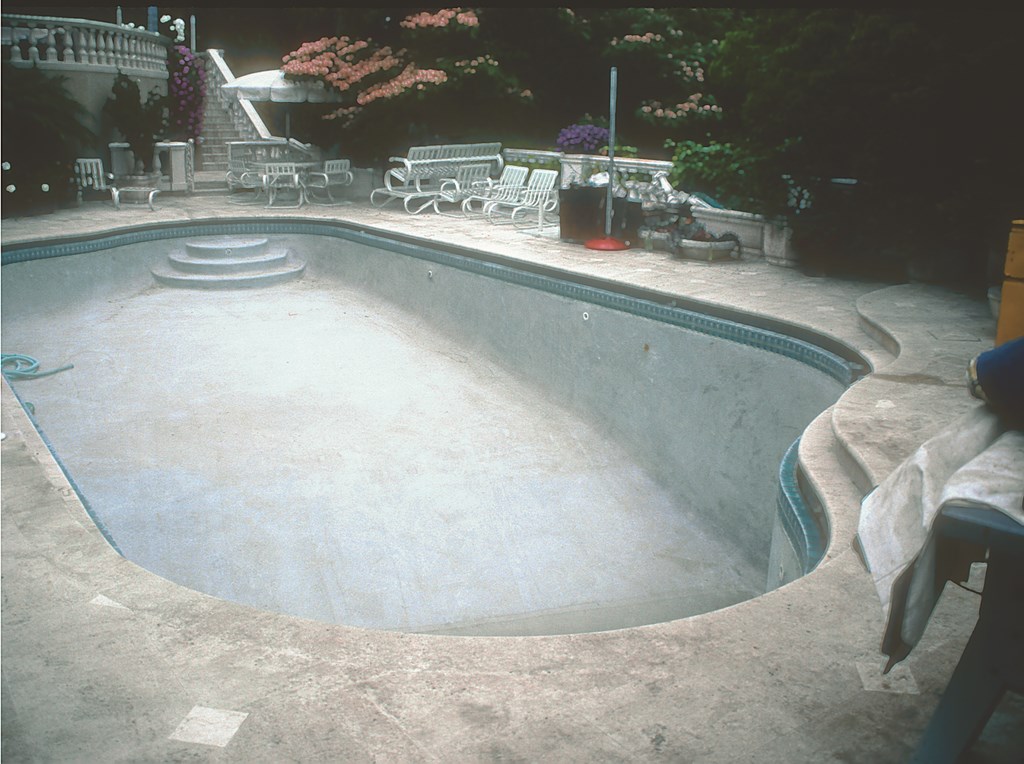 The original pool was built around 1929 and has all the features of residential pools of that vintage, including a gutter system and an unusually deep hopper.
As these conversations progressed, we discussed in detail how we could do everything they wanted. I watched their understanding grow, and I also watched the scope of the project grow beyond adding a spa to include reworking of the lighting scheme and addition of gorgeous glass mosaic tile.
We also discussed the practicalities and the need to replace all of the pool's antiquated copper plumbing, its old scupper and its inefficient equipment set. In fully considering the challenge of executing all of these upgrades without disrupting their gorgeous deck, they came to understand the complexity of the project – and its cost.
What makes this project different from many of my others is the point mentioned up top: For a change, this was a pool worth keeping. All of the major design decisions on this project had been made decades ago: My job was to upgrade the pool in such a way that one would ever know we'd been there.
The pool itself is a rectangle of about 950 square feet with offset radiuses on the ends – simple and classic. The concrete shell appears to have been poured in place, and even after 70 years in a lively seismic environment, everything about it appears to be plumb and square. It was a quality job to begin with; our task would be to enhance it so it does an even better job of expressing the intent of the original landscape architect or designer.
As we now envision it, we'll be adding a circular spa inside the existing pool using one of the radiuses, keeping the dam wall at or near water level to make the spa essentially disappear. We'll replace the one big light in the deep end with three lights along the side that will illuminate the pool more evenly. Finally, we'll get rid of the traditional white plaster, replacing it with a field of glass tile; a fabulous mosaic treatment at the waterline; and a stylized medallion in the floor of the pool.
STITCHES IN TIME
Behind what is basically a simple renovation program is still the issue of exactly how all of this work is to be done without smashing the existing deck to bits. Not to give away all the details up front, suffice it for now to say that the solution will involve extensive core drilling from inside the pool. Future columns will cover this process as well as other phases of the project as it moves toward completion.
The last point I want to make here has to do with the clients and the importance of giving them realistic expectations about what's in store for them as the project moves forward. To our common advantage, they're already been involved in extensive renovation projects in other parts of their home and know what this is all about.
The challenge of updating and uprgrading the pool is complicated by this incredible limestone decking. It was installed at great cost not long ago and features tight joints and details very much worth preserving undisturbed.
They understand perfectly well, for example, that changing one detail over here can have a rippling effect over there. They also understand that, as things move forward, we're likely to run into things that couldn't have been anticipated, particularly given the age of the pool.
The point is, their eyes were wide open well before the project started, and I've seen it as my responsibility to make certain they know what's coming – even potentially gruesome possibilities that may never arise. They've asked pointed questions and have demanded clear answers, and in all fairness I've told them all I can.
Frankly, clients such as these are a true delight. They know what they want and they're experienced enough to understand the value of thinking everything through ahead of time. We've been through every contingency, pondered every detail and sweated every possibility. It's been an exhausting process, to be sure, but they were committed and ready to go before the old pool had even been drained.
Our goal has been (and continues to be) figuring out what might come up ahead of time and considering the possible answers from every angle before those issues arise. So watch the project unfold through the next few issues: It'll be a pleasure to restore such an excellent example of our industry's early work – and an even greater one to take this journey with people who value the beauty of an age gone by.
David Tisherman is the principal in two design/construction firms: David Tisherman's Visuals of Manhattan Beach, Calif., and Liquid Design of Cherry Hill, N.J. He can be reached at [email protected]. He is also an instructor for Artistic Resources & Training (ART); for information on ART's classes, visit www.theartofwater.com.