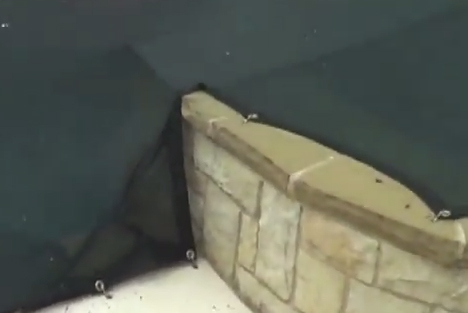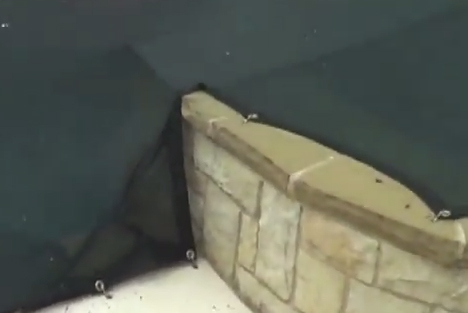 In large parts of the country, pool owners are happy that there's no need to winterize their watershapes the way it's typically done across the northern states: No need to shut down systems, draw down the water level and cover things up tight from October until March or April. In lots of warmer places, however, there's a benefit to adapting a component of those seasonal northern practices for the worthy purpose of keeping leaves in Texas or Florida or California from
fouling the water.
The video linked below, for example, shows an elaborate leaf cover we set up for a pool and spa in Texas. This is a climate where the pool will definitely be kept up and running on a year-'round basis, so there's a need to keep all of the equipment and systems going and to treat the water for use clear even if the spa is the only portion of the composition that sees any bathers between Labor Day and Memorial Day.
To my knowledge, this isn't what you'd call a common application for mesh covers, but it sure strikes me as being a great idea in any setting where leaf-dropping trees can make a pool owner's life miserable each fall. It's an easy way to lighten the maintenance load, and if it's done with the right material at the right tension, it also doubles as a trouble-free safety cover.
This video was shot beneath tall trees early in October, and already the cover is littered with a smattering of fallen leaves. Within six weeks, those big trees will have dropped all of their leaves, and a remarkable portion of them will be drawn to the pool like a magnet. Yes, the leaves still need to be gathered and disposed of, but it's so much easier to sweep a cover than it is to fish them out of the pool!
To see a leaf cover installed over a complex set of surfaces, click here.
Mike Farley is a landscape designer with more than 20 years of experience and is currently a designer/project manager for Claffey Pools in Southlake, Texas. A graduate of Genesis 3's Level I Design School, he holds a degree in landscape architecture from Texas Tech University and has worked as a watershaper in both California and Texas.