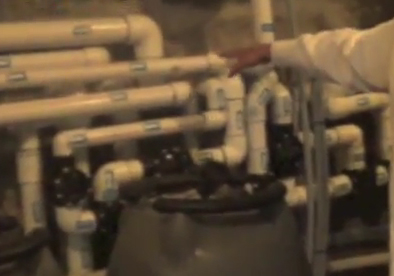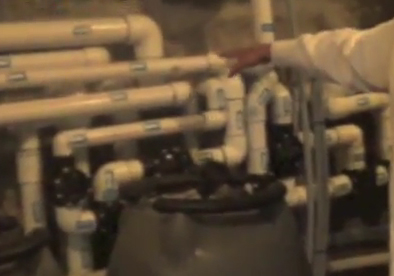 For the most part, the equipment sets that power pool and spa systems are placed outdoors in spaces near their watershapes. Maybe that's behind a gate along the side of the house, or behind some shrubs or a wall in a corner of the yard. Wherever they go, these equipment clusters should be positioned so that the noise made by various motors and pumps isn't so pronounced that it diminishes the fun to be had in these backyards.
In rare cases, of course, you'll come across situations where there's an existing or specially built structure that will serve the homeowners as a fully contained equipment room or vault – the sort of situation highlighted in the video linked below.
This may seem like a solution made in heaven – a place to confine lots of noise while simultaneously hiding piping networks and pieces of equipment never renowned for great physical beauty – but it's also a feature that requires a great deal of planning and preparation to make everything come together in good working order.
In the case of the existing structure you'll see in this video, for example, we had to enumerate all of the penetrations required to handle the equipment set's needs while also making certain we didn't impinge upon or compromise the building's basic structural integrity. It's one thing to develop a schematic diagram that makes sense on a flat sheet of paper; it's quite another to make it all work out in a three-dimensional space where you're working around structural details and features that might not be fully recognized until drilling begins and you start cutting holes.
The moral of the story is this: If you are fortunate enough to be working on a project where there's an equipment room or vault, take your time and remember that your engineering has to take the structure's engineering into account. Also, put a premium on laying things out sensibly: Nobody will be excited about performing routine maintenance in such a noisy room – and it only gets worse if the layout more closely resembles a well-tossed plate of spaghetti than an orderly circuit board.
To take a look at one well-organized equipment room, click here.
Mike Farley is a landscape designer with more than 25 years of experience and is currently a designer/project manager for Claffey Pools in Southlake, Texas. A certified member of Genesis 3's Society of Watershape Designers, he holds a degree in landscape architecture from Texas Tech University and has worked as a watershaper in both California and Texas.