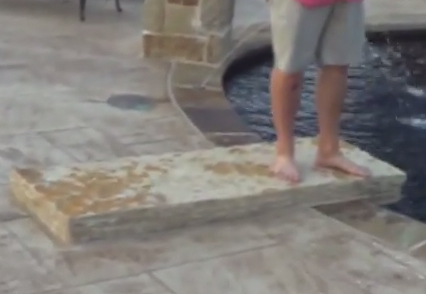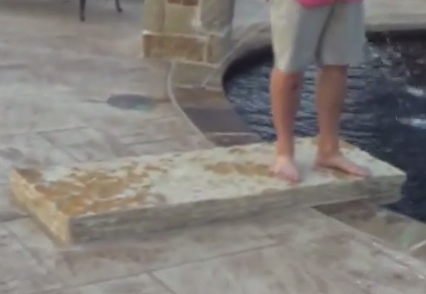 Through the past 15 or 20 years, designers of custom swimming pools and spas have focused considerable attention on aesthetics and on making their clients' backyards easy on the eye. In crafting all of those integrated spaces in which nothing is out of place, they start by dismissing project elements that might stir up otherwise calm visual seas.
For lots of designers, this has made them reluctant to consider such things as slides and diving boards. While I agree with these decisions in principle – boards and slides can be less than beautiful – I have to admit at the same time that these features are a lot of fun and help in creating full-tilt backyard environments.
Happily, and as we demonstrate in the video linked below, there are some compromises to be found when it comes to accommodating the desire to dive.
As you'll see, we worked around the aesthetic issue by using a slab of rock as a diving platform – a great way to mark the spot in a pool where the water is safely deep, where there's good clearance from the sides and where you'll find a diving well that takes much of the risk out of entering the water head first.
Obviously, the big slab doesn't bounce – but that was fine with these homeowners, who didn't want kids getting as frisky as they probably would have with a spring-type board. More important from a design perspective, the slab looks great alongside the deck and coping and fits in admirably with its surroundings.
There are other ways to meet challenges of this sort, even with slides. To see how we worked things out in this one instance, click here.
Mike Farley is a landscape designer with more than 25 years of experience and is currently a designer/project manager for Claffey Pools in Southlake, Texas. A certified member of Genesis 3's Society of Watershape Designers, he holds a degree in landscape architecture from Texas Tech University and has worked as a watershaper in both California and Texas.