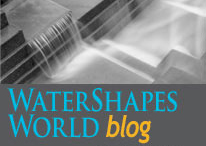 By Jim McCloskey
A couple weeks ago in this space, I raised a few questions about public swimming pools and their current tendency toward becoming utterly grand, infinitely varied, impressively expensive mega-facilities. I also hearkened back to watershaping on the level of the places in which I'd learned to swim – pools where I gained the strength and skill required to
feel confident when I encountered rip currents in the Pacific Ocean.
I've since learned that one of those two places, located about five miles from my childhood home, is gone now. It was a big outdoor facility with a competition pool and a separate, deeper tank with three diving platforms; my presumption is that when it started needing serious attention, the city decided to repurpose that part of the park rather than invest in repairs and renovations.
My point is this: The pools I used when I was a child were no-frills affairs dedicated to education and the occasional swim meet. There were no splash pads, no slides, no water cannons, no climbing walls, no theme structures. The locker rooms consisted of supervised areas where woven hanger bags came with pins we wore to identify our towels and street clothes. There were showers, of course, and I particularly remember the line of kids waiting to use the old-school washtub wringer to squeeze the water out of our swimsuits before heading home.
Swimming lessons, free swimming (basically riotous play) and lap swimming were parts of the daily schedule, and participation cost a nickel or two. It was bare bones – and both facilities were packed every day during the summer, with scores of children taking classes, hundreds of kids in the free sessions and lots of serious swimmers in the dedicated lap periods.
Where did this simplicity go? When and how did the philosophy governing the construction and programming of community pools change?
When my kids were small we had our own backyard pool, and our number-one priority as parents was making certain Simone, Leah and Chloe were safe in and around the water. We looked for swimming lessons of the sort both Judy and I had experienced as children, but we came up empty so far as public pools were concerned. What we learned was that, where we lived, swimming lessons were no longer an available public service and that we'd have to join a club, find a swim team or hire an instructor.
While we looked, Judy coached our oldest to a point where Simone could swim across the pool after her fashion – at which point we signed her up with a local team to advance her rudimentary skills. It worked, and in the course of a summer she became a good swimmer. But the outdoor pools the team used weren't heated: By late September the water was brutally cold for our string-bean of a girl. She lost interest and so did we.
As a result of this experience, our other two girls were mostly "home schooled" so far as swimming was concerned – and I've never been entirely happy about that because I wonder whether they are truly competent swimmers.
How competent? When I was a boy, the final test in our town's swimming program involved jumping, fully clothed, off the diving board and into the deep end of the pool. The goal was survival, either by having the strength to swim with the added resistance of a waterlogged sweatshirt, shoes and socks or having the presence of mind and the aquatic skill required to remove a few articles before heading to shallow water. That was a test that gave you confidence.
I ask again: Is the general good being well served by the way things are going?
If you live in a community where your public pools still teach successive generations of children to swim and provide environments where both true competency and a joyous sense of recreation are encouraged, I envy you. But more and more, I'm reading that public pools are closing, either in disrepair or because of tightening municipal budgets. So where do children, particularly those of limited means, learn to swim? Where do they gain the physical confidence? What about basic survival skills?
To shed a slightly different light on things, if children aren't gaining confidence in and around water at some point in their young lives, will they ever come anywhere close to identifying favorably with pools, spas, ponds, rivers and oceans the way I and countless other kids I grew up with always did? What might this say about our cultural standing and the future of swimming – and watershaping?
More to come.