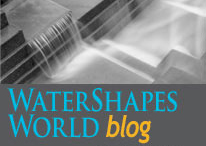 By Jim McCloskey
This edition of the WaterShapes newsletter is appearing on the opening day of the International Pool|Spa|Patio Expo. By that Wednesday, I will have been in New Orleans for two days – and will have landed late enough on Monday evening that I will have missed all of the Hallowe'en festivities.
That's fine by me: I've been in New Orleans for three Hallowe'ens through the years, and that's enough: The whole scene on Bourbon and all surrounding streets on such occasions is just too much.
Far more important, by that Wednesday I will also have attended what's being billed as the Industry Executive Forum, an event run by the National Swimming Pool Foundation, RMS Media Group (which publishes Luxury Pools magazine) and Hanley Wood (which publishes Pool & Spa News). The stated purpose of the gathering is discussion of the impending unification of NSPF and the Association of Pool & Spa Professionals; of opportunities for market growth; and of ways to work together for individual prosperity and the common good.
That'll be a lot to process in two hours, but I'm game.
In preparing for the meeting, I am aware that I have deliberately stayed out of the loop on the subject of the NSPF/APSP unification – and have to confess that I'm more than a little curious to learn what they've accomplished in the months since the two groups announced their surprising intention.
Judging by the second and third agenda items, I'm hopeful that they're far enough along that it's time to rally the industry behind the new entity, whatever form it ultimately takes.
It's a shrewd step. As a veteran of one long-ago "major reorganization" of what was then the National Spa & Pool Institute, I know from experience that getting the industry's large pool of thought leaders aligned and on board is important. When members of NSPI's Long-Range Planning Committee (of which I was one) tried to make big organizational changes stick in the early 1990s, we quickly learned that nobody beyond the committee and NSPI's management was ready -- and those who hadn't been directly involved didn't much care for the surprises and changes they saw in what we proposed.
It was, as I recall, a good, constructive set of ideas. But it was doomed from the start.
So here's hoping that, by the time this blog appears, I will have been as impressed in fact by the Industry Executive Forum as I am in anticipation: This unification process is of great importance, and I want it to succeed where other, similarly ambitious efforts failed. Even more so, I am hoping that the new entity will, once and for all, find ways to focus the industry beyond mere organizational and territorial issues and instead raise our collective gaze to "opportunities for market growth" and "ways to work together for individual prosperity and the common good."
Good agenda. Fingers crossed.
***
If you've received this newsletter while in New Orleans for the show, please do remember to stop by the WaterShapes booth – #563 in the Genesis Pavilion – to say hello. And if you're so inclined, please do show me samples of your work and talk with me about what's involved in publishing through our site.